Being the Change
Invisible Children: "Transforming Apathy Into Activism"
---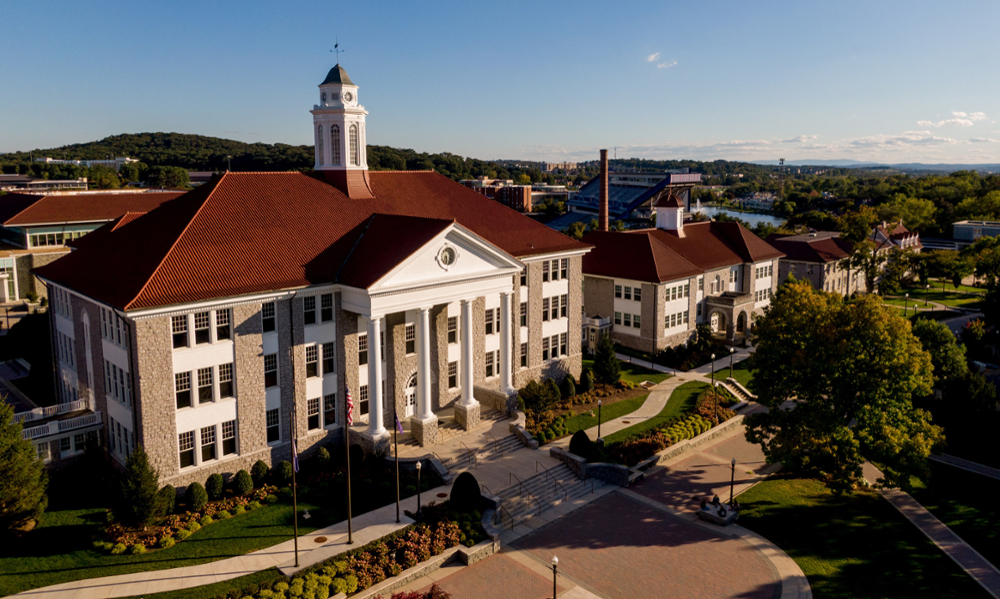 JMU students join the nonprofit organization Invisible Children's efforts to educate the world about the rampant injustice faced by thousands of Africans
By Gabrielle Piccininni ('11)
JMU's Class of 2011 welcomed Laren Poole, co-founder of Invisible Children, an organization dedicated to changing the world, as the Senior Convocation speaker — quite fitting at a university that has made "Be the Change" its byword.
A ritual of fear
In 2003, Poole traveled to Uganda with Jason Russell and Bobby Bailey in search of a film adventure. On their first night in the country, the trio stood by as hundreds of people flooded into the city in search of a place to sleep. They soon learned this was a customary ritual. Every night women and children left the countryside to sleep in city streets in order to evade the constant threat of nighttime raids, abductions, rapes and killings by the rebel Lord's Resistance Army. For over two decades, the LRA has killed tens of thousands of people in northern Uganda, abducted thousands of children to serve as soldiers and slaves and displaced more than one million Ugandans.
Soon, the consternation Poole, Russell and Bailey felt at the constant threat of violence plaguing the country turned into a determination to expose the crisis. They created the documentary film Invisible Children: Rough Cut to focus on Africa's 23-year conflict with the LRA and illustrate the tragic reality of Northern Uganda's child soldiers and night commuters. It was the beginning of a concerted effort to educate the world about the rampant injustice faced by thousands of Africans. Today, their nonprofit organization Invisible Children continues to use the power of media to "transform apathy into activism." Through the organization's "Roadie" internship program, volunteers tour the world visiting churches, schools, colleges and universities to inspire others to act alongside Invisible Children to end war.
Invisible Children's Roadies
Participating in the Roadie program is a prestigious venture, one enjoyed by several JMU students. Annie Long ('12), a School of Media Arts and Design and Spanish double major, is a three-time Roadie veteran, who served as an IC team leader in the fall of 2010. Fellow Duke, Elise Benusa ('13), a global justice major with a minor in African studies and humanitarian affairs, also toured in 2010 and was assigned to the same Deep South team with Long.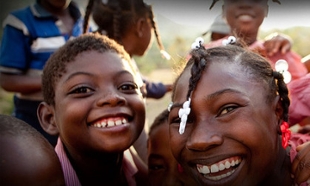 Two of Long's and Benusa's teammates on the fall 2010 tour, Aol Irene and Akello Monica, were from northern Uganda. Monica is currently on scholarship through IC's Legacy Scholarship Program, and Irene works as a mentor for the scholarship program in northern Uganda. Left to right. Top: Dan Krozner, Shane McNeeley, Elise Benusa ('13), Annie Long ('12). Bottom: Aol Irene, Akello Monica, Ashley Platé, a teacher and Florida native who housed the team and treated the group to a trip to Disney World.
The friendship between the two Dukes began on the JMU campus when Benusa heard Long talking about Invisible Children in a general education government class. Benusa says it was an appropriate beginning since it was JMU's "go-getter" attitude that initially attracted her to the university. "Everyone here is so involved and into so many causes, and we are all one force trying to change the world," she says. Both Long and Benusa are actively involved with the JMU Invisible Children Chapter, and in March, they welcomed the Roadie team touring the IC documentary, Tony, to campus.
Describing her decision to join the organization, Long says, "Invisible Children told me that my individual actions would make a direct impact, and I believed them." During her assignment as team leader, Long coordinated her team's two-and-a-half month journey and 92 separate event presentations to showcase and discuss the film GO. The team also promoted IC's fundraising program "Schools for Schools," in which American schools compete to raise money for partner schools in Uganda. JMU won the book drive portion of the competition, which gave Benusa, co-president of the JMU IC chapter, the opportunity to travel to Uganda with Invisible Children.
Choosing to take time off from school to participate in the Roadie internship program is a big decision, but a decision Long and Benusa proudly agree has benefited their college experience. "Going on the road really allowed me to appreciate my college education and fueled my passion to learn and grow more upon my return to school," says Benusa. "I now realize how privileged I am," says Long. "I want to take advantage of my opportunities. I don't think I would appreciate school the way I do now had I not worked for Invisible Children."
The pair echo Invisible Children's challenge for all to join in the race for peace. "We believe that the problems of central Africa need to be tackled comprehensively, from peace to education. Solving them is no easy task, and it will take all of us doing all that we can to ensure it."
Learn more about Invisible Children Inc. at http://www.invisiblechildren.com/.
Published: Sunday, July 1, 2012
Last Updated: Tuesday, February 27, 2018