News
South African student gets critical lab experience, lifelong memories at JMU
---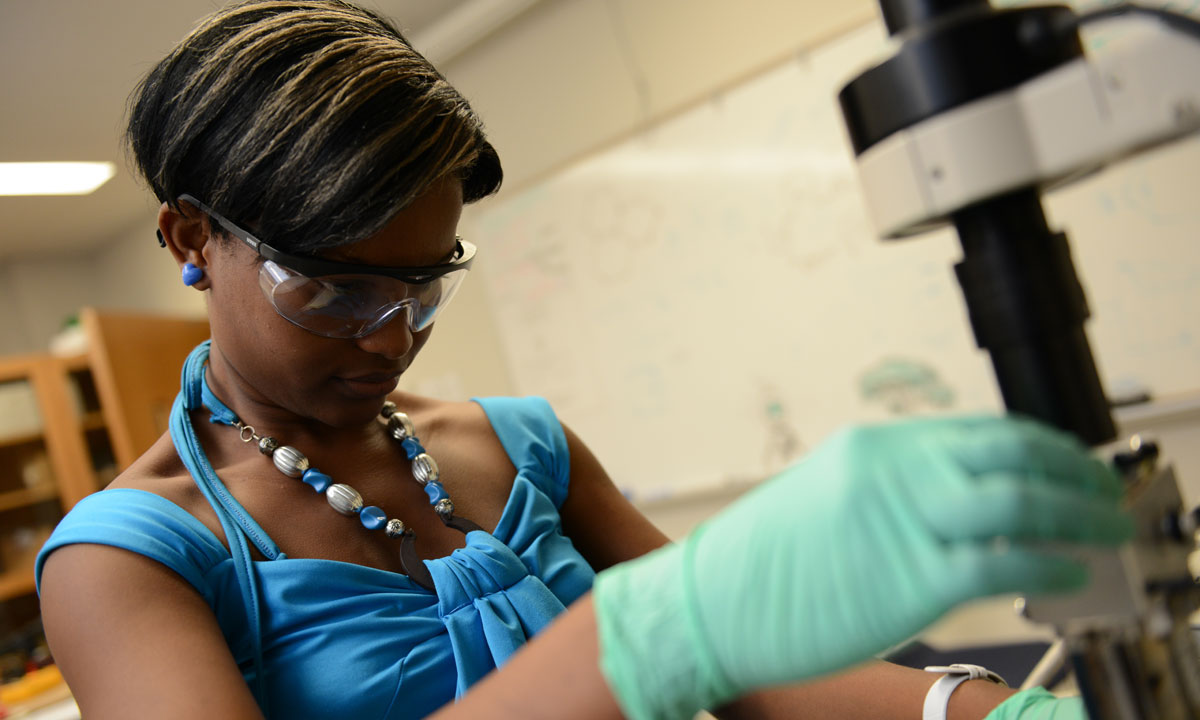 Eating at Mexican restaurants and going to a swimming pool were among the new experiences for a South African college student who spent much of June and July studying chemistry at JMU.
Sebenzile Shabalala, a third-year chemistry major at the University of KwaZulu-Natal in Durban, South Africa, also took short trips to Connecticut, Rhode Island and New York City during her six-week visit. And while she will never forget the new experiences she had on her first-ever trip outside her province, the opportunity to do research will be the most valuable, she said.
"I have never gotten this chance before. I've never been in a research lab so it's helping a lot," said Shabalala.
Shabalala returned to South Africa on July 20 to begin the second half of her third year, which started July 23. She hopes her academic performance will earn her a fourth year, called an honors year. Students from around the country can apply for the fourth year and just 20 students will be selected in her program. Unlike at JMU, undergraduates in South Africa do not do research unless they are accepted into the honors year. The "lab" experiences up to that point involve solving problems with known outcomes.
"They call laboratories practicals," said JMU chemistry Professor Brian Augustine, who sponsored Shabalala's visit. "They give you a prac manual and say, 'Here, mix two grams of this and 22 grams of this and wait for five minutes. It's like a cookbook. Everything's all worked out. There are very few unknowns to it."
Augustine received a Fulbright scholarship to teach entry-level nanoscience at the University of KwaZulu-Natal in 2009. Shabalala is the second South African student he has brought to JMU to get research experience. The first student, Vezekile Zungu, came in summer 2010 and is now working on a master's degree in South Africa.
Shabalala, who wants to earn a doctorate and then teach or do research, worked with two JMU students — chemistry major Skylar White and physics major Ethan Cummings — exploring crystallization of nanocomposite polymeric materials. Using an atomic force microscope, the team was able to monitor the crystallization in real-time as the polymer was crystallizing.
The goal, Augustine said, is to understand why the material crystallizes the way it does. More and more, industries are starting to mix nanometer-scale materials into traditional polymers to change their properties. The changes can make materials stronger, more fire resistant or even improve optical properties.
"Because this hasn't been done for a long time, there's little understanding of how the structure of the polymer changes when you start adding these nanocomposite materials," Augustine said. "Our work isn't for a specific application, it's more fundamental. I think the thing we're doing that's the most interesting is studying it in real-time. We can actually watch the phenomena occurring."
With the experience she gained at JMU, Shabalala is now part of a small group of South Africans who can use an atomic force microscope, Augustine said. She also received valuable experience characterizing materials.
One of the first things Shabalala learned was that research does not always go as planned. It took about a week to get the experiments working properly. In the end, she was able to see the crystallization phenomena.
"She did a great job," Augustine said. "We had a problem that we had been wrestling with for a while and she helped solve the problem. As a scientist, that is an important skill to know."
Shabalala's final task was to create a poster that can be used for presenting the research, also something she did for the first time. Shabalala said she plans to present the poster at her university. It will also be presented by one of her research partners at the annual Research Experiences for Undergraduates Symposium on Aug. 2 and 3.
Augustine hopes he can help more South African students improve their chances to continue their higher education in a country that still faces hardships recovering from nearly 40 years of apartheid policies. Funding is the main obstacle. He is working with corporate and higher education contacts in South Africa in hopes of bolstering the program.
Related Story: JMU research opportunity in 2010 remains invaluable
Published July 31, 2012
By Eric Gorton, Public Affairs
Published: Tuesday, July 31, 2012
Last Updated: Thursday, October 20, 2016