Health and Behavior
Facing AIDS
---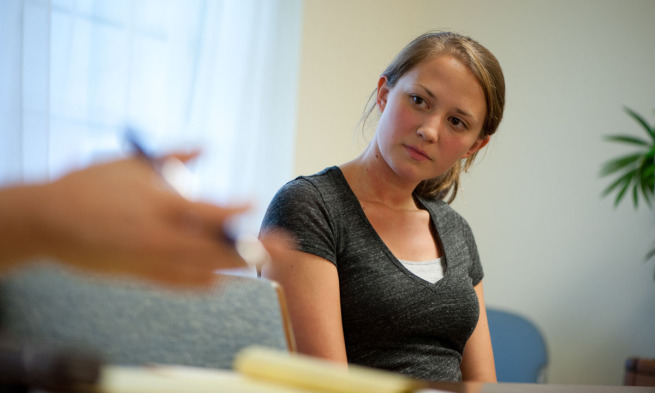 In many ways, HIV/AIDS is still an anonymous disease, even 30 years after Americans first heard of it. The Valley AIDS Network helps those with the disease, and in the process is putting a face to it for JMU students who intern there.
By Brad Jenkins ('99)
For Becky Marksteiner, interning with Valley AIDS Network allows her to apply classroom material to real life.
Some things you can't prepare for in a classroom.
Social work student Becky Marksteiner found that out when she arrived at a client's house recently and found the man injured, and bleeding from his head. While her classwork never covered such a specific situation, she did draw on her training to remain calm and compassionate.
Marksteiner is an intern with Valley AIDS Network a non-profit that helps HIV/AIDS patients find care and resources, and helps educate the region about the disease. It is connected to JMU's Institute for Innovation in Health and Human Services.
The Fairfax native's experiences did more than help her apply classroom material to real life. It put a face on a disease that, even 30 years after first being diagnosed in the United States, is still very much unknown because of lingering stigmas.
"People think we don't have that here," says Alexandra deHavilland, the network's executive director. "But it's an equal-opportunity disease. It doesn't discriminate."
Education and awareness are critical in the fight against HIV, and VAN has forged a real JMU connection, running several on-campus and community events with the help of Madison Equality, The Black Student Alliance and the University Health Center. "We have become an extremely popular place for JMU interns from public health and social work," says deHavilland. "It has been really great to see such a surge in student interest for issues surrounding HIV/AIDS. A new student organization called Madison HIV/AIDS Alliance has been very active in peer education and awareness of HIV/AIDS on JMU's campus."
A life-changer
Even though the disease is no longer the death sentence it once was because of various treatments, HIV/AIDS is still a life-changer. Those with the illness spend a lifetime buying thousand-dollar medications, dealing with stigmas and explaining their status to their partners. One client told deHavilland that every pill he took reminded him that he was ill, that he was different.
These realities confront Marksteiner and other student interns, many who grew up in middle- and upper-class homes, sheltered from the pain and poverty that can come to some with the disease. Most have never met someone with HIV/AIDS, and so many begin their internships tentatively.
"When I started, I wondered what the clients would be like," Marksteiner says. "It opened my eyes to misconceptions you may have about all kinds of things."
"[AIDS is] an equal-opportunity disease. It doesn't discriminate," says Alexandra deHavilland, executive director of the Valley AIDS Network.
Fighting the stigma
Many still think only three kinds of people get the disease: gay men, prostitutes and intravenous drug users, says deHavilland. The perception is especially prevalent in small cities and rural areas. "AIDS is still a taboo topic," she says.
The stigma causes many to remain anonymous. That includes Mark, a Valley AIDS Network client who didn't want his real name used in this story. At 46, the Augusta County man has lived with HIV/AIDS since he was 20. He came to the network for help in 2009 after moving to the area to be closer to family. At the time, he was in pain, physically and emotionally, facing numerous crises. "I was so frazzled, I didn't know what to do," he says. "I was shell-shocked, caged in." deHavilland, his case manager, stepped in and became his "mouthpiece."
Mark still struggles, but is doing better now than when he arrived, and he's even planning for the future, thinking about a job refinishing furniture.
Mark credits VAN for his well-being, and he's glad to share his story with student interns. deHavilland says that's what makes the network's internships so valuable.
"This is real life," deHavilland says. "This is what it feels like to take seven medications. This is what it feels like when I'm overwhelmed with medical bills. This is what it feels like when I'm stigmatized because of my disease. They get exposed to all these situations."
About JMU's Institute for the Innovation in Health and Human Services: When social work student Becky Marksteiner applies her classroom material to real life situations as an intern with Valley AIDS Network, there's mutual benefit for her and VAN clients. That beneficial relationship reflects the mission of JMU's Institute for Innovation in Health and Human Services, a collaboration of all of the university's various health and human service programs. The value of focusing learning experiences on community needs was a fervent belief of the late IIHHS director Vida Huber, who believed such service-learning experiences provide the education experience an unparalleled authenticity. 
Published: Friday, June 1, 2012
Last Updated: Wednesday, August 8, 2018