Being the Change
Creating a mecca of life
---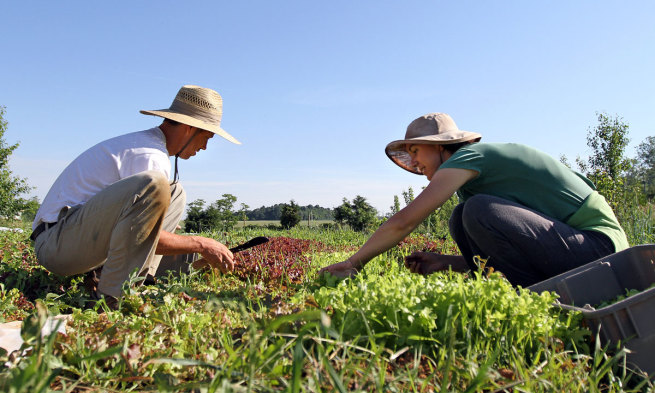 Dave ('96) and Lee Sturgis O'Neill ('97) offer a new model for farmers—sustainable agriculture, ecologically grown vegetables and permaculture education
By Gabrielle Piccininni ('11)
In the face of climate change, economic disruption and oil depletion, perhaps the time is long overdue to change how we use our land. That's the conclusion of Radical Roots farmers and JMU alumni, Dave ('96) and Lee Sturgis O'Neill ('97), who offer a new model for farmers—sustainable agriculture, ecologically grown vegetables and permaculture education. Explaining the reason for their Keezletown, Va., farm, Dave says, "We came here with a different vision, a different idea of what's possible to produce from the land … a cultivated ecosystem with the power to feed hundreds of people."
Radical Roots maintains the legacy of America's agricultural heritage. Utilizing natural resources instead of harmful pesticides and chemical fertilizers, the O'Neill's sustainable farm is meant to enhance the quality of life for farmers and society as a whole. Their crops and animal products are sold at local markets that, in turn, boost local economies and community involvement. For family farmers like Dave and Lee, building relationships with customers is just as important as cultivating one with the land.
The seeds of Radical Roots
Dave was always interested in how the natural world worked—both above and below the surface—and studied geography and minored in anthropology and environmental studies at JMU. After graduation he interned at The Wilderness Society in Washington, D.C., and went on to spend three "Odyssey years" working on different farms in Oregon, Australia, New Zealand and Guatemala.
Growing up in an agricultural family on the eastern shore of Virginia, Lee has a deeper-rooted connection to farming. After college and with a degree in social work, she volunteered in Oregon for a year and participated in various apprenticeships on farms in the area. She also learned about herbalism and is now a practicing medicinal herbalist.
With a stockpile of farming knowledge acquired from their apprenticeship experiences, Dave and Lee decided to start a farm of their own. The O'Neills saw the need to bring the convention back to Virginia. "We realized the whole local food movement had not yet hit this area," Lee said. "The demand was here."
Permaculture landscaping
When the O'Neills were ready to make Radical Roots a reality, they purchased five acres of land in Keezletown. Wanting to integrate principles of permaculture into their farm, they surveyed the area and mapped out the strategic placement for certain plants.
Permaculture landscaping attempts to replicate natural ecosystems and mimic natural patterns as a way to minimize wasted energy. For example, bushes and trees with heavy foliage are placed in areas where the fallen leaves will enrich the soil for the surrounding plants. Nitrogen-fixing plants are located beside deep-rooted, mineral-extracting ones, which are consciously placed next to beneficial insect attracting plants. Playing each plant to its strengths and "integrating each plant over and over—that's permaculture," Dave explains.
In addition to applying sustainable methods of farming such as cover cropping, crop rotation, attracting beneficial insects and applying organic compost, Dave and Lee maintain the natural landscaping of the land. The swales throughout the farm that prevent wasteful water runoff, filter pollutants and prevent soil erosion were not created in straight lines but instead gently curve to the contours of the land.
With this consistent care and hard work, Radical Roots now harvests over 100 varieties of 30 crops—quite a transformation from the land's prior harvest of 36 round bales of hay per year.
Sustainable farming education
Education is an important element of Radical Roots' mission. The farm accepts apprentices each year, teaching about the cycles of the growing seasons, the tools of the trade and the skills involved in organic farming. Similar to the programs Dave and Lee participated in after college, Radical Roots' apprenticeship program provides a solid gardening foundation intended to help interns build their own sustainable farms.
For those unable to devote a minimum of three months to the apprenticeship program, Dave and Lee created Volunteer Tuesdays. Every Tuesday from 10 a.m. to 12 p.m., Radical Roots opens its doors to anyone who wants to get their hands dirty. "The more I come out here, the more I learn," one volunteer said with a grin.
"Our vision for food production in the country is that slowly, over the next decade or so, most people will be fed from their local bioregion, from a network of small-scale family farms," says Dave.
Their vision is bearing fruit at Radical Roots.
For more information visit www.radicalrootsfarm.
Published: Friday, June 1, 2012
Last Updated: Tuesday, February 27, 2018