Being the Change
A cross-disciplinary collaboration makes art accessible
---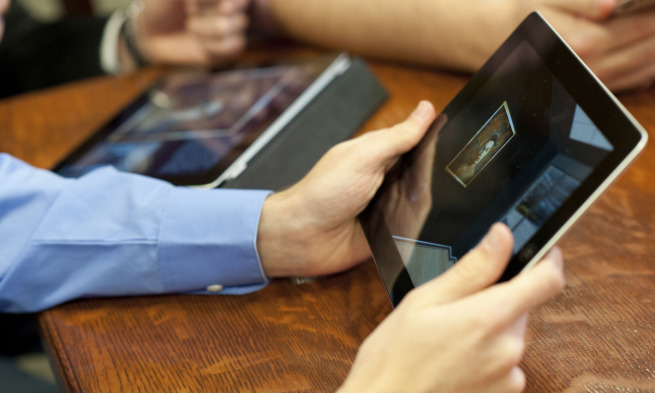 A trio of JMU students from different disciplines create a virtual field trip
By Martha Graham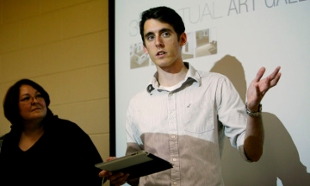 When Melanie Brimhall ('84, '04M) was growing up, there were three ways to visit the Louvre. Pictures in a textbook. A postcard. Or go there.
Brimhall, Madison Art Collection's director of education who works with local schools, knows firsthand the challenge of making great art accessible, especially museums. "In an era when budget cuts are common, field trips are often the first programs cut," she says.
While budgetary obstacles are very real, this problem is being overcome thanks to cutting-edge technology. An innovative iPad application developed by JMU students is opening JMU's Lisanby collection to the world.
Last year, Josh Smead ('12) had a great idea for improving the depth and accessibility of the art experience. As curator for the university's newest art collection, he wondered if an iPad application could be developed to enhance the experience of visitors to the Charles Lisanby collection. Perhaps as importantly, he wondered if someone in Shanghai, Melbourne or a local school could enjoy JMU's museums from afar.
But the art history student had no idea how to pull it off.
Trio approach
Talking over lunch one day last summer, Smead floated the idea to Peter Epley ('12) and Matt Burton ('12). "What if …" he said, and explained his idea, which he admitted to them he had no idea how to accomplish.
"I want to make it intuitive," Smead told Epley and Burton. "So you just pick it up and use it."
"I was making simple apps for fun," Burton said. "I said, 'I'd be down for it.'" Epley was also intrigued. As an engineering student, he knew the technology.
Smead, Burton and Epley first met as freshmen. "We were all on the same floor in Bell Hall," Smead said. "We've been friends ever since."
Friends, despite pursuing three different majors: Smead is studying art history with a minor in studio art. Epley is an engineering major with a strong interest in robotics, and Burton is a physics major who is headed for graduate school.
"The best and the worst part of technology is that you have to tell it exactly what to do," Smead says. That job fell to Epley and Burton, as Smead explained what he wanted the app to do.
"I don't understand the coding," Smead admits. "But I don't need to because Matt knows it."
Epley developed the app's "joy stick" function, which lets users navigate the museum virtually, moving from wall to wall and stopping to explore a specific object or painting.
The iPad's touch-screen allows visitors to "stop" and look more closely at a specific object and to enlarge. Anyone who has visited an art museum and wanted to examine closely an artist's brush strokes, for instance, could zoom in with the new app. It also features additional background information about a specific object or painting.
Burton and Epley were also able to build in a video component to offer an even deeper experience. In viewing the Lisanby collection, which features the work of television set designer Charles Lisanby, visitors can examine the original set design of the veteran television pioneer. At the same time, they can see the completed project as it originally aired. The app creators were able to use a video player already built into the iPad. "That saved a lot of time," Smead says.
Idea to reality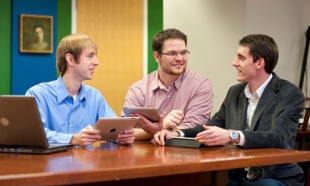 Last fall, as the Lisanby iPad app moved from idea to reality, no one was more excited than Smead. By January, the app was ready for prime time. When it went live on Jan. 28, it was obvious that Smead's idea was a good one.
"It went up on Saturday," Smead says, "and within the first 36 hours I had 136 downloads from 15 different countries. My goal is 1000, and it seems to be well on the way."
Since its January launch, "the app has had nearly 400 downloads from all over the world," Smead says. "I've been receiving interest from other curators wishing to implement this system with their own collections. It is becoming increasingly clear that my concept has a massive amount of potential and will continue to generate interest."
Already the app team is creating an updated version that "will continue to revolutionize the current concept," Smead says. "The update will include a more intuitive menu design, a more than 75 percent reduction in memory usage—which will allow the app to be used on older machines—as well as give us the ability to create much larger and more complex environments. And I'll be including new features to increase user engagement with the pieces."
And it's all about engaging people in art, says Brimhall. Advances in technology such as smart tags, iPhones and iPads, "open a whole new world to art educators, particularly for accessing information in museums." First, it gets students "past the fear of the big stone building, and two, it gives them opportunities they might not have otherwise."
Eventually, it will get them to the Louvre.
The JMU app is available for free download at the Apple app store. Search for it with "JMU Arts."
Learn more:
Published: Friday, June 1, 2012
Last Updated: Tuesday, February 27, 2018