Being the Change
Being part of the future
---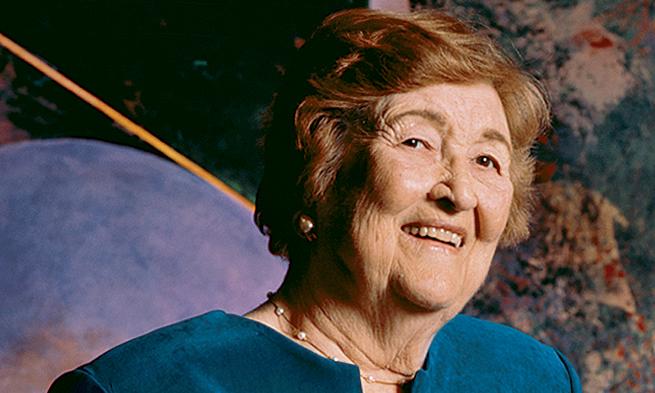 One of the U.S. space program's first female scientists, the late Elizabeth Wilson Gauldin ('50) was recognized as one of 100 notable Madison alumni in the "100 Years, 100 Days, 100 Dukes" campaign, leading up to Homecoming 2011: The Alumni Centennial
NASA pioneer and Madison College alumna Elizabeth Wilson Gauldin ('50), a chemistry and biology major played an important role in the development of the American space program.
After graduating from Madison, Gauldin performed thermal-dynamic calculations for a Richmond-based company contracted with the U.S. Navy to test and research rocket fuel. In 1967 — not long after the cockpit fire that killed Gus Grissom, Ed White and Roger Chaffee on the Apollo 1 launch pad — Gauldin began her career with NASA as a technical writer at the Johnson Space Center. She soon was recruited by General Electric to be part of a team under contract with NASA.
This team was crucial in helping NASA redesign and fabricate fire-resistant furnishings and materials for the interior of Apollo's command module. "A lot of new technology — co-developed or shared with industry" and others, such as the nation's firefighters, Gauldin told Montpelier in 1998. It was a critical step toward getting Apollo back on the path to the moon.
In 1970, when the Apollo 13 mission developed life-threatening problems, Gauldin played an instrumental role in engineering the solution that saved the lives of Jim Lovell, Fred Haise and Jack Swigert, finding a way to transfer the carbon dioxide canisters — which scrubbed the air of deadly CO2 — from the command module to the lunar module.
Aside from her career with NASA, Gauldin "had a great heart for the forgotten of the world, the downtrodden, and the lost," her daughter Catherine said. Gauldin was a tutor at the shelter, Open Door Mission, where she encouraged people to work toward their GED and liberation from a hopeless life on the street.
Gauldin also volunteered as a tutor for elementary school children, became involved with the volunteer program at Memorial Hermann Katy Hospital, and was a mentor at the Krause Children's Center and at the Harris County Boot Camp.
"She willingly offered herself in the hard places of the world," Catherine said, "because she knew those were the places where compassion can make the most impact."
Read more about Elizabeth Wilson Gauldin ('50) in Montpelier
Published: Friday, June 1, 2012
Last Updated: Thursday, June 28, 2018