Being the Change
No clowning around for this Navy 'bozo'
---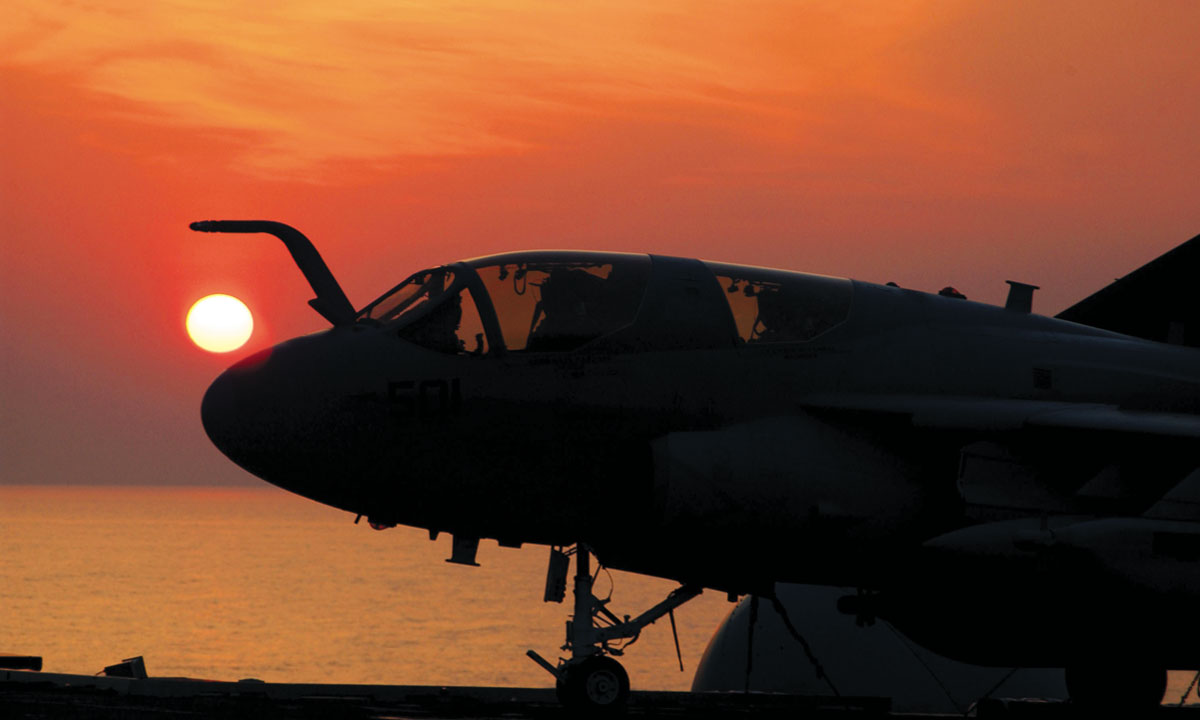 Naval aviator takes pride in giving back
By Katie O'Dowd ('07)

But Bankart is far from a "bozo" at work. He serves as a naval aviator for the EA-6B Prowler Electronic Warfare Aircraft, at Naval Air Station Whidbey Island, Wash., where he was stationed after completing his flight training in April 2002. His aircraft, which is operated by a crew of four, plays a "major role in suppressing the war on terrorism in both Iraq and Afghanistan."David Hunter Bankart ('99), call sign Bozo, says he tends to joke around more than "the average bear. Life is so much better when people are laughing; therefore, I am always attempting to bring humor into situations."
Worth the time and effort
The former Duke spent six months in Iraq, where he watched the country's first democratic elections in Baghdad from the sky. While Bankart says some people may disagree with the United States' involvement, the progress he witnessed made it worthwhile.
"Watching women walk 13 miles to reach a polling station so they could vote and have their first attempt at fighting their oppression in that nation, was worth every bit of time and effort I have had to put forth," he says.
Teaching the skills to fly
Bankart is also a flight and weapons/tactics instructor for the Navy, teaching new aviators "the skills to fly, and the tactics to employ their aircraft in combat."
Following in the footsteps of his father, a retired naval aviator, Bankart decided to join the service less than a year after graduation. "I decided I needed to give back for all the freedoms that I have been afforded since my time here," he says. "We just don't get how lucky we are as Americans and how much other nations suffer."
Mark Warner's leadership class proves influential
But it was a leadership class with Mark Warner, JMU vice president for student affairs, which influenced his decision to join the Navy. "Dr. Warner is the type of professor that makes you want to work that much harder, not for the grade, but to make him proud," Bankart says. "He never asked any more than our best because that is what he always gave to us."
Warner says he was fortunate to have Bankart in his class. "He is a servant leader and practices it in a variety of venues," Warner says. "He also is a man of integrity, and we need more like him transforming the society in which we live."
Bankart also cites his experiences on the Rugby team. "You might imagine that the military is much like a sports team; everyone must chip in to get the game finished," he says. "Most aviators who excel generally played a team sport at some point in their formative years."
He is particularly grateful to his wife, Becky, formerly Rebecca Johnson ('99), for supporting him throughout his career. The pair dated throughout college and married two years after graduation.
"The hardest part about being in Iraq is knowing that my beautiful wife is at home working full time and taking care of everyday responsibilities that we usually share," he says.
After this tour, Bankart may move back to Virginia to train other aviators. "No matter what decisions our government makes, I must do my part as an aviator to stand up for our nation and ensure we keep our freedoms to debate and live in a land of democracy," Bankart says.
Published: Friday, June 1, 2012
Last Updated: Tuesday, February 27, 2018