Health and Behavior
Removing roadblocks
---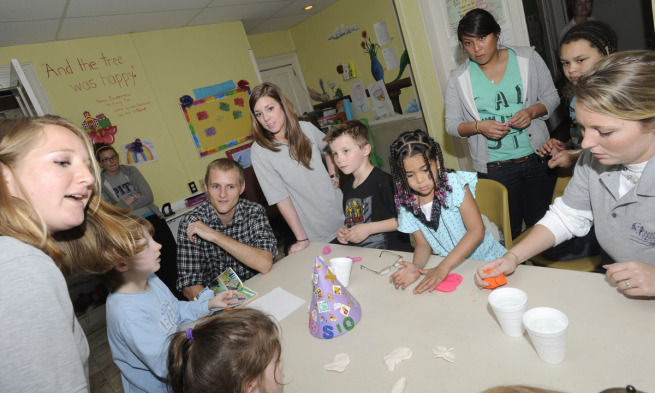 JMU tends the needs of the homeless
By Jean Young Kilby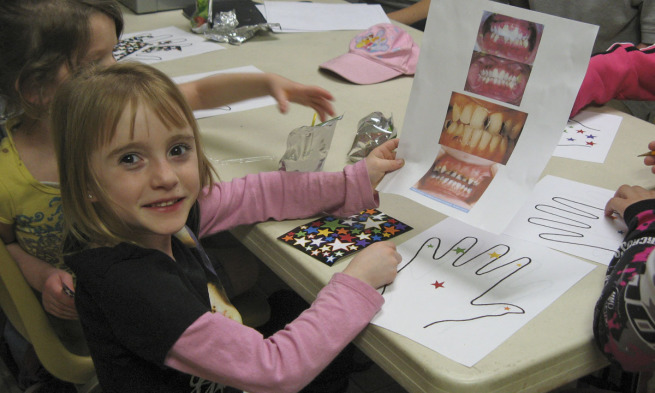 JMU applies an innovative approach to help homeless children.
The challenging needs of the homeless called for an equally unconventional solution, and that's where JMU's innovative approach to problems came in.
In a banana-yellow room at Mercy House, children squiggle in their seats around the table. This week they're learning about personal hygiene. In previous weeks, JMU nursing students have tackled even more difficult topics such as bullying and inappropriate touch. Little Carly, her bright eyes dancing, examines a picture that Emily Mitchell ('11) has handed her. She takes the paper in her hands and looks closely at the rotting teeth and decaying gums. Slapping the paper down, she declares in a matter-of-fact voice, "I've seen worse." Carly has seen plenty of adults for whom a lack of dental care is a fact of life.
Innovative approach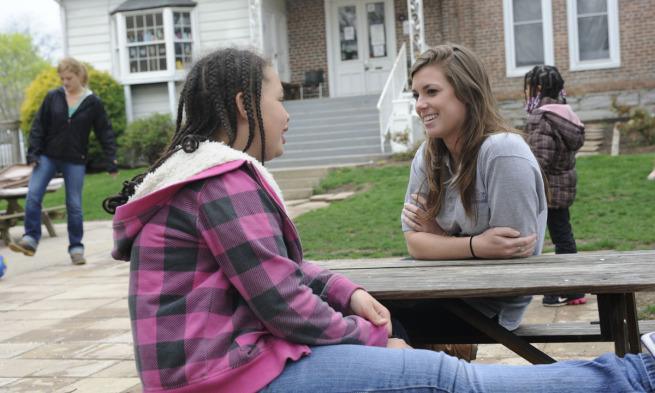 Of the more than 300 homeless citizens residing in Harrisonburg and Rockingham County, an estimated 47 percent are children — a problem that begs for solution. Two years ago university and community leaders joined forces to examine ways to provide health care to these homeless. This coalition, the Healthy Community Council, met and drafted Health Care for the Homeless, a health care delivery model that addresses the unconventional and complex needs of the homeless in the Harrisonburg community. The challenging needs of the homeless called for an equally unconventional solution, and that's where the innovative approach to problems that James Madison University is known for came in.
In an effort to pilot the initiative and reduce barriers to health care, JMU's Institute for Innovation in Health and Human Services would send nursing students to local homeless shelters with their professors, seeking to serve the some of the most vulnerable populations of society. Their purpose — educate on health issues while connecting clients to community resources through screening and referral. The program, true to its roots in the culture fostered by the first IIHHS director Dr. Vida Huber, would connect the campus and community as partners in the advancement of knowledge that had public relevance and would lead students to build a brighter future.
Healing and caring
And it worked on a number of levels. At Our Community Place, a day shelter dedicated to the inclusiveness of those struggling with life's difficulties, JMU nursing students have conducted health education and screening. With their nursing professor, Linda Hulton, they've taken blood pressure, screened for vision, discussed pedestrian safety, warned against smoking and taught dental health. Once a week in groups of two, JMU nursing students travel to Mercy House, a haven created to empower families to overcome homelessness together, as part of the emerging JMU initiative Medical Suitcase Clinic for the Homeless. It's all part of living out JMU's nursing motto: The science of healing. The art of caring.
The problems of homeless children — vulnerability, confusion, insecurity — call on JMU nursing students to expand their comfort zones and respond to a variety of unexpected patient needs. Mercy House child services coordinator Sara Davis ('10) has observed, for example, that since homeless children struggle with low self-esteem and poor self-presentation, they are often targets of bullying. In compassionate response to this problem, nursing students conduct role-playing sessions where they serve as mentors, encouraging the children to recognize and consider their positive qualities. The nursing students work with image issues, showing how small details such as tucking in a shirt, brushing hair, smiling, and wearing modest clothing can influence how others view them. As a result, Davis says, she has observed the children out on the playground standing up for themselves, touting their own virtues when once they would have bowed their heads in shame. She has seen self-respect blossom among the children. For this she credits the nursing students.
'They' are 'us'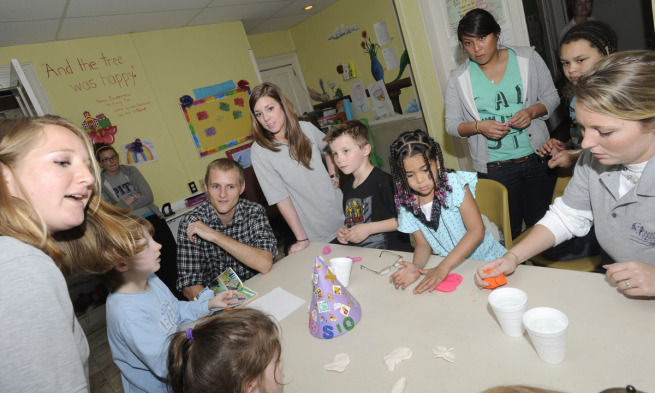 Jane Hubbell, associate director of JMU's Institute for Innovation in Health and Human Services, says that these efforts are helping to fill a gap in health care services, increasing the quality of life for the community and paving the way for faculty research. "What gives this particular initiative a unique twist," says Hubbell, "is that we're melding the best of the university and its strengths with the support of the community." After the initial student screenings, a "suitcase nurse" comes in with a bag of medical supplies, enabling that nurse to treat some of the chronic problems of the homeless: foot ulcers from frostbite; winter flu, cold, and coughs; respiratory infections; diabetes; and bladder infections. Those who cannot be treated out of the suitcase are referred to the Harrisonburg Community Health Center. More than a dozen community agencies contribute financially to the clinic, making possible the hiring of a nurse practitioner and a medical case manager.
The program's structure highlights the multiple strengths of JMU academics — hands-on training solving real-world problems as students and faculty work closely together. "Nursing students graduate and go to work at hospitals," Hubbell says. "They don't get to see patients in their environment. This medical suitcase clinic will change the lenses of our nursing students and improve the quality of life of all our citizens. After all, 'they' are 'us.'"
Nursing major Le An Bui ('11) who performed health screening at Our Community Place agrees. "I have become much more cognizant of how large the homeless population is and the severity of the everyday challenges they face," she says. "Some homeless just fall on hard times and need support and resources to get back on their feet; others battle mental illness or substance abuse. Regardless of the situation, I've learned to be more sensitive to people's situations and to not make hasty or unfair judgments because everyone deserves to be treated as people of worth."
Back in the banana-yellow room at Mercy House, Emily Mitchell is undismayed at young Carly's nonchalance when confronted with images of poor dental hygiene. That's what she and other nursing students are there for — to teach Carly and her companions the facts and routines that will lead to better health.
A step at a time, JMU professors and students are at work in the community to help their neighbors get on the road to a better future.
See more photos and read more about the JMU Suitcase Nursing program on Page 28 of the spring/summer issue of Madison. Didn't receive your copy? Contact madisonmag@jmu.edu.
Published: Friday, June 1, 2012
Last Updated: Tuesday, February 27, 2018