Being the Change
Following his bliss
---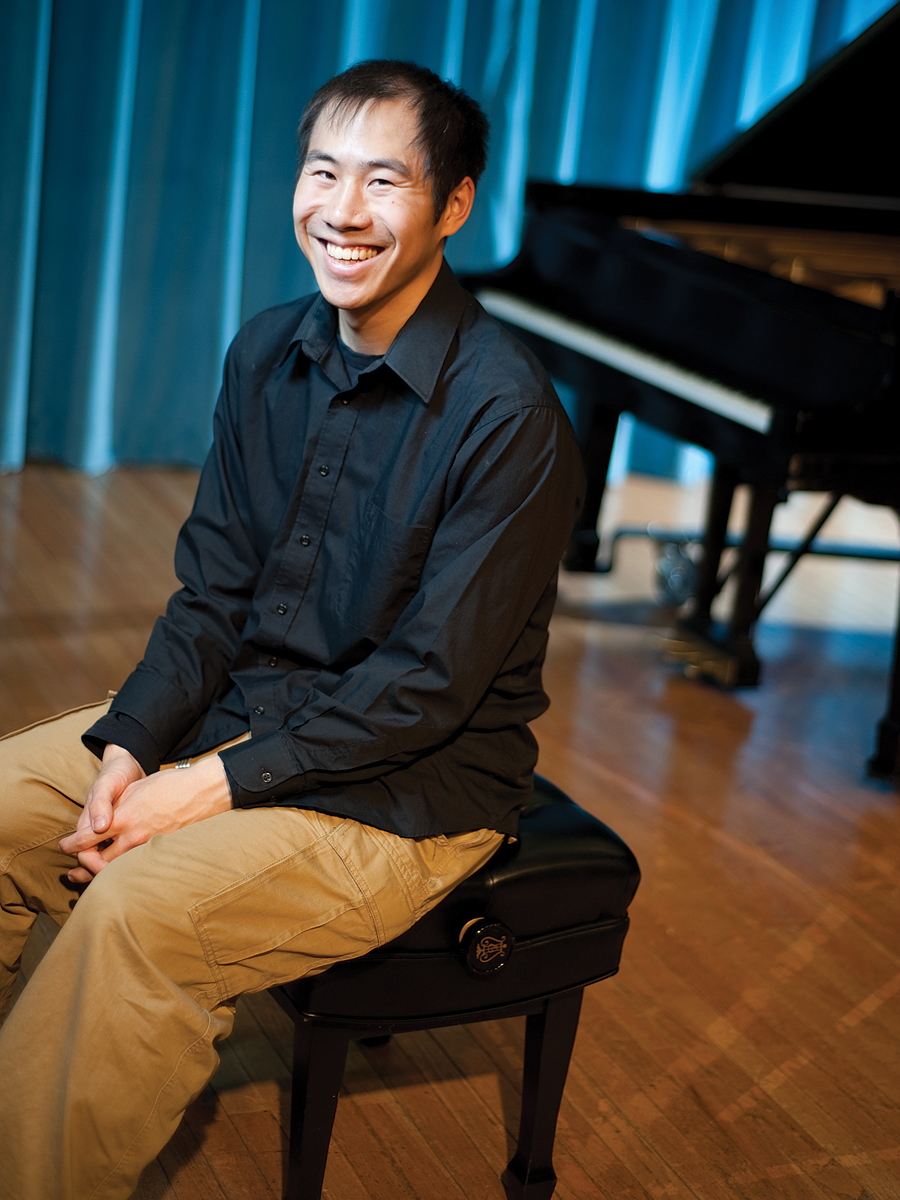 Andrew Pham ('11) is piling up the academic laurels in writing and music
By Harry Atwood ('87)

June 1, 2011: Andrew T. Pham, a piano performance/music composition major from Fairfax, Va., won a 2011 Phi Kappa Phi Graduate Fellowship and $5,000 award. Each year, the Honor Society of Phi Kappa Phi awards 57 fellowships of $5,000 to top scholars across the United States. During his undergraduate career at JMU, Pham racked up the academic laurels. He twice won first prize in JMU's Write On! Academic Writing Contest. His was also honored by faculty in the School of Music who chose him for the prestigious Presser Scholarship, an award given to the outstanding junior in the School of Music.
Author/philosopher Joseph Campbell famously advised people in search of a fulfilling life to live by the credo "Follow your bliss." Andrew Pham seems to have known that little secret since high school, and it has served him well. His love of music led him to JMU, and now this honors scholar can look back proudly on a long list of accomplishments in the classroom, on stage and in the growing collection of his original compositions.
Pham meets me in the Music Building on a spring afternoon. He is wearing jeans and a dark blue blazer over a T-shirt and a pair of bright green Pumas. He carries himself with a quiet ease, walking smoothly. When he speaks, he is equally poised.
Passion for piano develops
He began playing the piano at the age of 6, and although he always showed great promise, his focus shifted as he developed other interests in high school such as Wushu — a martial art popularized by Jackie Chan and Jet Li. His passion for this exotic sport led to a journey to China where he studied and trained for three and a half weeks. Though he has little time for such training now, he remains fond of this performance art.
Not until his return to the United States and his senior year in high school did his passion for the piano kick back into high gear. First he attended a music technology camp at the University of Michigan and soon thereafter began taking lessons from inspirational teacher Victoria Wyatt in Annandale, Va., who rekindled Pham's love of the piano and his gift for composition. "She saw a spark in me," Pham says. "She showed me things about the piano that really made me admire the art of performance." With the same fervor that took him to China, Pham turned his attention and energy toward applying to colleges with strong music programs.
As he began the application and auditioning process (he applied to eight schools and directly to JMU and George Mason's music programs), he worried that his hiatus from serious study might hinder his chances of getting into a strong program. "Man, I was so far behind," reflects Pham. "My ear was pretty good, but I didn't have the chops or the repertoire as most people who have been doing it all their lives." Still, he auditioned well.
Focus on performance and approachable faculty
Accepted to several schools and spoiled for choice, Pham chose JMU and the School of Music for its focus on performance and the approachability of the faculty. "I got such a positive feeling from the music professors," he recounts. "After my audition, Dr. Eric Ruple came up and talked to me and said, 'I think this would be a good place for you to come.'" It was a heartfelt invitation that Pham gladly accepted.
Ruple was right. JMU turned out to be a great fit. Pham gushes about the program and the faculty. "The teachers here are incredible resources. They're people really interested in teaching."
One thing Pham didn't expect was the range of opportunities that have come his way as a result of his commitment to his studies. "JMU gave me my first meaningful long-term job as the music theory tutor for the School of Music, which was a great professional opportunity," Pham says. "I had my share of leadership experience during my sophomore and junior years. I was first secretary and then president of the Keyboard Association." Through these offices he gained experience organizing a concert fundraiser and a trip to the Steinway factory in New York.
Last fall, Pham was approached by dance major Kelsey Hickson ('10) to write a piece based on Maternidad (a Pablo Neruda poem). Even though he was given only a week and a half to complete the composition, Pham accepted the challenge and gained valuable experience writing music to fit both the mood of the poem and Hickson's choreography. Pham confesses to the pressure he felt going down to the wire: "I was panic stricken. I finished right before the recording. In the end, the collaboration was one of my most gratifying experiences at JMU."
Learning to be a performer has been a blessing for Pham as well as his audiences at local churches, retirement homes, music festivals and his senior recital in May. "It's what makes me want to go to school. It doesn't even strike me as work, and it's all about learning."
Scholarship win validates hard work
Through all of this enjoyment in an art he cherishes, Pham has garnered plenty of academic laurels. He has taken first prize twice in JMU's Write On! Academic Writing Contest. His most notable academic honor came in the form of the Presser Scholarship — a prestigious award voted on by the faculty and given to the most outstanding junior in the School of Music. The $4,800 scholarship was a welcome surprise: "I remember shaking when I got that e-mail. It was confirmation that hard work pays off."
Of course, scholarships are important to more people than the recipients. For JMU donors, giving to scholarships provides a chance to build a brighter future by investing in the people who will shape it — people like Pham, an honors scholar and composer who's following
Published: Tuesday, May 1, 2012
Last Updated: Monday, September 10, 2018