Being the Change
A hot air balloon over Cappadocia
---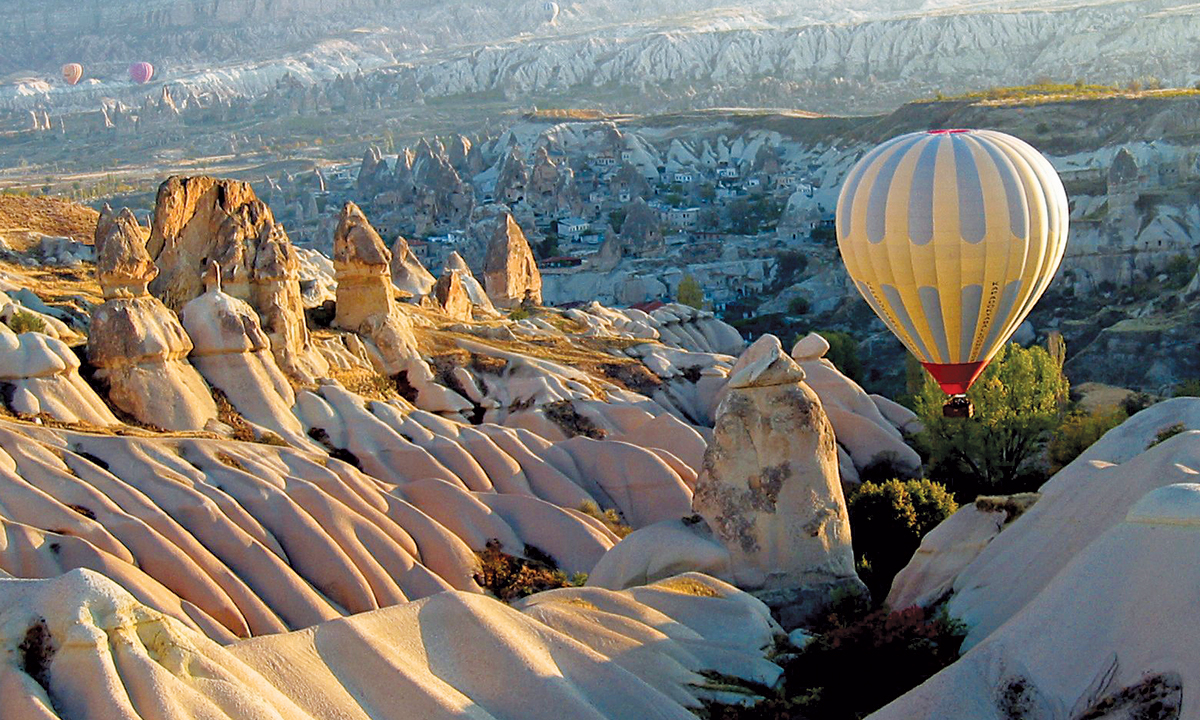 Spice bazaars, Turkish knots and class credits
By Caitlin Harrison ('10)
When I first received an e-mail about JMU's Study Abroad trip to Istanbul, Turkey, I didn't think twice about deleting it. I had already studied abroad in summer 2008, and I had never considered studying abroad twice. A few weeks later, I got another e-mail about the program. This time, I scanned the text to learn more. I found out that the program was two weeks long, which was perfect to earn three class credits and still be able to work during the summer. Six days after getting home from spring semester 2009, I left for a fantastic excursion around Istanbul, Turkey, and Greece.
Different from other programs
The JMU Study Abroad in Turkey and Greece program is different from other programs because students participate with peers from another school. There were eight JMU students and 10 students from the University of Alabama who made up our study group. Mert Tokman, a JMU marketing professor and director of JMU's program in Turkey, earned his Ph.D. from the University of Alabama. With his connections, he made the trip available for students at both universities. This Study Abroad trip is also different because, although the courses examine international marketing, the trip is not limited to business and marketing majors. A handful of JMU participants were sports marketing minors; the rest of us had varying majors. I signed up for the Principles of Marketing class in Turkey because I thought it complemented my print journalism classes.
Participants from both universities formed small study groups, and we were asked to write a business plan for a product that we would hypothetically import from America to Turkey. We researched payment methods, manufacturing methods and target audiences. Coming from a background in writing news stories and designing publication pages, the class and business plan were a challenge for me. While I had to spend the whole week after our trip finalizing my business plan, I think my Study Abroad in Turkey and this marketing class enhanced my overall Madison Experience.
A cultural and linguistic experience
Outside the classroom, we were blessed with many strange and unusual opportunities to experience Turkey's culture. I ate raw meatballs and tried plain yogurt as a condiment — even when I thought it wouldn't exactly complement the meal. I got a traditional Turkish bath and haggled with Turks over the price of saffron at the spice bazaar. I rode on camels with JMU and UA students, attended an Istanbul soccer game and visited the house of the Virgin Mary. I even learned how to make Turkish knots and added a few to a Turkish rug — something only women are allowed to do in Turkey.
One of the most memorable experiences from this trip was an hour-long hot air balloon ride over the stone city of Cappadocia. The balloon ride was an added option to our trip, and we had to get up at 6 a.m., but I knew it was something I had to try! I'm not sure how high we flew, but my aerial photos from the highest altitudes look more like maps than actual photos. Nearly every day of our two-week trip to Turkey was jam-packed with interesting cultural activities. During one of the two slower days, I took a ferry ride with a few members of the group to the Greek island of Samos. We rented two cars and drove around Samos to find the only sand beach on the entire island. It was so serene and beautiful.
I had traveled outside the United States before my trip to Istanbul, but in most of the other countries I visited, English was either widely spoken or comprehended. Being in Istanbul was a completely foreign experience linguistically and culturally, and I learned a lot. Most of the people did not speak English. The cultural and religious customs were exciting; the food was exotic, and being there was a great experience. I can't wait to go back.
Read more JMU Study Abroad stories. Angel Elza ('10) writes about Florence, Italy, at www.jmu.edu/bethechange/stories/my-semester-in-Florence.shtml. And Caroline F. Braun ('09) writes about Salamanca and London at www.jmu.edu/bethechange/stories/carolineBraun.shtml.
About the author
A School of Media Arts and Design graduate, Caitlin Harrison ('10) concentrated in journalism and minored in film studies. During her senior year, she interned with Madison magazine. She hopes to pursue a magazine-related editorial career that will allow her to travel the world. Harrison wrote for the Bluestone during her sophomore and junior years and was a co-producer her senior year. She completed an Alternative Spring Break in 2008 and was an active member of SafeRides and D
Published: Tuesday, May 1, 2012
Last Updated: Thursday, October 20, 2016