Being the Change
Helping secure the vote in Afghanistan
---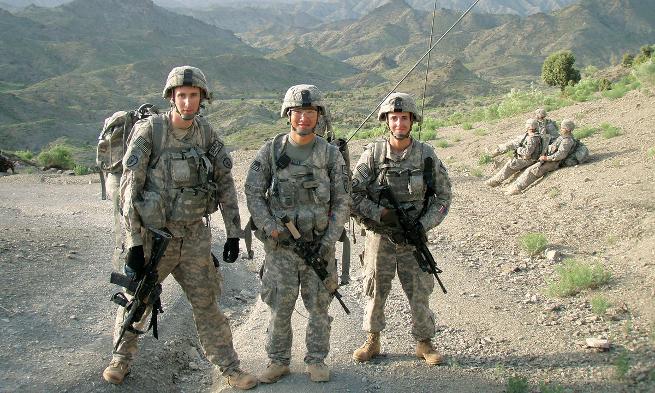 By Sara Riddle ('10)

Moyer graduated from JMU in May 2008 and three months later reported to Fort Sill, Okla., for the Officer Basic Course, a mandatory seven-week course for all officers. Following OBC, he attended Field Artillery School at Fort Sill and graduated from the math intensive course on Feb. 9, 2009.  He then received orders for a 12-month deployment in Afghanistan with Baker Company, 3rd Battalion (Airborne), 509th Infantry Regiment, 25th Infantry Division. He came home in February 2010."Army 1st Lt. Tyler Moyer ('08) grew up in Washington state with a family full of business professionals. He never dreamed he would one day join the Army. After completing his high-school education at Fishburne Military School, an all-male military school in Waynesboro, Va., Moyer needed to find a way to pay for college. After succeeding in a military setting, he found it fitting to join the Virginia National Guard. And that is where he found his passion. During his five years at JMU, Moyer served in the Virginia National Guard and was later commissioned as an active duty officer in the Army.
In Afghanistan I was tasked with many small jobs other than what I was trained for, but they turned into big contributions," says Moyer. He worked closely with all nine interpreters assigned at his base and handled all humanitarian aid supplies. As platoon leader, Moyer was tasked with tons of paperwork but, more importantly, he served as the company's fire support officer.  
In this role, Moyer represented his company for all indirect support including aircraft, attack helicopters, mortar fire, artillery fire and Navy gunfire. "Prior to missions, it was my job to evaluate the route and ensure our indirect support (mortar and artillery) was laid in our direction so we could get responsive fire," says Moyer. "If our element were to get ambushed or attacked, my forward observer or I would radio for a fire mission, which would include sending our current location, enemy location and other essential information."
Moyer has found that there is a "huge difference between the Army training and real combat rules." The first time he was in a firefight — about two months into his deployment — a rocket-propelled grenade was shot at his vehicle. Fortunately, it missed by a couple of meters. Machine gun fire was being fired from both directions, and Moyer had to jump out of the vehicle and find cover. He and the noncommissioned officer guide returned 19 shots of high explosive rounds into the hilltops from where they were taking fire. "I was able to do the job I was trained for," says Moyer.  
One of his proudest achievements was helping provide safety for the 2009 Afghanistan presidential election. In an e-mail to his family, Moyer described his mission: "It feels good to be able to take a shower after our 10-day mission to Gayan to secure the presidential election. It has been crazy here with many attacks by the Taliban because they wanted to disrupt the elections and keep the people from gaining any rights or government aid. Two helicopters flew my platoon (about 35 guys) to our small outpost in Gayan. We started out planning for the nine polling sites that we needed to recon and secure. With two platoons of infantry, we had one platoon go 5,000 meters to the south to secure the southern polling sites, while another platoon stayed at Munoz, in the city of Gayan. The leadership at Munoz, myself included, had to speak with the sub-governor and the district field coordinator to make sure we had all we needed from polling equipment to security. Before the elections kicked off, we got rocketed and attacked multiple times and shot at from the nearby mountains. ... Our mission was successful, and the elections were able to take place with no serious injuries."
Currently stationed at Ft. Richardson, Ala., Moyer hopes to be transferred to Korea in the future. His reasoning, surprisingly, has nothing to do with the military. "I was adopted. During my 15-day block leave from Afghanistan, I traveled to Korea to meet my birth father and the Korean family that I never knew about," he says. "I hope to stay in the military and learn about my past at the same time. Family should be, and is, my No. 1 priority."
Read Tyler Moyer's first-hand account of the 2009 Afghanistan presidential election at http://www.jmu.edu/bethechange/stories/OPP/moyer-tyler-gayan.shtml.
Published: Tuesday, May 1, 2012
Last Updated: Tuesday, February 27, 2018