Being the Change
Bob Gordon honored for 50 years at JMU
---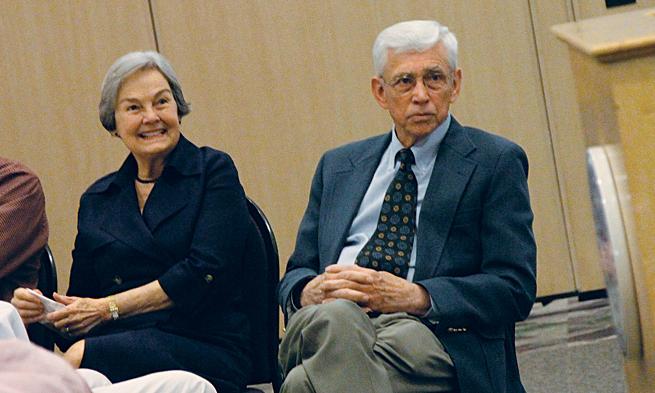 By Jacquelyn Walsh ('09) 

Physics and astronomy professors, staff colleagues and former students gathered in the Festival Conference and Student Center Ballroom in April to express their gratitude for Gordon's extensive career. Jon Staib, a friend and colleague of Gordon's for 40 years, opened the reception by reviewing the different roles Gordon has played, the most admirable role being "Bob, the department head who had valuable leadership skills." Staib taught in the department until 1997.Safety officer, master teacher, author, researcher. These are a few of the many jobs Bob Gordon has performed during his 50-year — and counting — career at JMU. 
"Fifty years at JMU, that's quite a record," added Staib. "It's pretty long, but it's pretty exceptional, too … I paused to listen outside your classroom door on a number of occasions. Your teaching is well reasoned and complete." 
Gordon's teaching methods and relationships with students were further emphasized when one of his former students took the podium. Marty Moran ('84) recalled Gordon's advice: "As long as you care about what you're doing, that's the most important thing." Gordon and Moran continue to stay in touch as Moran's family grows.
JMU Physics and Astronomy Department Head Steve Whisnant filled in when Bob semi-retired in 2001. "He's never really retired," explained Whisnant, "and we are so glad he continues to teach."
Numerous attendees showed their gratitude and admiration for Gordon, greeting him and sharing a few words. "Fifty years at JMU, a record that is long but also impressive," said one. Another asked, "What prepares a person to spend 50 years in the trenches of academia?" A few shared stories of Gordon's time growing up in East Rockingham County. One explained his "great combination of smarts, diplomacy and speed."
The J. Robert Gordon Scholarship honors Gordon's long career and his contributions to JMU. Established by gifts from Walter Curt ('85) of SEI Inc. and Raymond Serway, department head of physics and astronomy from 1980 to 1986, the annual $1,500 scholarship award is given to a freshman with a declared major in physics.
As coworkers, friends and former students exited the Festival ballroom, they filled a guest book with good luck wishes and long notes of appreciation. "Bob Gordon is exactly what universities need more of," Staib said. "Imagine a university full of Bob Gordons! What a perfect place."
Published: Tuesday, May 1, 2012
Last Updated: Thursday, October 20, 2016