News
May Means Service
---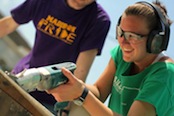 JMU students help rebuild
a house in New Orleans, La.
When most James Madison University students were packing up for the year and heading home, 48 students quickly shifted gears from focusing on their studies to focusing on others. JMU's Alternative May Break participants packed up and loaded a bus bound for New Orleans, La. This is the seventh Alternative May Break trip JMU students have made to New Orleans.

Started in 2005 as a response to Hurricane Katrina, JMU has broadened the focus of the trip, dubbing it "AMB: Rebuilding New Orleans." Misty Newman, assistant director of Community Service-Learning for Alternative Break Programs said, "While the focus remains rebuilding houses and communities, our trip incorporates whatever type of work is most necessary at the time of arrival."

JMU's volunteers will stay at Camp Hope whose mission focuses on housing volunteers who are rebuilding and providing new construction for New Orleans. Trip participants are assigned to a small group of eight or nine with one student leader and one faculty or staff leader for each group. Students paid $300 to participate.

Junior Renna Wirchin participated in last year's AMB and signed up this year as a group leader. She said her first trip to New Orleans left her shocked by how much was still left to do. "The trip instilled in me a deeper passion for service as we worked on the houses affected by Katrina and heard stories from so many amazing people," said Wirchin. "Despite their unfortunate circumstances, the residents of New Orleans had such a positive outlook and zest for life which was highly inspirational as well."

Wirchin's commitment to New Orleans echoes JMU's ongoing relationship with the city and the issues that affect it including rebuilding, the more-recent oil spill and the general state of poverty. "I am looking forward to returning to see all that has been rebuilt since last May and I am very excited to continue to further rebuild New Orleans to become even more beautiful than it already is," said Wirchin.

Alternative May Break is part of JMU's award-winning Alternative Break Program, which coordinates opportunities for students to assist people while learning more about societal issues, including homelessness, education, immigration and health problems.
JMU's Alternative Break Program is a two-time recipient of the Break Away National Program of the Year award in recognition of the university's commitment to active citizenship. Break Away honored the JMU program in 2010 and 1999. The national nonprofit organization supports the development of quality alternative break programs by providing training and information to colleges and nonprofit organizations interested in creating lifelong active citizens.
# # #
May 9, 2012
Published: Saturday, May 19, 2012
Last Updated: Monday, February 5, 2018