Being the Change
The biggest assist
---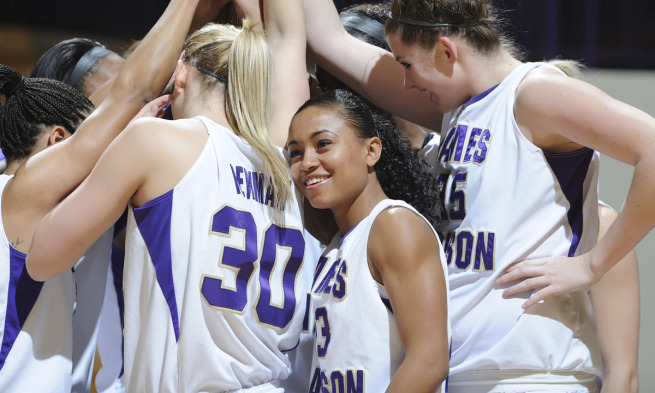 Evans uses basketball success to fight kidney disease
By David Taylor ('85)
An assist, in basketball lingo, is awarded to a player who passes the ball to a teammate in a way that leads to a score. Assists are about leadership and teamwork. And assists are Dawn Evans' favorite statistic.
Few people know that the senior leader of the JMU women's basketball team came to Madison as a pass-first playmaker. "I love being a natural point guard," she says.
But JMU coach Kenny Brooks, a '92 alum, envisioned his 5-foot-7 guard as a big-time scorer, and Evans — who spent time in Hollywood as a child actress while growing up — slipped into the rewritten role as smoothly as a Broadway pro. By her sophomore season she was leading the nation in scoring and garnering national attention.
Little did Evans or Brooks know that they were constructing the stage from which Evans would battle the most challenging opponent of her life — kidney disease.
Diagnosed with FSGS
Early in her junior season and just one day after scoring a school record 38 points to lead the Dukes to an upset at 14th-ranked Virginia, Evans was diagnosed with Focal Segmental Glomerulosclerosis, or FSGS, an untreatable disease that attacks the kidney's filtering system. Her kidneys were in Stage 4, with about 20 percent of normal efficiency. Inevitably, she was told, when her kidney function reaches 15 percent, a transplant will be necessary.
It explained the frequent headaches and extreme fatigue she'd been experiencing, but "It was devastating," Evans says. In one afternoon, her basketball career, even her ability to live a normal life, was put into question.
"I remember her coming to me in my office and saying 'Coach, why has this happened to me?'" Brooks says. "And I didn't know what to say. It's not like she had a sprained ankle and I could say, 'don't worry, it'll feel better soon.' All I could do was hug her and cry."
Someone else might have called it quits. Or sat out the season. But Evans, after spending much of that next week in the hospital for tests, rejoined her teammates 10 days later, scoring a game high 31 points at Duke.
Evans missed only two games that season after the diagnosis despite the fatigue brought on by the disease. And last March, she was named the Most Outstanding Player of the CAA tournament, scoring 25 points in the championship game to lead her Dukes over rival Old Dominion University 67-53. The title was Madison's first since 1989. This season, Evans gave an encore performance leading the Dukes to a second straight CAA title. And once again she was named Most Outstanding Player in the championship after scoring 24 points against the University of Delaware in the final.
A NephCure Ambassador
The story that a top Division I basketball player was excelling despite kidney disease was broken by the Associated Press in a national story late in the season, and led to Evans being contacted by the NephCure Foundation, an organization devoted to supporting research and finding a cure for FSGS and the related Nephrotic Syndrome.
NephCure wanted the high-profile Evans to be their ambassador — using her athletic success to draw attention to the foundation and its work to help FSGS sufferers and promote research for a cure.
"Once I figured out what it was all about, I was all in," Evans says. She exchanged e-mails with former NBA star Alonzo Mourning, a NephCure ambassador who returned to his sport after a kidney transplant; she learned that FSGS affects people of African descent at five times the frequency of the general population; and she learned the disease is the second leading cause of kidney failure among children.
"I've been able to do something at JMU to create a name for myself," Evans says. "Then when I was diagnosed with the disease I was able to use that (notoriety) to do something good … not just for myself or my team but for people I don't even know.
"And that's the blessing. If I am able to save one life or help motivate one person … my job is done."
NephCure formally announced Evans as an ambassador in a press conference on the JMU campus last summer. With NephCure's help, Evans launched "Sign on for Dawn," a fundraising website that aims to raise $10,000 for research, and her team sponsored a "NephCure Night" fundraiser at the Dukes' Dec. 22 game against the University of Virginia. Evans rallied the Dukes to an 82-80 victory with 42 points (one of her more than 40 school records) that night.
Helping others fight the disease
But some of her most meaningful moments as ambassador have come in the quieter time after the game-night crowds have left. That's when she visits with FSGS patient families, which frequently include small children afflicted with the disease. NephCure coordinates the visits, and the families wear orange NephCure t-shirts emblazoned with the words "Team Dawn."
"She's an amazing person, very bright, very smart, very pretty … an incredible athlete," says Michael Levine, who brought his 8-year-old son Matthew, an FSGS patient, to meet Evans at the Dukes' game at Hofstra University. "It's important for Matthew to see a role model … somebody battling the disease and at the same time excelling in her sport at the top of her game."
And Evans calls the post-game encounters "an honor" from which she also gains inspiration. She remembers an 8-year-old FSGS sufferer she met in January. "She was in a wheelchair and had a feeding tube. I couldn't imagine. She has the same disease that I do, but she has to deal with much more than I do. To see her with a smile on her face and being so active, it was uplifting for me," Evans says.
Evans benefited from an early diagnosis of her kidney disease, something she hopes her ability to increase awareness of the disease will bring to others. NephCure is always trying to locate new patient families who may not be aware of the resource that the foundation is for those afflicted with FSGS.
As a result, her condition has been monitored closely and her treatments have been modified as necessary. The decline in her kidney function has stabilized and there's now more time than initially expected before she will need a transplant — perhaps as long as eight years according to her father, Rodney Evans, who has been coordinating the search for a live donor.
Dozens of possible donors have contacted her father, Evans says. And her high school — Northeast High in Clarksville, Tenn. — collects donations at each home basketball game targeted to help support the person who ultimately donates a kidney to Evans.
But Evans' current focus remains teaming with NephCure for an assist to others affected by FSGS.
As Evans' on-court success continues, her story reaches more and more people, most recently in the March 14 issue of Sports Illustrated. Evans and her classmates scored their 100th JMU win in the CAA title game March 13 and will play in their second straight NCAA tournament. Evans (who broke the CAA career scoring record in her final home game March 2) will enter the national tournament with 2,647 career points — quite a mark for that pass-first freshman.
Beyond Madison looms the possibility of a professional career for Evans in the WNBA — she has been projected as a first-round pick in the 2011 WNBA draft. Or perhaps that childhood acting career might be revived.
Regardless of the path her future takes, her stage will only get larger. And you can bet that Evans will use that stage to continue her fight against FSGS, channeling her energy into inspiring and motivating others. Delivering the biggest assist.
Visit Sign on for Dawn to donate to NephCure Foundation.
More coverage of Evans:
Published: Thursday, March 1, 2012
Last Updated: Tuesday, December 18, 2018