News
JMU Meeting Changing Needs of Social Work
---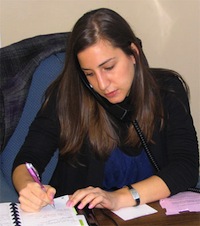 Theresa Ruggiero ('11) helps
connect immigrants with
community resources.
Imagine for a moment a world without social workers. No one to speak for victims of abuse and neglect. No one to assist schoolchildren in dealing with stress or emotional problems. No one to provide treatment options for those suffering from substance abuse or mental illness. No one to advise family caregivers or to arrange for at-home services after a patient is discharged from the hospital. No one to connect immigrants with community resources.
In short, no one to weave together the threads of society's social safety net.
Since 1962, James Madison University has been preparing social workers to make a positive difference in the lives of people who are vulnerable, oppressed and living in poverty. Never has the field been more challenging, more dynamic or more in demand. The Bureau of Labor Statistics annually lists social work as one of the fastest-growing professions in the U.S. due to an increased need for health- and aging-related services as well as child, family and school-based supports.
Generalists in training
Often stigmatized as "baby snatchers," social workers today practice in a wide range of settings, from government agencies, schools and hospitals to nursing homes, prisons and corporate offices. At JMU, students in the bachelor of social work degree program are trained as generalists, able to work with multiple client populations. "We have a systems perspective that comes from the recognition that social workers can work effectively within a wide range of issues," says Ann Myers, professor and head of the social work department at JMU, which is celebrating its 50th anniversary this week. "We understand the wide array of resources available in the community and how to connect people."
"There are a lot of people out there who do not have natural support systems," adds professor of social work Dr. B.J. Bryson. "As social workers, we strive to see the dignity and worth in every individual. Our role is to be an advocate for them."
The department at JMU is fully accredited by the Council on Social Work Education, and its graduates are widely recognized for their compassion, devotion, problem-solving, networking and advocacy. Each academic year, 25-30 freshmen enter JMU as social work majors, and about an equal number transfer into the department.
'It's a calling'
"I think social work finds people more so than they find it," says Theresa Ruggiero, a December 2011 graduate of the program. "It's a calling."
Julia Solow ('10), the National Association of Social Workers' 2010 Virginia BSW Student of the Year, has a longstanding family history of fighting for social justice. Her dad and her grandparents marched in the civil rights movement, and her grandmother was chairwoman of an anti-bias task force combating discrimination in Sag Harbor, N.Y. "I have this progressive, activist streak that was that instilled in me from a very early age, this sense of wanting to do something for the greater good," Solow says. She recalls as a third grader selling lemonade for a week to benefit children in Nicaragua who could not afford to attend school. Still, it took a JMU Alternative Spring Break trip to a homeless shelter in Kansas City, Mo., during her freshman year to convince Solow to switch her major to social work. "I stepped into my first class and I felt like I was home."
For JMU senior Katelyn Weller of Fredericksburg, the decision to become a social worker was more personal. As a child, she heard her mother's stories of growing up in foster care. But thanks to a social worker, her mom was able to establish and maintain ties with her biological family. "I consider her adopted siblings my aunts and uncles just like they were my own family," Weller says.
After being laid off from her job as a factory worker in Shenandoah County, Hilde Knupp, 54, enrolled in the bachelor of social work program in the fall of 2010. "I wanted to get into the helping profession and give back to the community," she says. What Knupp lacks in classroom experience she makes up for in life experience. As a mother, she worked a series of menial jobs to help support her four children and later took care of her father, who suffered from dementia, for two years. "I had my youngest child and my dad in diapers at the same time. I guess I was one of the pioneers of the 'sandwich generation.'" Knupp believes such experiences will help her in her next career. "Social work is about empowering your client. You have to give them choices. You don't always like the choices they make, and they don't always like the choices they get. But you have to work something out."
A window into the profession
From their first class, social work students at JMU are taught the importance of self-awareness and personal reflection, of abiding by a code of professional ethics and applying critical thinking skills, and of embracing individual differences and advancing the cause of social justice. "It's about learning who you are, what your skill set is, then working with that skill set effectively on behalf of your clients," says professor of social work Dr. Karen Ford. "It's also about openness to change and realizing your worldview is not everyone else's."
The department's small but diverse faculty reinforces the goal of culturally relevant practice within social work. Preparing JMU students who don't often identify themselves as diverse to work in a profession with a long history of serving marginalized populations can be challenging. "Students will say things like, 'mine is just the typical American family.' Well, okay, what's typical, what's an American and how do you define family?" says associate professor of social work Dr. Nancy Poe.
The program combines classroom instruction with service-learning requirements throughout the curriculum, culminating in a 472-hour field placement during the second semester of a student's senior year. The result is a clear window into the profession. "One of the reasons turnover is so high within social work is that many people who enter the profession aren't prepared for what they're going to encounter," Ford says. "Our students know what they're getting into. We have programs in place to ensure that, both inside and outside the classroom."
Closing the gap for immigrants
As a student, Ruggiero, a native of Beachwood, N.J., was struck by the level of cultural diversity in the Harrisonburg community. Now, as a bilingual case manager and special events coordinator for the local New Bridges Immigrant Resource Center, she helps newly arrived immigrants and their families find food and shelter, fill out paperwork to apply for a U.S. passport, register to vote, set up a hospital payment plan and enroll in English language courses. She also coordinates consulate events to provide immigrants with documentation. "The (immigrant) population here is so large, and there is such a gap in services for them," Ruggiero says. "Being born in this country, you take so much for granted."
Solow, who works for the AFL-CIO in Washington, D.C., advocates for immigrants at the policy level by collecting best practices on community labor organizing. "I help build coalitions with immigrant worker groups and community faith leaders, then I write case studies and create tools that can go out to folks on the ground," she says. As a member of the AFL-CIO's immigration team, Solow also monitors legislation impacting foreign-born U.S. residents and advises leaders on how to take action. She plans to go on to graduate school in the fall.
Emerging areas of social work
JMU is also preparing its social work students for careers in emerging areas such as rural mental health and the aging population.
Weller, who plans to graduate in May, is completing her practicum this semester at RMH Behavioral Health, where she assists with two of the hospital's outpatient recovery programs: Living In Freedom Everyday, for patients with drug and alcohol problems and other addictions; and the Partial Hospitalization Program, which offers intensive individual and group psychiatric therapy on an outpatient basis. Weller says working with such vulnerable populations can be trying at times, but it's also rewarding. "It's not always necessarily those 'a-ha' moments, it's the small victories," she says.
Knupp, who is pursuing the department's minor in gerontology, will do her field practicum at Blue Ridge Hospice in the fall of 2012. After graduation, she wants to work with senior citizens and their families. In addition to the large baby boomer population, "people are living longer and living better," she says, thanks in part to medical advances. Gerontological case workers specialize in coordinating services such as housing, transportation and long-term care, and they may also run support groups for the adult children of aging parents.
Students, graduates ready for careers
Because of the many pressures social workers face on the job, students at JMU are also taught the importance of caring for themselves. "It's hard not to take your clients' problems home with you," says Dr. Josh Baldwin, assistant professor of social work and a former case worker for the public defender's office in Tuscaloosa, Ala. Some social workers have even shown evidence of secondary post-traumatic stress. "It's important to have that awareness and to develop coping mechanisms. We're all one bad decision away from being on the other side of the table."
Students and graduates of the program at JMU say the department's holistic approach to the bachelor of social work program has prepared them well. "It's just phenomenal," Solow says. "There's a real balance between classroom instruction, field experience and personal reflection. You're constantly asking how am I doing, how can I grow, and you're getting evaluation and feedback from mentors who really care about you as an individual and a professional."
Related links:
JMU Department of Social Work, http://www.jmu.edu/socwork/
"Celebrating 50 Years of Social Justice," http://www.jmu.edu/socwork/features/50anniversary.html
National Association of Social Workers, http://www.socialworkers.org
# # #
March 20, 2012
Published: Monday, December 20, 2010
Last Updated: Thursday, October 20, 2016