News
JMU Senior is Virginia Nursing Student of the Year
---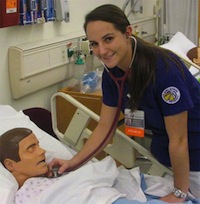 A cadet in JMU's ROTC program, Miriam Daoud will enter the Army after graduation in May.
Nursing may run in Miriam Daoud's blood, but her experience at James Madison University has helped develop the character and leadership coursing through her veins.
Daoud was named Nursing Student of the Year at the Virginia Nursing Students' Association convention in Charlottesville on Feb. 4. The association represents over 75 nursing education programs from around the state.
"It's an honor to be recognized by your peers," says Daoud, a 21-year-old senior from Poquoson, whose JMU career has been marked by excellence in the classroom and service to the community.
"Miriam has been a clear leader within her class and will be a devoted member of the professional nursing community," says Dr. Sandra Annan, assistant professor of nursing at JMU, who nominated Daoud for the award.
This marks the second consecutive year that a JMU nursing student has received the statewide honor. Last year's winner was Alexa Greenstein of Plainsboro, N.J.
Daoud has been active on the JMU Nursing Student Association board of directors for the past two years and currently serves as its president. She has led a number of community service projects, including organizing the nursing department's annual "Senior Prom" for area senior citizens; donating and distributing 150 snack packs to needy first- and second-graders at a local elementary school; and hanging balloons in the Health and Human Services Building to raise awareness of residents in the surrounding community who are struggling with hunger.
Last year, Daoud attended the National Student Nurses' Association convention in Salt Lake City, and she will be taking a group of 10 students to the 2012 national meeting in Pittsburgh in April.
A cadet in JMU's ROTC program, Daoud will be commissioned as a 2nd lieutenant in the Army following graduation in May. "ROTC has been wonderful," she says. "It's put me in a lot of positions I never expected to be in" — like scaling Eagle Hall's 110-foot wall with fellow members of the Duke Battalion. "It's helped me grow and given me the inner confidence and the ability to lead," she says. "As a nurse in the Army, I will be put in charge of people, so I'll need that." Daoud gained valuable clinical experience as an intern last summer at Tripler Army Medical Center in Hawaii. Both of her parents were in the medical profession, and her dad, Khalil, is a retired Army captain.
Daoud looks forward to putting the knowledge and skills she has acquired at JMU to work in the field.
"Every classroom, every clinical setting I've been in, I've truly enjoyed it," she says. "I wake up every day excited to go to work because I'm getting the opportunity to help people."
Related links:
JMU Department of Nursing, http://www.nursing.jmu.edu/
"Junior Nursing Student Named Student of the Year in Virginia," http://www.nursing.jmu.edu/features/greenstein.html
# # #
Feb. 13, 2012
Published: Monday, February 13, 2012
Last Updated: Thursday, November 29, 2018