News
JMU Students Buy Shares in Their Future
---
For most seniors, the fear of not finding a job after graduation is a huge theme. In a time when jobs are scarce, students at James Madison University are doing everything they can to get a leg up on the competition. For senior quantitative finance major Ed Andrews that competitive edge came in the form of the Capital Markets Lab on campus. Andrews already has a job waiting for him when he walks off the stage, largely due to the real-world experience he has gained through the lab's resources. 
The Capital Markets Lab was built in the fall of 2011 through a generous contribution from Enrico S. Gaglioti, a 1994 College of Business marketing graduate. The lab is equipped with 12 Bloomberg terminals, a professional investment computer system created for the financial marketplace. It also features two 50-inch flat panel displays with cable news feed, a catchy stock ticker above the Zane Showker Hall Room 109 entrance and a wide range of systems and databases that allow students to access a wealth of information. Dr. Elias Semaan, an assistant professor of finance and business law, says the lab is not only an invaluable resource for the students, but that it has significantly enhanced teaching as well. 

Bloomberg, the main database system used in the lab, is the ultimate in financial databases. The ability for student to include on their resume experience using the catalog is invaluable to making them stand out among the competition. In addition, many students choose to take the Bloomberg Assessment Test, which Semaan regards as "almost the equivalent to having a second degree." The hands-on learning that the lab provides "makes students more marketable and increases the level of professionalism they can offer," says Andrews, who is also president of the Madison Investment Fund. "We now have access to the same tools as professionals working in the field; you can't get better experience than that." It is opportunities like the Capital Markets Lab that give JMU students the skills necessary to be competitive applicants and eventually valuable employees. 

The use of this program not only gives Dukes a world of experience beyond other students at the same level, but it also increases productivity. Tasks that previously would have taken three to four hours and data collection that can take months, is now done in the time it takes to click a button. This then allows for the students' time to be spent in a more valuable way, interpreting the data and analyzing what actions to take. Semaan says he initially noticed the huge effects of the lab in the quality of student presentations. The students are able to get details they couldn't before and take their stock pitches a step further with high quality, professional data. The resources of the lab also help students keep up with developments in the industry, which according to Semaan is why students are so successful when they leave JMU.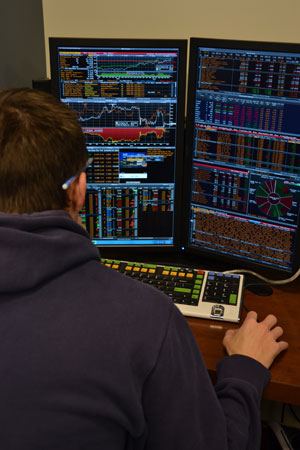 The systems also allow students to take concepts that were once abstract discussions and apply them to real-life cases. Students, who once simply discussed how natural disasters can affect economies, can now use these resources to find and examine the actual data describing how Hurricane Katrina affected the economy of the United States, with the click of a mouse. 

One of the main goals for the lab was ensuring students and faculty were making full use of it, according to Semaan. This is achieved through its various functions as a classroom, quiz instrument, activity facilitator, research tool and data collection resource. Andrews said he even used the program to compare Spring Break flight prices and find the best deal; talk about a wide range of possibilities. And, those using the lab say they have only just scratched the surface of what it can do. "Every week a student shows me something new about the program that I didn't know," says Semaan. "It is really about the thrill of discovery; you have the whole world at your fingertips and all you have to do is figure it out." Not exactly a simple task. In fact, Andrews said he was looking forward to coming back in a few years and seeing all the new functions students have found. "It is really a never-ending learning process," says Andrews. 

The lab, open to any student who completes the necessary training, is used most often by higher level financial courses such as advanced finance, risk analysis, investment and financial management. It is also a tool used frequently by the Madison Investment Fund group, which manages $100,000 in JMU Foundation Inc. funds. Semaan says expanding the use of the lab to the entire campus and helping students in a variety of other majors realize the wide range of uses for the equipment is the next phase. "The main thing I'm here to do is give these students opportunities," says Semaan. "No doubt these tools will provide that." 

by Kelsey Mohring ('12) 
Published: Wednesday, December 22, 2010
Last Updated: Wednesday, September 26, 2018