News
Graduation marks end of 'double life'
---
Between a full slate of classes and her marketing duties for Washington Family Magazine, senior Julien Hittle of Ashburn has endured a marathon final semester at James Madison University. 

"I feel like I'm leading a double life," the 23-year-old communication studies major said recently between sips of a vanilla latté at a local coffee shop. "During the day I'm a student at JMU, and in the evenings I have to be a professional and do my other job."
Luckily for Hittle, she doesn't have to be in two places at once. Under an agreement reached with her editors this past summer, she has continued to work for the Herndon-based magazine remotely from her Harrisonburg apartment while completing her studies at JMU. The path has been long and at times laden with obstacles, but Hittle is set to cross the finish line on Saturday. She will resume her magazine duties Monday morning on a full-time basis. 

Hittle began working for Washington Family two summers ago as an intern in the marketing and public relations department. Her enthusiasm, professionalism and media savvy — she has experience in writing, photography, design and social media — quickly won over the magazine's editorial team, including founder and publisher Brenda Hyde. "We knew immediately that we wanted to have her on staff," Hyde said. 

During exam week in April 2010, Hittle was invited to sit in on a mommy-makeover photo shoot. "It just sort of took off from there," she said. By the end of that summer, Hittle had graduated to the position of social media specialist. She continued to work for the magazine during university breaks and in June was promoted to marketing manager. 

Washington Family, the largest publication of its kind in the mid-Atlantic region, provides parents with resources and information on all aspects of family life. In addition to building relationships with advertisers and event sponsors, Hittle writes one or two articles a month, handles the magazine's award-winning social media, helps put together an online newsletter and is part of a team of bloggers. She also lends a hand with photography and design, including the cover shot for the July 2011 issue.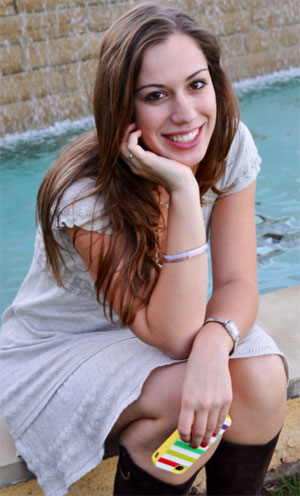 Senior Julien Hittle divided her time this semester between classes and her duties as marketing manager at Washington Family Magazine.
"It has been a wonderful partnership and a whole lot of fun," Hyde said. "Julien brings energy and insight to all our projects. She is a joy to work with and has great ideas." 

Hittle also takes direction well. On the day after Thanksgiving, she received an assignment to plan a short weekend segment on fun indoor activities for children to air on the Washington NBC affiliate's "News4 Today" program. Hittle overcame some pre-show jitters to deliver a solid first television interview, which concluded with anchor Chris Gordon pointing out her Madison purple dress. "I love that they put in a plug for JMU," she said, adding, "Everyone was really friendly and really nice. The whole experience was rewarding." 

On average, Hittle said the magazine job has required about 15 to 20 hours a week this semester on top of her coursework. She has learned to rely on coffee, regular office correspondence and plenty of to-do lists. "It's also about being honest about what you can and can't do, and communicating when it gets to be too much," she said. 

The communication studies program at JMU, which includes networking opportunities with alumni working in the field, prepares its students well, Hittle said. "A lot of the classes I've taken have a real business focus. Knowledge is power. When you know a little more about what to expect, you feel prepared and then you're really going to do well." 

She also encourages students to make their resumes stand out — Hittle designed her own — and to take advantage of available internships. "Anything you can do to set yourself apart . . . it's a competitive job market out there." 

Published: Thursday, December 15, 2011
Last Updated: Tuesday, May 2, 2017