JMU News
Service Before Self this Thanksgiving
---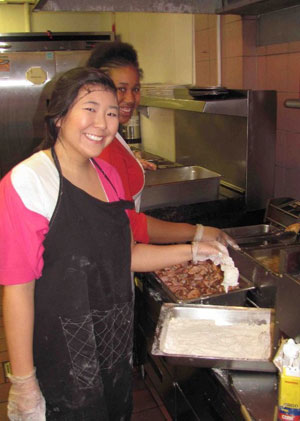 Alexis Wu prepares a meal at Cafe 458 in Atlanta.
While the majority of James Madison University's students are looking forward to a break from classes and some time at home at Thanksgiving, a group of 30 students is looking forward to a week of long travel, hard work and rewarding experiences. Three Alternative Thanksgiving Break trips planned by students will take place in Georgia and Louisiana during JMU's Nov. 19-26 break. Instead of returning home to their families and celebrating over turkey and mashed potatoes, students will serve hot meals to the homeless, build affordable housing and spend time with patients living with HIV/AIDS. 
Misty Newman, assistant director of Community Service-Learning at JMU, coordinates trips at Thanksgiving, Spring Break and May Break and will accompany the group traveling to Cafe 458 in Atlanta. Newman is impressed with the students who give up time with family at Thanksgiving to dedicate a week to service. "It didn't really resonate with me until I participated myself, but the time you give during a Thanksgiving Break is so much more treasured than the time you give during a Spring Break," said Newman. 
JMU's award-winning Alternative Break Program provides learning opportunities for students outside of the classroom where they focus on social issues by interacting with a local nonprofit, living simply and reflecting on the critical issues faced by the people they serve. 
Cafe 458 
Students will travel to Atlanta to work at Cafe 458 serving meals to men and women struggling with hunger and homelessness. While Cafe 458 is open to the general public for brunch and dinner, it also serves as the city's only restaurant for homeless individuals during weekday mornings. 
The restaurant's proceeds all benefit the Samaritan House of Atlanta, a center dedicated to breaking the cycle of homelessness by enabling people to transform their lives through sustainable employment and income. The JMU students will also contribute to the Earning Dignity…Gaining Employment Program, which consists of resume, employment and computer workshops. 
"By experiencing some aspects of their lives, we'll all be better able to respect, learn about and seek help for the homeless, unemployed and underemployed who are often forgotten about in our society," said trip leader Christopher Shockey, senior hospitality and tourism management major. "My hope is that each of our participants on this trip will have an 'ah-ha' moment of their own so that they will begin to 'Be the Change.'" 
Phoenix of New Orleans 
After six years, New Orleans is still experiencing the effects of Hurricane Katrina. Students traveling to Louisiana for the PNOLA hurricane relief trip will help residents of the lower Mid-City neighborhood regain stability and independence. Efforts to strengthen the community will be addressed by building affordable housing. 
"The trip is significant for me because it's hard to believe that the rebuilding efforts are still happening after all this time, said PNOLA trip leader Blake Lam, senior media arts and design major. "It's also amazing to see a group of people who are willing to forsake time with family over Thanksgiving in order to help others." 
Project Lazarus 
Participation in Project Lazarus, a New Orleans-based organization that works to provide long-term care for patients in a home-like environment, will allow students to learn about and work with patients with HIV/AIDS. During the trip, students will spend one-on-one time with patients and assist when needed throughout the facility. 
"We are looking forward to visiting Project Lazarus and putting both faces and personalities to the HIV/AIDS disease," said trip leader Melissa Childers, senior health sciences major. "It's important to realize every statistic we hear about the disease correlates to an individual, such as the ones we will meet in New Orleans. We can't wait to go and to be able to celebrate Thanksgiving with a 'new' family." 
The JMU Alternative Break Program is the Break Away National Program of the Year for 2010 in recognition of the university's commitment to active citizenship. The program earned the same award in 1999 from Break Away, a national nonprofit organization that supports the development of quality alternative break programs at colleges and other nonprofit organizations. 
Published: Monday, August 15, 2011
Last Updated: Monday, February 5, 2018