40 Years in March Time
---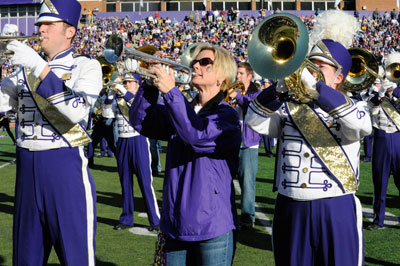 Marching Royal Dukes members and alumni perform at the 2010 Band Parents Day/Alumni Band celebration. Related Links:
Post Your MRD Photos
We'd love to see your favorite MRD photo from your special days in the marching band. Post your best shot to www.facebook.com/jamesmadisonuniversity.
They have performed for inaugurations of U.S. presidents and Virginia governors, for foreign heads of state and for admiring crowds throughout the world, but to observe their own 40th anniversary milestone, the Marching Royal Dukes of James Madison University prefer to keep the celebration low key – and at home. 

Come Saturday, Nov. 12, the annual Band Parents Day and Alumni Band performance will take on added festivity as 85 or more band alumni, representing every section of the band and color guard, play "Get It On!" with the current Marching Royal Dukes. The MRDs will inspire the Bridgeforth Stadium crowd as the Dukes take on Rhode Island in the final regular season football game at 3 p.m.
From its roots as the Madison College Marching Band, formed to complement the school's brand-new football team, the Marching Royal Dukes have grown from a first-season membership of about 100 to today's 450-member marching powerhouse. Membership is open to JMU students from all academic majors, not just the School of Music. 
The MRDs are popular JMU ambassadors at home and abroad, where they have performed in the closing ceremonies of the 700th anniversary of the Grimaldi family in Monaco and New Year's celebrations in Athens, Greece (December 2000) and Dublin, Ireland (December 2003 and 2006). "We take our job seriously that everything we do reflects well on JMU," said Scott Rikkers, director of the MRDs. 
Rikkers, who was a graduate student at JMU from 2001 to 2003, follows in the director's role blazed by four men: Malcolm Harris (1972-74), Ken Moulton (1974-77), Mike Davis (1977-81) and Pat Rooney (1982-2007). During Rooney's long tenure, the MRDs received the Sudler Trophy, known as the Heisman Trophy of college marching bands, from the John Philip Sousa Foundation. The 1994 recognition ushered in a period of exciting performance opportunities – the inaugural parades of Presidents Bill Clinton in 1997 and George W. Bush in 2001 and the inaugural ceremonies of Governors Mark Warner in 2002 and Tim Kaine in 2006. 
Add in performances in the Macy's Thanksgiving Day Parade in 2001 and 2008 and the London New Year's Parade last year, and the band's rich history and popularity are evident. "The trip to London was by far the most memorable and by far the most fun experience I have had not only as a MRD but also a JMU student," says Eric Sharer of Herndon, a sophomore double majoring in accounting and computer information systems who plays mellophone – a brass instrument used in place of the French horn in marching bands. 
Michelle Beatty of Chantilly, a senior who has played the tenor saxophone in the band throughout her college career, is an engineering major. "We are all different majors, years, ages and have different interests, yet this activity brings us together for a common goal," Beatty says. "I cannot imagine my college experience without the MRDs because this organization has been where I've created some of my best friends and greatest memories. The MRDs have also taught me how to have leadership skills while being in a huge organization." 
Dan Everard ('89) of Harrisonburg has been organizing the Alumni Band for five years. "In the early 1990s, we had an Alumni Band, but it died out. I started this up to help MRD alumni continue their Madison Experience," Everard says. "As a life member of Kappa Kappa Psi, the music service fraternity, I took this role on to continue my service to the band program at JMU." 
The Marching Royal Dukes will participate in the Harrisonburg Holiday Parade, which begins at 7 p.m. Friday, Dec. 2. 
Published: Tuesday, November 8, 2011
Last Updated: Friday, May 5, 2017