TEACH for Future Teachers
---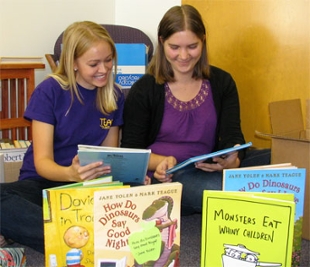 TEACH Ambassadors Jenn Bailey (L) and Courtney Waldmann.
On their way to developing into full-fledged teachers, 14 James Madison University students are already honing their teaching talents as TEACH Ambassadors in the university's wide-ranging teacher education program. Not only are they serving younger students in the program, but also they are learning important leadership skills. 
"In the teacher education program, we value the teacher as learner and the teacher as leader," said Dr. Margaret M. Kyger, assistant dean of the College of Education and an associate professor of exceptional education. "The TEACH Ambassadors program is one way we help develop the leadership component." 
Kyger established TEACH (Teach Education Ambassadors Cultivating High Achievers) Ambassadors three years ago as a broader version of an ambassadors group she nurtured within the Department of Exceptional Education before joining the COE dean's office. 
Ranging in number from 12 to 15 per year, ambassadors are selected through an application process that includes written recommendations from faculty and an interview panel. Most ambassadors are juniors and seniors, but sophomores can serve. All applicants must have at minimum a 3.0 grade point average. 
Ambassadors span the wide array of academic fields represented in JMU's teacher education pre-professional licensure programs. Students interested in teacher licensure major in an academic field and complete requrements for the teacher education program. Ambassadors' major role is peer advising - helping students who plan to become teachers understand requirements for entry into the teacher education program at JMU. 
"Each ambassador communicates with 15 to 20 students to remind them about requirements to enter specific teacher education programs," said senior Jenna Ashworth of Sterling, co-chair of TEACH Ambassadors this year. Ambassadors and their students are matched as much as possible to have mentors and mentees in the same programs of study. 
Students who need to take Praxis 1 Pre-Professional Skills Tests, which are required for admission to the teacher education program, can choose to work one-on-one with a trained ambassador to prepare for the tests. "We help students prepare for the math, writing and reading segments of the tests, not only the content with practice tests and vocabulary but with test-taking strategies," Ashworth said. 
Vanessa Dunn of Sperryville, now a senior at JMU, found peer advising very helpful as a junior preparing to retake the Praxis 1 tests. "My ambassador was non-judgmental and showed great patience," Dunn said. Meeting for an hour every week throughout the fall semester helped Dunn overcome test anxiety and pass the tests. Now as an interdisciplinary liberal studies major with her sights on inclusive early childhood education licensure, Dunn is preparing for her career with classes and practica in JMU's Young Children's Program and at an Augusta County school. She wants to teach first graders after graduation. 
Ambassadors also serve the College of Education and the teacher education program as hosts for academic open houses, CHOICES sessions and other events that showcase teacher preparation at the university. 
The ambassadors also engage in service projects to benefit the wider community and to refine their leadership skills. 
First-year ambassador Jenn Bailey, a senior from Midlothian, is spearheading a book drive to fill a 300-book "wish list" from Meadows of Dan Elementary School to replace volumes destroyed as a result of a fire at the Patrick County school. The blaze, which occurred two days after school started this academic year, displaced the school community to mobile units, including one for use as a temporary library - which needs filling. 
Bailey, who spent part of the summer in small South African schools with no libraries, was drawn to the service project as soon as she heard abou the situation at Meadows of Dan. "It's amazing that the same need can occur here under different circumstances," she said. 
In the spring semester, ambassadors will participate in a local version of the "Are You Smarter Than a 5th Grader?" television game show to benefit the Gus Bus literacy program and will help arrange a JMU visit by second graders from Prince William County Schools.
"I've learned so much about the education programs through TEACH Ambassadors," Ashworth said. "I have a deeper level of interaction with our faculty and serving as an ambassador is giving me a better perspective on what it takes to be a teacher." 
----- 
Are you interested in contributing to the Meadows of Dan Elementary School book drive? 
Check out the book "trees" in the main hallway of Memorial Hall (at Entrance C); Room 241 in Duke Hall; Room 118 in Maury Hall; or Room 317 in Godwin Hall. Choose a paper apple with a book title and author's name, purchase the book and place it in boxes designated at the four locations by Nov. 3. (In Memorial Hall, Room 3270 is the drop off location.) For more information, contact Jenn Bailey at baile2jl@dukes.jmu.edu. 
Published: Wednesday, October 12, 2011
Last Updated: Friday, May 5, 2017