News
Bravo, Forbes Center
---
JMU senior R.J. Tester remembers well his first Madison Singers rehearsal in the Concert Hall of the Forbes Center for the Performing Arts.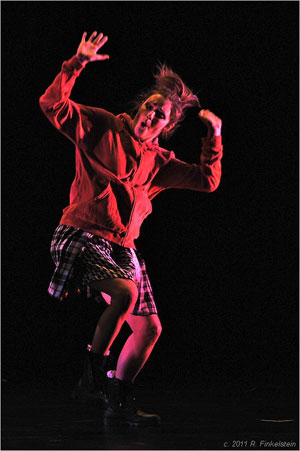 Anna St. Ours in "Mozart Maladies" by JMU dance Professor Cynthia Thompson. (Photo by R. Finkelstein)
"I got there a little early and the doors were unlocked, so I went on in. I walked out on the stage and just looked out and it was beautiful. I sang a few notes. That was a breath-taking moment and it reassured me that performing and music is what I want to do. To have that feeling at the university I chose for my undergraduate education is a dream come true." 
Thanks to the state-of-the-art Forbes Center, Tester and other students and faculty are studying, practicing and performing in customized spaces that elevate the quality of arts facilities at James Madison University to match the music, theater and dance talents of the people using the venue, which opened in 2010. 
Tester, a tenor majoring in vocal music performance from Tazewell, Va., is generous in his praise of the Forbes Center as an academic and performance gem. He's experienced first hand the flexibility of the classroom used for music theater performance classes with its moveable chairs, wall of mirrors and Steinway piano, the top-notch quality rehearsal spaces and outstanding performance halls, including the Recital and Concert halls, where he has performed with the JMU Opera Theater and Madison Singers. 
"What I found really neat is that they are able to change the acoustics according to the voice singing or the instrument playing. In our recital last year, they were able to adjust for my voice and for the girl singing with me. So when you're out on stage, you feel like it's a comfortable space to sing in and you don't feel like you're over singing or under singing. It allows you to sing comfortably, right – how you've been taught – and that was really nice and professional." 
"The problem before was that every space we used on campus and off campus, such as some churches, had different problems," said Dr. Eric K. Ruple, interim director of the School of Music and a professor of piano who has taught at JMU since 1987. "We were in a mode where we were making excuses why we couldn't be the best. Certainly, here (in the Forbes Center) the excuses are gone. We can have the best, the best recordings, the best acoustic for any kind of concert. If it's not exactly what we want, we can change it a little bit. That's pretty amazing." 
As a member of the piano faculty, Ruple is particularly proud of the Forbes Center's student practice rooms. "Most practice rooms in schools of music across the country have the beat-up pianos that have been around for 50 years and they don't get taken care of because there are so many," he said. "We have some of the best facilities in the country for practicing for students. And then the pianos on the stage are just more than we even dreamed about," referring to JMU's fine Steinway instruments which fill the Forbes Center needs and fulfill the university's designation as an All-Steinway School. 
"I use the practice rooms daily at least an hour," Tester said. "They are fantastic. I really enjoy the difference between those in the Forbes Center and the ones we have in the Music Building because they are lighter, the pianos are newer. The acoustics are better in the rooms as well. 
"It motivates you to practice more, too, because you have somewhere nice to go. I don't feel stuck in a closet rehearsing my repertoire. I'm in the Forbes Center, I'm in a world-class venue practicing for what I want to do with the rest of my life." 
"It was astounding to see the Forbes Center coming to life during my freshman and sophomore years," Tester said. He well remembers the days of choral events in the sanctuaries of Harrisonburg Baptist and Muhlenberg Lutheran churches, opera in Wilson Hall Auditorium and vocal recitals in Anthony-Seeger Auditorium. 
"While those are nice venues, we didn't have a lot of possibilities for manipulating them for our needs," Tester said. "Therefore, we were restricted on what we could possibly do. We have very talented students and very talented faculty that can advise our students to do great things, however our venues wouldn't accommodate those."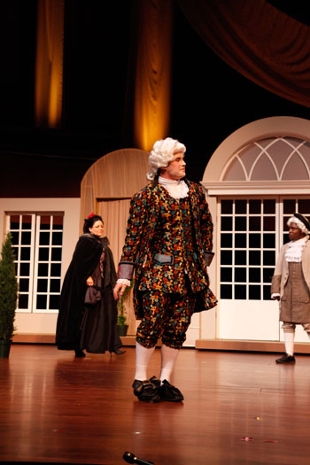 R.J. Tester in the JMU Opera Theater's production of "The Marriage of Figaro." (Photo: JMU Photography Services)
Anna St. Ours of Harrisonburg, who is majoring in theater and dance with a concentration in dance, remembers the limitations of the studios in Godwin Hall. A senior, she and her fellow dancers and choreographers also doubled as "techies" to transform either of two studios into performance spaces, setting up risers and folding chairs for audience seating and handling lighting duties. 
"In Godwin, we had to change the gels – the colored papers that go in front of the lights," St. Ours said. "In Forbes, they are automatically changed through the light board, so shows run much quicker. You don't hear us backstage rustling with the gels." 
When she first saw the Forbes Center interior after it was finished, St. Ours was amazed by the grandeur of the venue and the personal touches such as lockers for students – something dancers really appreciate. "It just felt fresh and untouched and put a big sense of responsibility on the dance majors because we were the first ones to come in and fill that space with dance," she said. 
St. Ours also appreciates that the days of a physically far-flung academic program are history. "We had our studios in Godwin, we performed in Duke, the costume shop was across the street from Memorial. We were really spread out. Now everything is in the Forbes Center, which is great. 
"In Duke we had two very small dressing rooms. The backstage area at the Forbes Center is huge. There is plenty of space, with bathrooms and lockers. For dance, each performer has their own seat with a mirror and lights. That wasn't guaranteed in Duke. The costume shop is close, so if something breaks, it's right there." 
"It's good that I've had the background of working in Godwin, with changing gels and resetting chairs," St. Ours said, "but it's also good that now I can focus on movement and technique." 
Ruple believes the Forbes Center is a welcome and appreciated addition to Harrisonburg and the surrounding area. 
"The first performance I gave was in the Recital Hall with Ian Zook, our horn professor. Just the atmosphere in there and the feeling was really, really similar to what it was like to go into the Kennedy Center. When we've played in the Concert Hall, it's just like the Kennedy Center, but better because everything is so new and at such at high level that it's every bit as good as any place, literally. It's all more special. You're just so struck by the quality of the staff and the quality of the facilities. I think it's affected the audiences – they're so much more attentive. It's a very special place to be." 
"It's a very conducive environment to just doing your best." 
Related Links: 
College of Visual and Performing Arts: jmu.edu/jmuarts

Dr. Eric K. Ruple's biography: jmu.edu/music/faculty_areas/piano/faculty.html#ruple 
Published: Wednesday, September 7, 2011
Last Updated: Monday, May 8, 2017