JMU News
Rare Book Still Teaches
---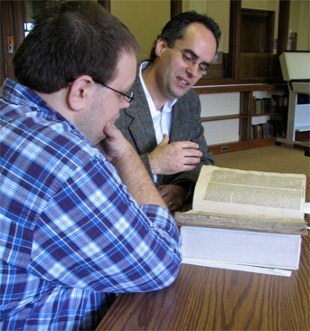 Mark Rankin (right) and Trevor Alvord study the Foxe volume in Special Collections
"Acts and Monuments of these Latter and Perilous Days" sounds like the latest gloom-and-doom financial tome hitting the bookshelves and zapping into electronic readers. Rather, it is a 1563 first edition volume of John Foxe's "The Book of Martyrs" that joins the rare and unique holdings of James Madison University's Libraries and Educational Technologies' Special Collections. 
With the acquisition of the monumental work, JMU becomes the depository of the only known copy of the book in Virginia, said Trevor Alvord, Special Collections librarian. 
Four and a half centuries after its printing by John Day, students and faculty at James Madison University can study the massive book, which Special Collections recently obtained through the guidance of Assistant Professor of English Mark Rankin, one of the nation's leading experts on John Foxe and his most famous work. 
In its more than 1,750 pages the original book chronicles Protestant followers put to death during the 1553-58 reign of Queen Mary I of England and helped cement the monarch's "Bloody Mary" epithet. The copy in JMU Special Collections is estimated to be 90 percent complete with 46 of the original 61 woodcut illustrations – likely cut by Dutch artisans – vividly depicting martyrs at the moment of death. "Few if any surviving copies of the 1563 first edition are complete," Rankin said, adding that there are 18 known copies in North America. 
Rankin described the "The Book of Martyrs" as "the most influential book of the English-speaking world" because "it shaped the English Protestant imagination more thoroughly than any other (book) besides the English Bible." 
Foxe (1517-1587) was an Oxford-educated Puritan historian and martyrologist who is best described as the compiler of "The Book of Martyrs," according to Rankin. Foxe "gathered documents drawn from archival research, field interviews undertaken by informants and eyewitness testimony," Rankin said. 
The book contains accounts of the lives and writings of hundreds of individuals. "These stories impressed themselves upon the minds of generations of readers because the second, expanded edition of this book was ordered to be placed in every parish church in England, besides cathedral and guildhall libraries," Rankin said. The book has had its critics, too. "Thomas Stapleton, a noteworthy Roman Catholic theologian, called 'The Book of Martyrs' a 'devilish dirty dunghill of his foul heretical and traitorous martyrs,'" said Rankin. 
Rankin will explore the book with his undergraduate and graduate students this year. Students in the "Sixteenth Century British Literature" course will meet in Special Collections several times so they can read and study the primary source treasure first hand. 
Rankin's enrolled in "Epic Narratives in Medieval and Renaissance England," part of JMU's General Education: The Human Community core academic program, will learn more about Foxe by delving into his monumental work. In the spring semester, JMU's new acquisition will serve as an important source for graduate students as they study book history, including the makeup of books and methods of reading, using "one of the best examples of bookmaking and responses to books," as Rankin describes "The Book of Martyrs." 
Foxe will also play a role in the 2012 National Endowment for the Humanities Summer Seminar for College and University Teachers in Antwerp, Belgium, and London and Oxford, England, where Rankin will co-direct the study of "Tudor Books and Readers: 1485-1603." 
Alvord and Melissa Van Vuuren, English librarian, anticipate that faculty from other disciplines such as history, religion and art history may use the book in their lessons and research. 
The new acquisition, like other holdings in Special Collections, is available for study by scholars beyond the university. "This addition to our collections complements the manuscripts, diaries and other archival materials in JMU Special Collections and represents a significant addition to the rare book collections in the Carrier Library," said Ralph Alberico, dean of libraries. "We are delighted to offer students, faculty and visiting scholars the opportunity to personally experience this important piece of our intellectual heritage." 
The collection, located in Carrier Library, is open from 10 a.m. to 4 p.m. Monday through Thursday and by appointment by calling (540) 568-3612 or sending email to library-special@jmu.edu. The collection's website is available at http://www.lib.jmu.edu/special/. 
Published: Monday, August 15, 2011
Last Updated: Monday, May 8, 2017