Awareness Increases Ability
---
James Madison University graduate student Chris Fasching Maphis was in pain and burdened by a cumbersome splinting device. She was suffering from a dislocated hip, the result of a car accident and hip replacement surgery years before. She relied on her friends to help her get around. Despite a professor's recommendation to seek help through JMU's Office of Disability Services, she thought she had everything under control.
It wasn't until she dislocated her hip for the third time in a year that Fasching Maphis heeded her professor's advice and called the Office of Disability Services. 
"They've helped me to get my life back in spite of the physical challenges," says Fasching Maphis. 
ODS, located on the first floor of Wilson Hall, serves eligible students with mobility, orthopedic, hearing, visual, speech and learning disabilities. Currently 708 students are registered with ODS, though Director Valerie Schoolcraft estimates that her office touches thousands of students indirectly. 
Specifically for Fasching Maphis, ODS was able to provide the high stool she requires to sit on in class, voice recognition software for her computer so she doesn't have to hold her laptop and access to paratransit for her transportation needs. 
Fasching Maphis said relying on friends for rides, missing appointments and being in physical pain left her feeling isolated and frustrated. "The sense of independence and ability to return to participating in committees and activities that I want/need to attend has helped me to begin feeling like the strong, independent, involved and active person that I am," said Fasching Maphis. 
"We take the approach that a disability is only one aspect of a person's identity," said Schoolcraft. "I hope that students will become more aware that we live, love, laugh and learn in a community made up of all kinds of people, including those with disabilities." 
ODS takes a holistic approach to helping students and prides itself on collaborating with offices across campus. This same approach has been applied to planning Disability Awareness Week, March 28 to April 1. 
This year ODS is expanding its programming and hopes to reach more students. 
Comedian Josh Blue, winner of NBC's "Last Comic Standing," headlines the week, which includes an ODS open-house, a benefit concert and a disability sports showcase. 
"With Disability Awareness Week, I am excited that so many people, from all across campus, are working together in innovative partnerships and engaging in important conversations about the kind of inclusive community we want to be and our individual responsibility in creating that community," said Schoolcraft. 
Schoolcraft and Fasching Maphis encourage students to participate in Disability Awareness Week and seek help from ODS throughout the year. 
"I would encourage anyone who is experiencing any type of physical or learning challenges while attempting to accomplish their goals at JMU to make a call to ODS and ask/explore what help may be available," said Fasching Maphis. "In my experience, everyone in the office is 100 percent behind supporting your ability to successfully function at JMU. Truly � it has been remarkable."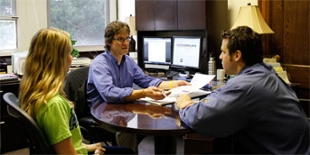 Disability Services Specialist Matthew Trybus, center, helps students with disabilities navigate JMU.

Related Content:
Disability Awareness Week
Highlights of some DAW events include:
March 28: Josh Blue, 7 p.m., (doors open at 6 p.m.), Wilson Hall Auditorium. Blue is the winner of NBC's "Last Comic Standing." According to his website, Blue puts the cerebral in cerebral palsy as he breaks down stereotypes of people with disabilities one laugh at a time. Free.
March 29: "The Appointment: Trish's Story," 2:30-4 p.m., Room 306, Wilson Hall. JMU student Trisha Smith, a brain AVM and aneurism survivor, shares her powerful video and tells her story. Panelists will include friends and professionals who supported Smith through the event and her rehabilitation.
March 29: Benefit Concert hosted by Best Buddies, 7 p.m. (doors open at 6 p.m.), Wilson Hall Auditorium: $3 at the door with JAC card, $5 for the public. Low Key, Exit 245, The Bluestones, James Orrigo, Into Hymn and The Madison Project will perform. All proceeds will go to Pleasant View Home and the Best Buddies organization.
March 30: Office of Disability Services Open House, 11 a.m.-3 p.m., Room 107, Wilson Hall. An interactive tour showing how ODS provides access and accommodations for JMU students.
March 30: "Temple Grandin," 7 p.m., Room 404, Taylor Hall. Free.
March 31: disABILITY Resource & Career Fair, 11 a.m.-3 p.m., Transitions, Warren Hall. An opportunity for agencies and vendors to showcase their services to individuals with disabilities and those who have an interest in serving people impacted by disability. This event is co-sponsored by Career and Academic Planning.
March 31: "The Soloist," 6 p.m., Transitions, Warren Hall
April 1: Disability Sports Showcase, 12:30-2:15 p.m., Sinclair Gymnasium, Godwin Hall. An event where students can learn about and participate in adapted sports. Featured events of this program will include wheelchair basketball, beep baseball and goal ball.
Published: Thursday, March 24, 2011
Last Updated: Wednesday, January 10, 2018