Wind Power Education Gets Boost From JMU Center
---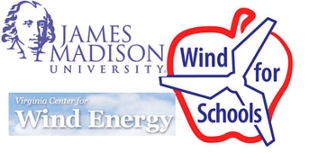 Northumberland Middle/High School became the first Virginia school to build a wind turbine through Virginia Wind for Schools on Friday, Feb. 11. Wind for Schools is a federally funded program administered by the Virginia Center for Wind Energy at James Madison University.
The Wind for Schools program works to raise awareness of the benefits of wind energy through 11 university wind application centers. The centers work with public schools and communities to build wind turbines that increase student involvement in wind energy development and raise their awareness of wind energy benefits. 
Through a proposal process, JMU was selected as Virginia's wind application center. Drawing on students and faculty in the engineering and integrated science and technology programs, JMU is able to offer a robust Wind for Schools program. 
"It covers a little bit of engineering, but it really reflects the interdisciplinary nature of the wind industry mixed with a very unique school. I think that makes it interesting, we are going to take our Wind for Schools and do it a little bit differently than everyone else has," said Remy Luerssen, a 1999 ISAT graduate and the director of outreach and education for the Center for Wind Energy. 
JMU's wind education differs from many other university programs that are mainly run through engineering schools, Luerssen said. ISAT students can complete a senior capstone course acting as project managers on Wind for Schools projects. They get real life experience creating budgets, talking to program administrators, obtaining permits and taking on the role of installers. 
In addition to working with public schools and communities, the Center for Wind Energy is working to enhance wind energy education at JMU. A wind energy minor is being planned that will encompass all aspects of wind energy, including engineering, education, business and geology coursework. 
JMU students completing ISAT capstone projects have been working with Luerssen this year to implement the turbine installation at Northumberland Middle/High School, which is located on the Chesapeake Bay. The turbine will teach Northumberland students about careers in renewable energy and teachers will receive professional training on wind curricula. 
The Northumberland Middle/High School project received a $20,000 stimulus grant from the Virginia Department of Mines, Minerals, and Energy to cover the turbine project. The schools also are collaborating with Rappahannock Community College and the Chesapeake Bay Governor's School. 
The turbine will be capable of generating 2.4 kilowatts of electricity for the school during peak wind conditions and will offer students access to real data that can be used in math and science classes. 
"The educational benefit completely outweighs the electrical," Luerssen said. Teachers will receive data and curriculum help and will have access to wind power records nationwide. 
Wind for Schools turbines have software that sends production and wind speed data to a dedicated computer at each school. An application the schools download shares their data with the Idaho National Laboratory, the repository for the Wind for Schools programs around the country. 
"The idea is that you can go to this website and see what's going on in Alaska, you can see what's going on in Montana, you can see what's going on in Virginia," Luerssen said. "You can have a really nice lesson about how weather moves throughout our country and jet streams." 
Schools can also apply for meteorological towers to better understand data collection and use before installing a turbine. The towers can provide a year's worth of data, get students excited and showcase the benefits of turbine installation to schools and administrators.
"A lot of times, at least with schools I know like Luray High School, when we sited their meteorological tower, they sited it right where the concession stand is going to go. So in a year, when they get their turbine, that turbine could directly power the concession stand," explained Luerssen. 
Installing a wind turbine is not the only way schools can participate. They also have the option of installing an anemometer to collect data, monitor findings and create student and teacher excitement. 
The Virginia Center for Wind Energy at JMU is also working with Henley Middle School in Crozet, Harrisonburg High School, and a school in Woodstock as potential turbine sites by the end of this calendar year. Schools in Northern Virginia and Fredrick County have expressed interest in meteorological towers. 
Applications for turbine and meteorological tower installment can be found at Virginia's Wind for School's website, http://aeer.cisat.jmu.edu/wfs.html. 
By Shannon Murphy ('11), Office of Public Affairs 
Related Links
Virginia Wind for Schools
Virginia Center for Wind Energy
Virginia Wind Energy Collaborative
Be The Change--Science & Technology
Published: Friday, February 11, 2011
Last Updated: Tuesday, April 17, 2018