How Are You Getting Home This Weekend?
---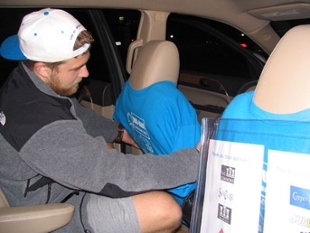 Twenty thousand is a milestone number. For James Madison University's SafeRides organization, accredited with providing over 20,000 rides to students, this milestone brings recognition and the knowledge that they have not only made a positive impact on students, but have contributed to a safer Harrisonburg community as well. 
SafeRides, a student-run, nonprofit organization at JMU, works to prevent drunk driving by educating students about alcohol risk prevention and providing free rides to students on weekends. 

Gov. Bob McDonnell and the Board of Transportation Safety recognized SafeRides with the Impaired Drinking Safety Award on July 14. The awards are presented each year at the Executive Mansion in Richmond. 

�It was such an honor to accept the award on behalf of SafeRides and JMU,� said Molly McDonald, president of SafeRides. �I came to the realization that we are on the map now; not only are we known around the JMU community but we are a big deal within the state of Virginia as well. It was also wonderful to have my mother [Mary McDonald] there with me because she lost her mother to drunk driving, making the award and ceremony all that more personal and memorable.� 

SafeRides was also honored with JMU�s Dolley Awards in both 2007 and 2008, earning the Outstanding Student Organization Award and the Dolley Award. 

Saving Lives � One Ride at a Time 

SafeRides was established at JMU in 2003 and began offering rides in 2007. While similar organizations exist on campuses throughout the nation, SafeRides is one of the only nonprofit organizations of its kind in Virginia that is run by students, for students. 

SafeRides may be contacted for a variety of ride-related purposes between 10 p.m. and 3 a.m. on Friday and Saturday nights. Students can also call SafeRides for a lift after a late-night shift at work or for a ride home from the store. Typical waiting time for rides ranges from an hour to an hour and a half and at least one student must present a JMU Access Card in order to receive a free ride. 

While roughly 141 members comprise SafeRides, the organization has experienced a rise in new, potential applicants. 
�I joined SafeRides because when I was 3, my cousin was killed by a drunk driver and ever since then I have been a very big advocate against drinking and driving,� said Jessica Lake, a JMU junior. �I volunteer so that I can help make sure my peers and the community are safe from drunk drivers.� 

Proactive Funding Efforts 

SafeRides is operated by a crew of 12 members from the basement of the University Health Center when JMU is in session. Four cars patrol Harrisonburg, each with a driver and a navigator. 

With rental cars costing $900 to run each weekend, SafeRides members remain committed to raising funds in engaging ways that get the JMU community involved. 

�We would like to send out five cars each night, but due to funding issues, additional cars are reserved for eventful weekends like Homecoming and Halloween,� said McDonald. 

SafeRides has lined up an array of fundraising events to jump start the year. In addition to holding a 5K race and proceed nights at local restaurants, members have written grant proposals to different companies such as Costco, Molson Coors and Anheuser-Busch. 

Going Beyond Campus Lines 

Members of SafeRides not only serve the students of JMU, but strive to give back to the surrounding Harrisonburg community as well. Soon, members will not only be required to complete community service hours, but they hope to spread safety education off campus as well. 

�We hope to travel to different high schools around Harrisonburg before prom in the spring to educate students about safety precautions and how to deal with dangerous situations they might encounter during their big night,� said McDonald. 

For more information, visit SafeRides. 
Published: Tuesday, November 2, 2010
Last Updated: Tuesday, April 17, 2018