Being the Change
JMU Nation, get a load of this
---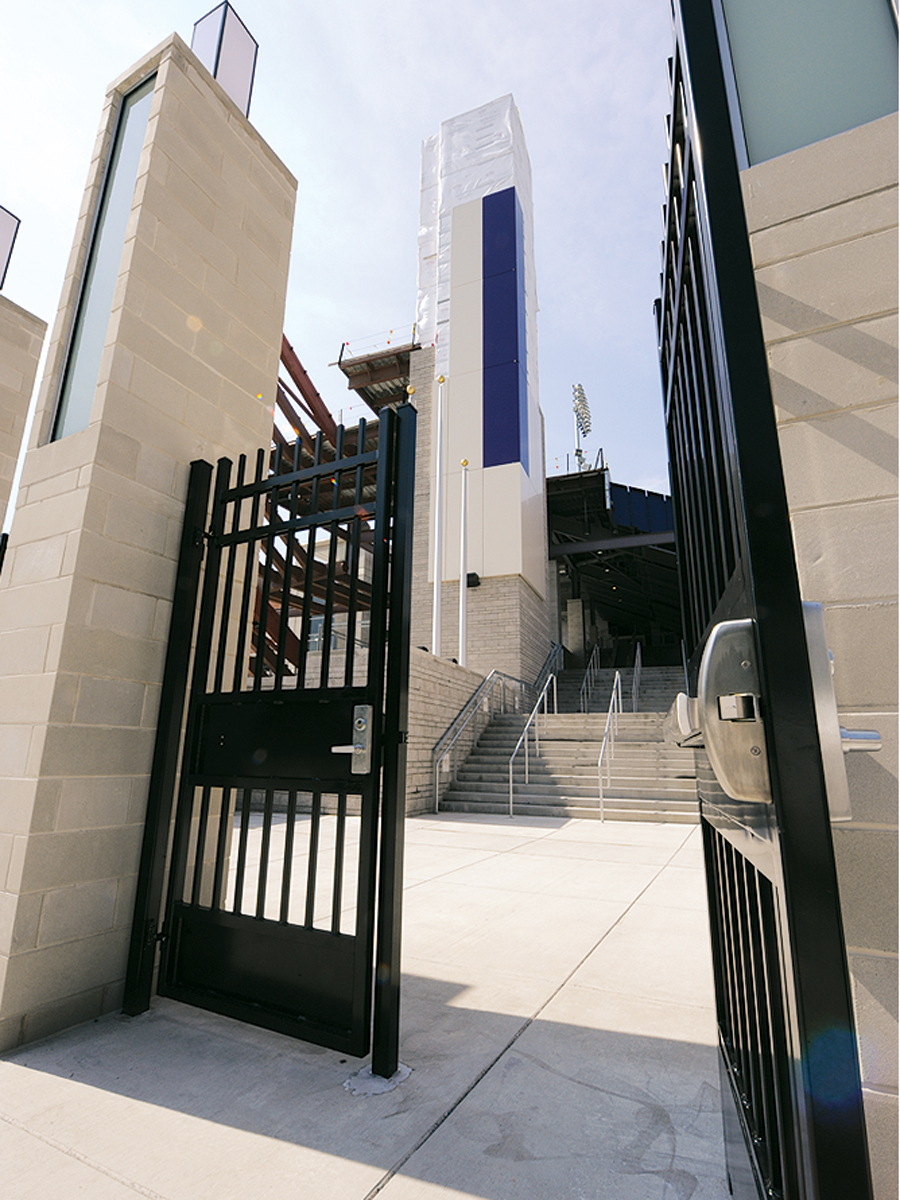 Bridgeforth Stadium expansion phase one complete
By Katie Rahme ('11)
Sept. 4, 2010, marked a new era in JMU athletics history when Bridgeforth Stadium, home of the football Dukes, opened its gates after the first phase of expansion, allowing alumni, friends and fans to gather and make lasting memories. Excitement around the football program has been building for many years and is giving alumni a reason to reconnect with the university.
Donna Harper ('77, '81M, '86Ed.S), a former student-athlete and current executive assistant to JMU President Linwood H. Rose, feels the momentum building. "The new stadium creates a wonderful element of excitement and anticipation for JMU sports," she says. "The opportunity to support athletics through membership in the Duke Club and attending games strengthens our commitment to student-athletes — their success and learning — and our commitment to JMU, so students might have the best education and experience."
A premier facility
Bridgeforth Stadium and Zane Showker Field is one of the premier facilities in the Football Championship Subdivision. In 2010, fans will be treated to an elevated main concourse, which includes additional restrooms, easier access to concessions, a new merchandise area and an overall improved fan experience for game days. The new grandstand was erected 40 feet closer to the field of play, providing a better view of the action for all.
Wider range of experiences to choose from
At the conclusion of the season, the expansion will move full steam ahead to add an additional 10,000 seats above the existing structure on the west side. For fans looking to experience the ultimate luxuries, the club level will feature an 8,000-square-feet climate-controlled club lounge with access to high-end food and beverages. Club seat holders will have exclusive access to the club lounge, and seats are being reserved now for the 2011 season.

Finally, the suite level will feature a private game experience with indoor and outdoor viewing capabilities along with full hospitality and catering for each suite.Don Parr ('84) adds, "There is no question that the whole game-day experience with the club room and club seats will be the ultimate experience for many Dukes fans. JMU can now offer a wider range of experiences to accommodate those fans who want a higher-end package."
High-level college football in a top-notch venue
With all of the upgrades to Bridgeforth Stadium, coming to a game will still be affordable for all. Michael Carpenter, assistant athletics director for tickets and customer relations, says, "The expansion of Bridgeforth is going to allow more fans to experience high-level college football in a top-notch venue. We're excited to offer a full variety of season-ticket packages for any budget. Options range from affordable family-plan packages to club seating with full hospitality. Season tickets include some great incentives for folks who reserve by Dec. 31, 2010."
Alumni support for athletics does not go unnoticed, especially in the eyes of Coach Mickey Matthews. "I look forward to the JMU fans rallying around the expansion of Bridgeforth Stadium and filling the seats in 2010, 2011 and the years to come. The JMU Nation has something to really be proud of, and our team feeds off the enthusiasm of our loyal fans."
Join fellow fans each week to cheer the Dukes to victory. Get your tickets now at JMUSports.com
Published: Friday, October 1, 2010
Last Updated: Monday, February 26, 2018