Being the Change
Crystal clear
---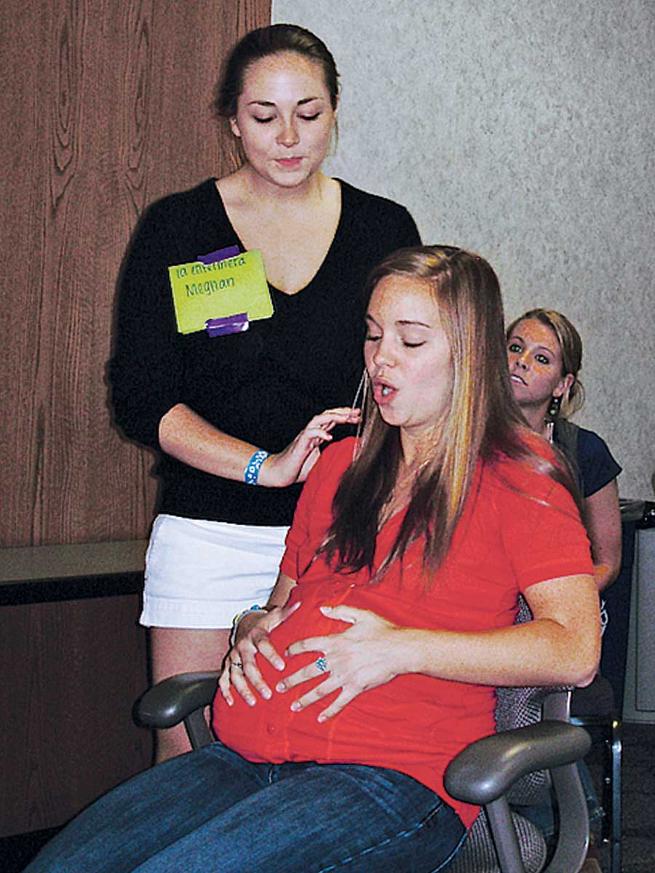 Training people to communicate in other languages yields unmistakable, positive results
Medical and law enforcement professionals are no strangers to emergencies. They train for years to be able to deal with those situations quickly and effectively. Yet few things complicate a crisis more than language barriers or cultural misunderstandings. In fact, when medical or police personnel don't understand or cannot make themselves understood, therapeutic skill is quickly jeopardized, and counseling opportunities evolve into confrontation.
The solution? Training professionals to effectively communicate in other languages. It's happening at James Madison University.
Medical Spanish one of JMU's growing minors
"One of JMU's newest and rapidly growing minors is medical Spanish. The program prepares students for language-oriented careers in the health sciences. Many JMU nursing students take advantage of this program, directed by professor Belkys Fernandez-Torres," says Giuliana Fazzion, head of JMU's Department of Foreign Languages, Literatures and Cultures in a recent article for Madison magazine. "She promotes closer relations between JMU students and members of the local Hispanic community by collaborating with the Blue Ridge Area Health Education Center, the JMU Institute for Innovation in Health and Human Services and the Success By Six Academy. She and her students also participate in the annual International Week Festival to promote events like blood pressure screening at the Rockingham Memorial Hospital festival booth, or recycling and environmental issues at the Green Village booth."
Improving translation and community relations
Also out in the community, "Kevin Costello directs JMU's translation/interpretation program, which focuses on Spanish," Fazzion says. "He completes translations from Spanish into English and revises translations into Spanish of documents intended for the Hispanic community. He is currently working with Susannah Lepley of the Blue Ridge Area Health Education Center to explore forms of collaboration with the department and help establish a mechanism to improve translations intended for the local Hispanic population."
Another of the department's active participants in the community is Spanish instructor Jorge Nieto. "He and his students are also involved with the local Hispanic community. Since fall 2004, Nieto has been a certified substitute Spanish interpreter/translator for Rockingham County Public Schools. He interprets and translates for parents, administrators, educators, psychologists, social workers, physical and speech therapists, and staff members within county primary and secondary schools. As a certified community health care Spanish interpreter, he also interprets during doctor visits, mental health and substance abuse appointments, medical procedures, and for public events in the Hispanic community," Fazzion says.
Spanish for Law Enforcement goes hands-on
Law enforcement is another field where JMU professors and students are working on the efforts to globalize communication. "Steve Gerome developed JMU's Spanish for Law Enforcement course and a Spanish for Law Enforcement practicum, both part of a new minor," explains Fazzion. "Students interact with officers in the Harrisonburg Police Department and gain hands-on experience in low-risk police interactions in the community."
Sharing ideas around the world
JMU professors emphasize that cultural awareness must go hand-in-hand with language study. Comprehending and conveying the simplest communication in another language opens the door to understanding and friendship. And sensitivity to another culture bonds daily neighborhood interactions into a cohesive community.
Hannah Stell ('10), the first JMU student to graduate with a minor in Spanish-English translation and interpretation says there's benefit in studying translation beyond finding a career. "This field has much more depth than I first realized. I was expecting a grammatical breakdown from one language to the other, but it's also about being aware of the culture. You need to be culturally aware if you want to translate well. Translation is so important in sharing information — and ideas — around the world."
Read more in the Fall 2010 Madison magazine article "Fluent in the language of service," by Giuliana Fazzion.
Published: Sunday, August 1, 2010
Last Updated: Thursday, January 10, 2019