Being the Change
Sports management major holds court
---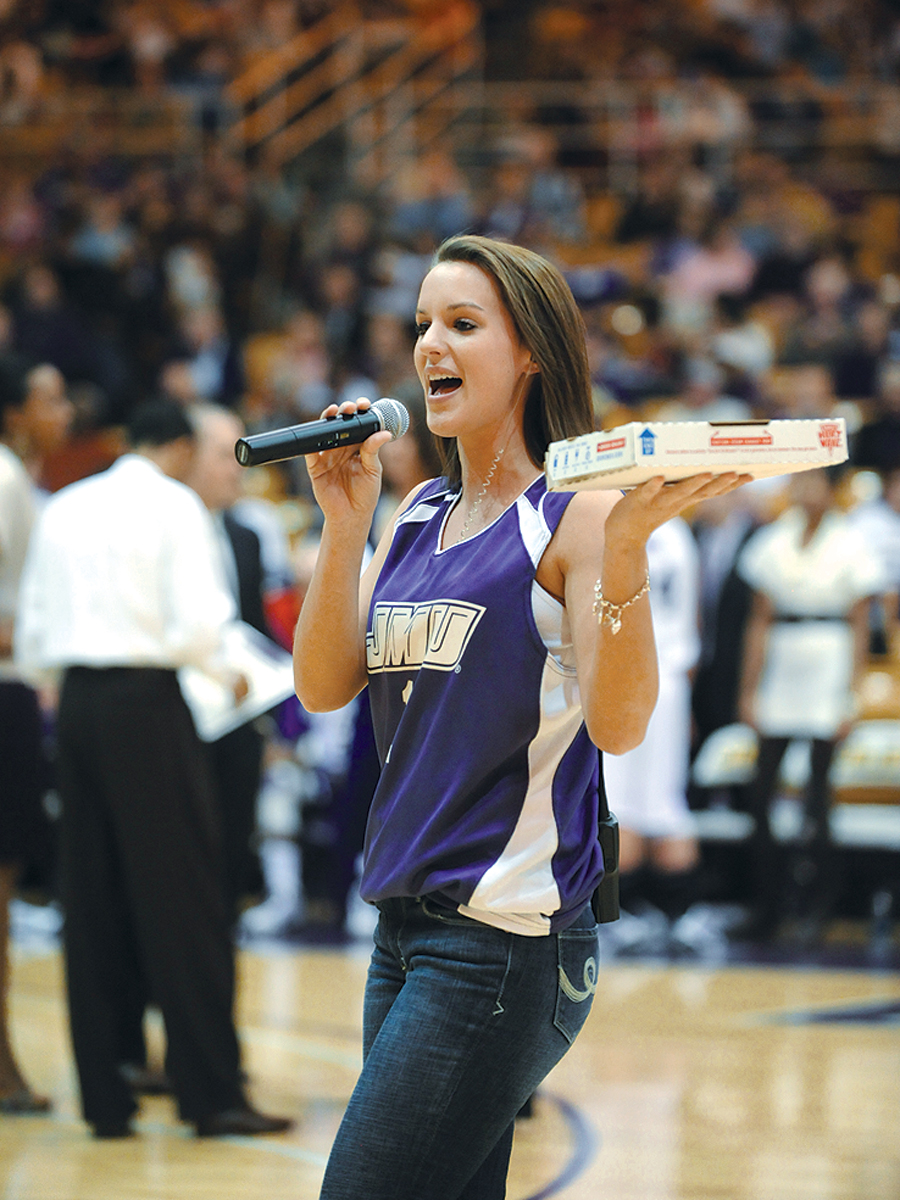 Elle Bunn ('11) capitalizes on classroom skills
By Katie Hudson ('10)
Sports and pageantry
Some may say Elle Bunn ('11) has a contradictory lifestyle. She lives for sports and is often taking in the intensity of her two favorites, hockey and football. But while she was working on her sports management major during her freshman year at JMU, she was also busy being crowned Miss Teen Virginia United States.
Bunn is a graduate of Kellam High School in Virginia Beach where she excelled in both sports and pageantry. Her two passions may seem polar opposites, but Bunn says that the two are much more similar than one may think. "Pageants really are mentally grinding, just like any sport," she explains. And with the swimsuit portion of the competition, the physicality is not far behind.
Bunn has spent 10 years of her life competing in pageants, all without a coach. Instead, her success in pageantry simply comes from learning from her own mistakes. After she was crowned Miss Teen Virginia United States, she then competed for Miss Teen United States where she received first runner-up and Miss Congeniality honors.
In spite of her impressive run, Bunn has decided to focus on her love for sports at JMU. "I've been in front of the camera before, and now it's my time to be more behind the scenes," she says.
Internship in athletics marketing
Not only will she be using her sports marketing major, but she will also use her business minor during an internship with the JMU athletics department the fall 2010 semester. Bunn will be working with Alyssa Gerlando ('07M), director of athletics marketing. Gerlando became familiar with Bunn's work ethic after having her as a student in Introduction to Marketing in the Sports Industry. Gerlando hired Bunn as the in-game hostess for JMU men's and women's basketball games. A first for JMU athletics, Bunn helps emcee contests and keeps the crowd revved up during halftime shows. "Given the uniqueness of her position as an in-game hostess, she also brings a high level of professionalism, poise, energy and the ability to interact with our fans," Gerlando says.
Bunn says her work as a hostess for the games has been a trial-and-error run, but Gerlando is satisfied with the positive feedback from fans. Bunn also helps JMU with recruitment of prospective JMU athletes. This summer, she worked as an intern at the Virginia Beach Convention Center in sports marketing. The Purple Pride running through her veins comes naturally. Bunn is a JMU legacy. Her father and mother — David A. ('83) and Wendell Smith Bunn ('83) — are JMU graduates, and her sister, April Bunn, is a 2005 alumna.
From the Fall 2010 Madison magazine.
Published: Sunday, August 1, 2010
Last Updated: Monday, December 17, 2018