Princeton Review Lauds JMU Environmental Stewardship
---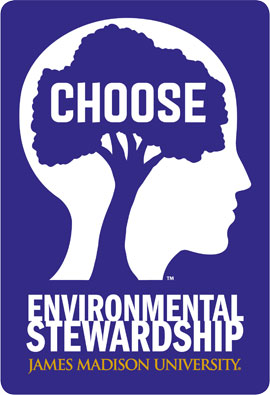 James Madison University's commitment to environmental stewardship, which earned a Governor's Environmental Excellence Award on April 7, has now reaped some national recognition. The Princeton Review has named JMU one of the country�s most environmentally responsible colleges in its first, �The Princeton Review�s Guide to 286 Green Colleges.� 
The guide does not rank the schools it lists, but provides a resource for students who are seeking institutions committed to environmental stewardship. "Clearly the green movement on college campuses is far more than a passing fad," the guide states. "There is a sincere and growing interest among students in identifying and applying to colleges where there is a demonstrated commitment to sustainability." 
In 2008, The Princeton Review began collaborating with the U.S. Green Building Council to develop a rating system to measure college stewardship efforts. Of 697 schools that The Princeton Review gave �Green Ratings� to in 2009, the 286 schools in the guide received scores in the 80th or higher percentile. The guide does not disclose scores for the schools. 
Factors considered in the rating system include green building certification programs, environmental literacy programs, formal sustainability committees, use of renewable energy resources and recycling and conservation programs. 
In its "Green Highlighs" section about JMU, the guide states: "JMU has an entire commission dedicated to studying sustainability and stewardship. 
"JMU's Institute for Stewardship of the Natural World is tasked with coordinating environmental stewardship efforts across campus, advocating for priorities and challenging all members of the James Madison community to think critically about their role in achieving the long-term stewardship of Earth. In 2009, a campus emissions inventory was completed and a JMU "defining characteristic" was adopted: "The university will be an environmentally literate community whose members think critically and act, individually and collectively, as model stewards of the natural world." 
"ISNW's efforts have led to the introduction of a farmer's market on campus, the campus' first application for LEED Silver certification of its East Campus Dining Hall, a transportation program in which 100 percent of vehicles are classified as alternative fuel operating, and a training and development series covering everything from greening your office to campus water stewardship." 
Christie-Joy Hartman, director of the ISNW, said, "JMU has a history of significant environmentally responsible actions. It is gratifying to learn that the multitude of individual and departmental contributions to our environmental efforts are being recognized." 
The Princeton Review's Guide to 286 Green Colleges is free and can be downloaded from www.princetonreview.com/green-guide.aspx. 
Published: Friday, April 23, 2010
Last Updated: Monday, November 13, 2017