World Renowned Nanoscientist to Lecture at JMU
---
Dr. Chad Mirkin is making very big discoveries in the very small world of nanoscience. The most-cited nanoscientist in the world, Mirkin will visit James Madison University April 19-20 to present the Faraday Lecture in Science.
Mirkin of Northwestern University will give a lecture titled �Nanotechnology: Small Wonders, Medical Miracles� at 5:30 p.m. Monday, April 19, in Room 2301 of the Health and Human Services Building on JMU�s campus east of Interstate 81.
Mirkin is on the cutting-edge of science and has developed practical applications for his nanotechnology research findings that reach into the biotech, medical, engineering, life sciences and semiconductor industries. He is the founder of three companies, AuraSense, Nanosphere and NanoInk, has written 380 manuscripts and holds 350 patents.
Some of his inventions include medical tests that detect the levels of proteins in a person�s blood on a nano-level. Mirkin�s labs are developing tests for heart attacks, early-stage Alzheimer�s disease and prostate cancer. Mirkin�s NanoInk creates nano encryption technology which, when applied to pharmaceuticals, results in branding individual pills with a code thus discouraging counterfeit drugs.
Mirkin is the director of the International Institute for Nanothechnology, George B. Rathmann Professor of Chemistry, professor of biological engineering, professor of biomedical engineering, professor of materials science and engineering and professor of medicine at Northwestern University. He is currently the most-cited chemist in the world and was awarded the 2009 $500,000 Lemelson-MIT Prize for his impact on the fields of medicine, science and education. Mirkin serves as a member of President Obama�s Council of Advisors on Science and Technology.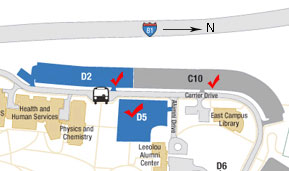 Red checkmarks indicate available parking for Dr. Mirkin's lecture.
Mirkin holds a B.S. degree from Dickinson College (1986) and a Ph.D. degree in chemistry from the Pennsylvania State University (1989). He was a National Science Foundation Postdoctoral Fellow at the Massachusettes Institute of Technology prior to becoming a chemistry professor at Northwestern University in 1991.
You can learn more about Dr. Chad Mirkin athttp://chemgroups.northwestern.edu/mirkingroup/.
You can learn more about nanoscience at JMU at https://www.jmu.edu/materialsscience.
Join our Facebook event: Nanotechonolgy: Small wonders, medical miracles.
Parking will be available in lots D2, D5 and C10. See map at right.
Published: Wednesday, April 14, 2010
Last Updated: Thursday, March 15, 2018