JMU Stewardship Efforts Earn Governor's Excellence Award
---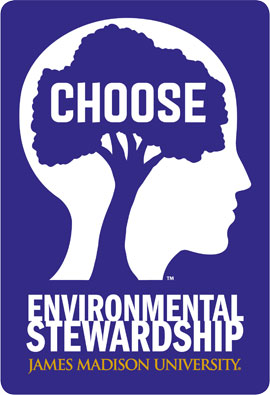 James Madison University's commitment to becoming a model steward of the natural world was recognized with a Governor's Environmental Excellence Award this week at the Environment Virginia 2010 Symposium at Virginia Military Institute in Lexington. 

The awards recognize significant contributions of environmental and conservation leaders in three categories: environmental projects, environmental programs and land conservation. They are given to businesses and industrial facilities, not-for-profit organizations, government agencies and individuals. 

JMU received a gold medal for the work of the Institute for Stewardship of the Natural World. The institute began in 2006 and 2007 as a diverse working group. The university then added three positions, an administrative office and a council of 100 citizens. In addition, environmental policies were adopted in six areas: water, air, materials/waste, energy, environmental literacy education, and citizen attitudes and behavior. An emissions inventory, campus energy assessment and draft strategic environmental plan were developed. By the end of 2010, the university expects to reduce its water use by 2.5 million gallons and eliminate the generation of 3,000 metric tons of carbon dioxide equivalent emissions. 

Initial successes include increasing the recycling rate to about 34 percent, offering expanded environmentally-oriented academic offerings in 10 disciplines and increasing the use of alternative transportation by an average of 7percent annually. 

"It is critical that all Virginians work to better protect our environment," Gov. Bob McDonnell said of the awards. "This begins with promoting green initiatives and conservation throughout the state. The Governor's Environmental Excellence Awards represent some of the best activities in Virginia that focus on protecting our natural resources. I congratulate all the winners, and all the entrants in the competition, for their ongoing commitment to bettering Virginia's environment." 

Award winners were chosen based on criteria including environmental benefit, stakeholder involvement, public outreach and innovativeness. JMU was one of four gold medal winners. There were nine silver medal winners and seven bronze medal winners.
Published: Friday, April 9, 2010
Last Updated: Tuesday, April 17, 2018