Being the Change
Engaging in community classrooms
---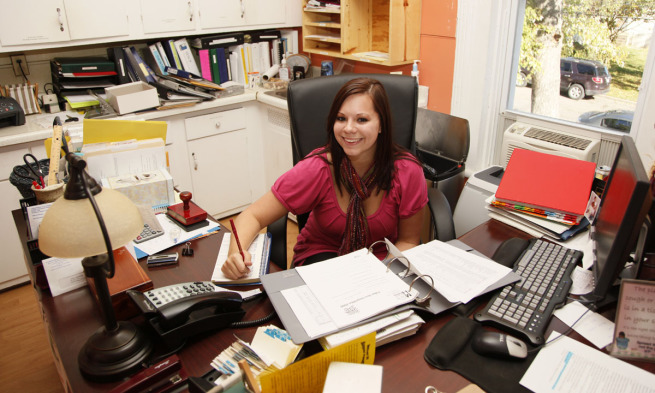 Public policy and administration professors and students mix hands-on learning and service
By Gary Kirk
Gary Kirk teaches in JMU's M.P.A. program and in the undergraduate major in public policy and administration. His article is condensed from Spring 2010 Political Currents, the newsletter of JMU's Department of Political Science.

This applied experience complements the scholarly reading and writing that are a part of Robinson's study. It also offers a perspective on public service that differs substantially from her internships at a Virginia Department of Corrections men's diversion center and at the U.S. Department of Homeland Security.Courtney Robinson ('09, '10M) is enthusiastic about helping clients at Mercy House. The Harrisonburg nonprofit organization provides a wide range of support services to area residents. Robinson says her volunteer experience gives her "an in-depth view of how nonprofits function" and a chance to "participate in efforts to help homeless and disadvantaged families in the Harrisonburg area." In addition to working directly with clients, Robinson works with grant management at Mercy House and has coordinated a fundraising event for the nonprofit. The experience is part of her independent study project.
Learning through public service
Robinson is one of dozens of students in JMU public policy and administration undergraduate and graduate programs who are actively engaged in a community organization. In their ideal form, service-learning activities are mutually beneficial for students and the host organization. The experiential nature of the projects offers students opportunities for complex problem solving and professional networking, and putting knowledge into practice. Research confirms that service-learning projects increase student communication skills, political savvy and technical skills. Community organizations also benefit by gaining skilled human resources and fresh perspectives as well as expert advice from those faculty members who oversee student projects.
Prior to Courtney Robinson's volunteer study, Mercy House welcomed a number of graduate students enrolled in Dr. Nicholas Swartz's Program Evaluation course. Students evaluated four programs for the nonprofit agency.
Mercy House Executive Director Twila Lee was thrilled with the student involvement. "The best part of the evaluations," Lee explains, "is that students were honest and professional. … The collaboration was definitely a win-win situation." According to Lee, the student groups not only conducted the program evaluations, but they also left her organization with the tools necessary to conduct its own evaluations.
Creating a university-government relations model
Working with the Town of Elkton Inc. town council is another example of how JMU students have become involved in area communities. Town manager Reid Wodicka ('09, '11M) has sought opportunities to make Elkton a model for university-government relations. As a result, students from several classes are participating in projects around Elkton.
Students in Dr. Swartz's Urban Policy class are drafting an economic development plan for the town. The skills students acquire in creating this important document will help them be more competitive in an increasingly ruthless job market. Students working on this project are exposed to a variety of experiences such as Strengths, Weaknesses, Opportunities and Threats — (SWOT) — analysis, focus group facilitation as well as the experience of working with citizens and town officials.
JMU has additional undertakings in Elkton. Students in my Public Management class are developing a safety plan for the town and writing a Virginia Department of Health grant to improve Elkton's water infrastructure.
Student groups have also worked with the City of Harrisonburg, the Charlottesville Department of Social Services, the Fauquier County Parks and Recreation Department, the Virginia Benefits Programs Organization and Harrisonburg's Friendly City Food Co-op.
Published: Monday, March 1, 2010
Last Updated: Thursday, October 20, 2016