Being the Change
Bridging the gap between poverty and success
---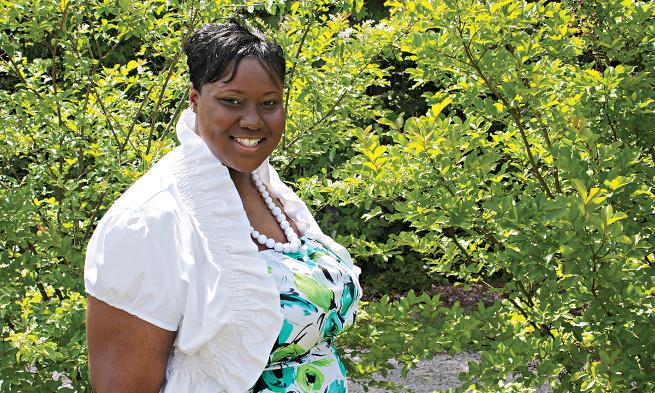 By Gabrielle Piccininni ('11)

Mitchell began teaching with Community Education Partners in Richmond, Va., in 2009 and was named the 2011 Teacher of the Year by the Richmond Alternative School of Richmond Public Schools.Arriving at work before 8 a.m., Ashley Mitchell ('09) starts each day with a "sponge" By the time students arrive in their classrooms an hour later, Mitchell is ready and waiting to give a "sponge lecture" — a review of the previous day's lessons. This quick "snap-shot" review, as Mitchell calls it, eases students into each new lesson and gives them the confidence to tackle new assignments and explore new concepts.
The English major and women's studies minor credits her Madison Experience and involvement with the Harrisonburg community for her career success. For three consecutive summers prior to her freshman year, Mitchell participated in JMU's African-American Female Institute for Learning and Development. After her first summer in 2001, Mitchell knew JMU was the place for her. "The Female Institute program gave me a sense of value," she says.
As an undergraduate Mitchell was a member of JMU's Centennial Scholars Program, which helps recruit and retain underrepresented students. Established in 2004, CSP's goal is to select students from various backgrounds to diversify JMU's student population. These students are often first-generation college students with strong financial needs and an even stronger drive to learn.
"I was blessed to be part of this phenomenal program," says Mitchell. "CSP [helped me] accomplish my dream of going to college and making something of myself."
The Centennial Scholars Program incorporates various programs to ease the transition into college. These include the Student Administrator Instructional Faculty Partnership Program, the Zie Rivers Academic Mentoring Program, the Family Network and the CSP Buddy System.
"CSP bridged the gap between poverty and academic success," says Mitchell, who continues to celebrate her Madison relationships. She is friends with JMU English professors Joanne Gabbin and Mary Thompson; Diane Strawbridge ('80, '02M), CSP director of student retention; as well as staff members in the JMU Office of Equal Opportunity, James Robinson, director, and Lisa Hess, program administrator.
Through her job with the Community Education Partners, part of the Richmond Alternative School Program, Mitchell works with at-risk students between the ages of 12 and 16. CEP's goal is to help students return to their regular schools once they have improved their academic skills, attendance and behavior.
"I don't think anyone can really be prepared to work with young teenagers, much less alternative teens," says Mitchell. But at the end of each day, any and all frustrations dissolve into insignificant, distant memories, she affirms. Knowing she changes her students' lives by instilling an appreciation for education is a reward beyond comparison. Mitchell says, "It could be seeing a child who hasn't picked up a book in their life read their first one in my class, or seeing the smiles on my students' faces when they pass the SOLs. It's not just rewarding, It's a blessing."
Published: Monday, March 1, 2010
Last Updated: Monday, February 26, 2018