Landmine Survivor Leads JMU Center for International Stabilization
---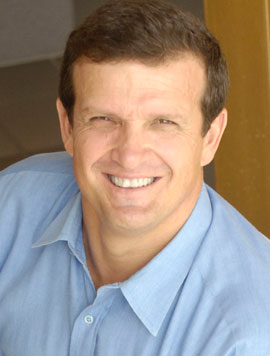 A landmine cost Ken Rutherford his legs, but it couldn't stop his pursuit of easing human suffering in some of the most conflict-affected regions of the world. 

Rutherford brings his passion for global development, stability and remediating the effects of war to James Madison University as the new director of the Center for International Stabilization and Recovery. 

"I am very honored to join JMU and CISR, since it is a global leader in alleviating humanitarian suffering, especially concerning explosive remnants of war, such as landmines," said Rutherford, who lost his legs to a landmine in Somalia in 1993. 

Rutherford has more than 20 years experience in international development work for the United Nations High Commissioner for Refugees, nongovernmental organizations and the U.S. government. 

"Ken Rutherford is a global thought leader in the world of international development and stability. His many contacts, inspirational life story and, tireless passion for alleviating the effects of warfare will elevate the CISR and ultimately JMU on this important world stage," said Dr. John Noftsinger, JMU vice provost for research and public service. 

Rutherford has been involved in humanitarian efforts in the conflict-affected regions of Jordan, Kenya, Mauritania, Senegal and Somalia. He guided Diana, Princess of Wales, on her final humanitarian trip to meet with war victims in Bosnia. He is an author and co-editor of several books. 

After losing his legs, Rutherford was inspired to earn his doctorate at Georgetown University to become a professor. He also co-founded the Landmine Survivors Network (now called Survivor Corps), the first international organization created by landmine survivors for landmine survivors. 

Rutherford began his directorship of JMU�s CISR Feb. 1 and plans to continue its contribution to global mine action. 

"One of my goals is to initiate and discuss collaborative relationships and projects between JMU and CISR with a range of actors involved in post-conflict economic and social activities," he said. "As the CISR Director, I would also welcome the opportunity to involve the JMU faculty, staff and students in CISR�s international humanitarian projects." 

Rutherford replaces Col. (Ret.) Dennis Barlow, who came to JMU directly from the Office of the Secretary of Defense in 1996 to serve as director of the newly established Mine Action Information Center. He guided the MAIC for 13 years as the field of landmine action evolved and matured, overseeing an annual budget of nearly $2 million. Reflecting the changing needs and scope of post-conflict explosive ordnance remediation, Barlow oversaw an expansion of the focus of the public policy center with the creation of the CISR in 2008. 

The CISR serves organizations and individuals on the front lines of humanitarian crises and post-conflict environments by providing objective, reliable and cost-effective research, training, communication and outreach services. It builds on the reputation of Mine Action Information Center, which continues its role as an objective information source regarding international efforts to combat the effects of landmines and explosive remnants of war. 
Published: Thursday, February 4, 2010
Last Updated: Friday, November 10, 2017