Two JMU Professors Earn SCHEV "Outstanding Faculty Award"
---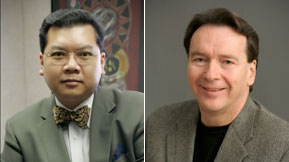 James Madison University faculty members Dr. Lennis G. Echterling and Dr. J. Peter Pham have been selected as recipients of the 2010 Outstanding Faculty Award, according to an announcement by the State Council of Higher Education for Virginia and Dominion Resources. 
Echterling is a professor of counseling psychology and Pham is an associate professor of justice studies, political science, and Africana studies at JMU. The men join 10 faculty members from other Virginia colleges and universities as recipients of the prestigious honor, which has been awarded annually since 1987. The Outstanding Faculty Award recognizes excellence in teaching, research, knowledge integration and public service. 
The professors were chosen for the award from a pool of 117 candidates nominated by their respective institutions. Award winners were selected in a two-step process. A panel of previous Outstanding Faculty Award recipients and chief academic officers of institutions selected a group of finalists. Then a selection committee of members of SCHEV and education, business and community leaders selected the 12 honorees. 
Echterling has taught at JMU for more than 23 years. During his tenure, he was director of the counseling psychology program for 14 years. In both capacities he has guided his students in bridging theory and practice by involving them in service opportunities. A licensed clinical psychologist in Virginia, Echterling has applied his knowledge of crisis intervention as a volunteer to support firefighters, law enforcement officers, emergency medical service providers and citizens following disasters, including hurricanes Katrina and Rita, the 9/11 attack at the Pentagon and the Virginia Tech tragedy. 
SCHEV is honoring Pham as a �rising star recipient.� Individuals nominated in the category can be in no more than their sixth year of service as a full-time faculty member and in at least their third year of faculty service in Virginia. Pham joined the JMU faculty in August 2004 to teach in the university�s newly established justice studies program. A thoughtful and prolific commentator for news organizations, Pham shares his firsthand knowledge of Africa and the Middle East with his students to help them understand the intricacies of U.S. foreign and defense policy, African politics and security, and terrorism and political violence. 
Full biographical entries for Echterling and Pham are available on SCHEV�s Web site athttp://www.schev.edu/AdminFaculty/OFAprogramIndex.asp. 
The award winners will each receive a $5,000 cash award underwritten by the Dominion Foundation and a commemorative engraved award at a Feb. 18 celebration at the Jefferson Hotel in Richmond. 
Echterling and Pham join Dr. Joann H. Grayson, Dr. J. Patrick Rooney, Dr. Joanne V. Gabbin, the late Dr. Elizabeth B. Neatrour and Dr. Ralph A. Cohen as JMU faculty who have earned the Outstanding Faculty Award. The General Assembly and the governor established the award program in 1986 to recognize the finest among Virginia�s college faculty for excellence in teaching, research and public service.
Published: Wednesday, January 27, 2010
Last Updated: Thursday, October 26, 2017