Science and Technology
JMU Seniors Present Research at National Geology Conference
---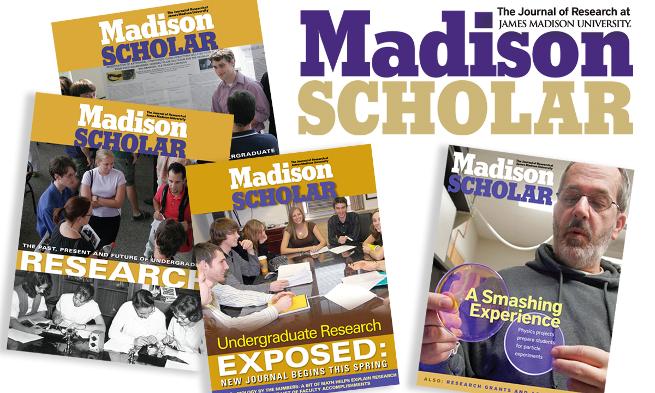 By Alex Sharp VIII ('10), Public Affairs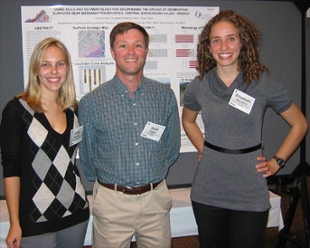 Holly Polivka (left) and Elizabeth Weisbrot presented their research on the stability of soils between the Shenandoah River and Massanutten Mountain at the 2009 Geological Society of America annual conference. Dr. Scott Eaton, associate professor of geology and environmental sciences, was their adviser.
Elizabeth Weisbrot and Holly Polivka felt a bit out of place surrounded by more than 4,000 working geologists.
"Everyone was wearing flannel and hiking boots like they had just gotten out of the field, and there we were trying to dress nice," Weisbrot, a JMU senior geology major said of her first day at the 2009 Geological Society of America conference. Weisbrot and Polivka represented JMU at the annual geological summit Oct. 18-21 in Portland, Ore.
The two seniors' research involved analyzing soil between Massanutten Mountain and the South Fork of the Shenandoah River to assess the stability of land near mountain ridges.
"All mountain ranges, once they stop growing and building up, are going to erode down eventually," Weisbrot said.
With funding from Matthew Heller of the Virginia Geological Survey, the project began in summer 2008 when four test pits were dug in an area between the Shenandoah River and the side of a Massanutten ridge. Over the next year, Weisbrot and Polivka evaluated physical features within each pit, including grain size and shape, clay content and soil color to determine whether the observed erosion was the result of gradual alluvial flow or torrential debris flow caused by large storm events.
"A debris flow is like a landslide almost, with less water," Polivka said. "So if you see an outcrop of it, it'll be a bunch of boulders and poorly sorted stuff, because it all came down the mountain at one time."
The students observed significant debris flow near the Massanutten ridge, indicating instability and potentially devastating erosion in the near future.
"Settling near a ridge: not the best idea," Polivka joked.
Polivka and Weisbrot presented their findings and methodology in poster form, answering tough questions from an experienced cast of professional geologists and professors over the course of the weekend. They also attended a number of lectures and presentations by fellow geologists that piqued their interest.
"It was really helpful having our poster on display because we got really constructive feedback," Polivka said. "Now we want to do other things like age date: getting the exact ages of the soil; we just haven't had the time. I think we're going to get more funding in the Spring, so we'll probably be doing that."
The students plan to dig deeper. These mountains are some of the oldest in the world, and formerly the biggest. They are wearing down little by little each year. Erosion isn't going anywhere.
Published November 2009
Published: Thursday, January 1, 2009
Last Updated: Thursday, October 20, 2016