Virginia Repertory Dance Company Performs Dec. 3-5 at JMU
---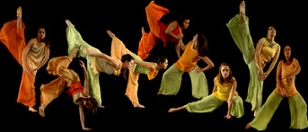 The James Madison University School of Theatre and Dance will showcase outstanding choreography and dance when it presents the Virginia Repertory Dance Company in concert. 

DATES: Dec. 3-5, 2009 
TIME: 8 p.m. 
LOCATION: Latimer-Shaeffer Theatre, Duke Hall, JMU 

Artistic Director Shane O�Hara has assembled a talented group of JMU dancers to perform the choreography of JMU faculty and guest artists. Founded in 1983, the company is made up of dance majors who want to pursue performance-related careers. The 2009 VRDC members are Alexandra Bassett, Sarah Burke, Annelise Egan, Nicole Fiorella, Kate Folsom, Katherine Houff, Sarah Lokitis, Joanna Rose and Jenna Thibault. 

The concert will feature the choreography of guest artists Derrick Alfonso Evans, Daniel Burkholder, Adriane Fang and Laurie Eisenhower. 

Evans was one of four choreographers featured in the Emmy Award-winning PBS documentary about the River North Chicago Dance Company. He co-choreographed the opening ceremony of the 2005 European Youth Winter Olympic Festival in Switzerland and has served on the faculty at St. Thomas School of Dance in the U.S. Virgin Islands, as well as the Broadway Dance Center, Stepsnyc, Monthey Dance Center in Switzerland, Virginia School of the Arts, West Virginia Dance Festival 2008, Mid-Atlantic Summer Dance Intensive, Gus Giordano Dance Center and Western Michigan University. Evans will premiere "Love Is You." 

Burkholder is the director of The PlayGround and co-director of Improv Arts inc. His work has been seen at the John F. Kennedy Center for the Performing Arts, 92nd Street Y, 848 Community Space, Dance Place, The Clarice Smith Performing Arts Center, Context Studios, Contemporary American Theater Festival and at numerous indoor and outdoor spaces. He has served as a curator of the DC International Improvisation Festival and on the steering committee for the West Coast Contact Improvisation Festival. Burkholder will present his premiere ensemble piece "Travel/Home." 

Fang is a dance instructor at George Mason University. Fang was a member of Doug Varone and Dancers from 1996-2006 and has taught and staged the works of Doug Varone for North Carolina School of the Arts, CityDance Ensemble, BalletMet Columbus, Ohio State University and the University of Minnesota. Fang will premiere "Resolving Patterns of Contention, 2nd Edition." 

Eisenhower is the artistic director of Eisenhower Dance Ensemble, the Midwest�s premiere contemporary dance company. Founded in 1991 by Eisenhower, the EDE presents a diverse range of contemporary dance works, tours nationally and is in the midst of its 19th season. Eisenhower will present her 2003 group work "Stop." 

O�Hara will also present his premiere of "Little Hanky�s," a trio using the music of Hank Williams. 

JMU faculty members Kathleen A. Conery and LeVonne Lindsay will design costumes and faculty member Emily Becher-McKeever will be the lighting designer. 

Tickets are $10 general admission and $8 for children under 12, senior citizens and JACard holders. Advance tickets and information can be obtained through JMU's Masterpiece Season box office at (540) 568-7000 or (877) 201-7543 (toll free). The box office is located in Room 1107, Harrison Hall, and is open from noon to 4 p.m. Monday through Friday. 
Published: Tuesday, November 24, 2009
Last Updated: Thursday, October 26, 2017