Game Ball March Honors Sacrifice of America's Servicemen and Women
---
Most Shenandoah Valley residents wouldn't even want to drive from Lexington to Harrisonburg just to deliver a football. But a special group of cadets from James Madison University's ROTC program and Virginia Military Institute are not only making the 61-mile journey to deliver the game ball for JMU's home opener against VMI, they're doing it on foot.
And they competed for the chance to do so.
"The fact that it's dedicated to veterans and the men and women still serving around the world was enough for me," said Corey Hendley, a junior at VMI and a leader of the cadets.
Participants had to pass a series of physical tests to earn the right to join the march, which aims to honor the sacrifice of veterans and members of the armed forces serving around the world.
It's also a chance to show their pride for the schools and communities they represent.
"It's an honor to have the opportunity to remind people that there are service men and women who are still serving around the world," said Corey Estep, a JMU junior and leader of the Duke Batallion. "And it's creating a relationship between JMU and VMI that is pretty rare between schools like that."
Side By Side
While JMU is a public university where a relatively small percentage of the student body is active in the Reserve Officers' Training Corps, VMI is a state-supported military college where all cadets participate in the ROTC.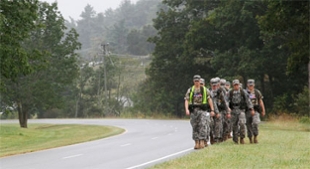 JMU and VMI cadets approach Staunton on Friday afternoon on their three-day march from Lexington to Bridgeforth Stadium with the ball for Saturday's football game. Click here to see full-size image.
But academic environments aside, the cadets said they were united by a common goal.
"JMU and VMI are very different schools. We weren't quite sure what to expect, but as we were walking and talking, we realized that we're a lot alike," Hendley said. "We have a common mission. These are the same people I'm going to be serving with."
About 30 cadets combined from the schools are walking the route in rotating teams.
After departing from the VMI campus on Thursday, the group camped at the Cyrus McCormick Farm in Raphine and will stay at the Verona Volunteer Fire Department Friday night. They will make the final 17-mile leg of the trip Saturday and arrive at JMU's Bridgeforth Stadium before the 6 p.m. kickoff.
The public can follow the cadets' progress on JMU's Facebook and Twitter pages.
"It's great watching the two groups together. The initial JMU guys and girls and the ones from VMI, it was an automatic bond. It's not segregated at all. We're unified. They're walking side-by-side, supporting each other," said Capt. Brandon Lindsey, an ROTC recruiter at JMU who is accompanying the cadets on the march. "Even though these men and women are from two different schools, two different environments, we've got a common goal."
A Willing Sacrifice
In addition to competing for a spot in the march, cadets had to sacrifice three days away from school. Unfortunately, rain and chilly temperatures have made the long walk even more challenging. But the journey is a microcosm of the sacrifice embodied by those who volunteer to serve the nation.
"These kids are willing to march in the rain. And they had to compete to be able to do it. To give up three days of their life to march 60 miles in the rain, it speaks to what they're going to be willing to sacrifice when duty calls," said Lindsey, who served a tour of duty in Iraq in 2005 before coming to JMU.
"What I want everyone to understand about these cadets is that they have a high, high chance of being deployed to Iraq or Afghanistan or somewhere else after they graduate. They signed up to train as officers while the U.S. was in the middle of a war on terror, and they knew that when they signed up. That's what's remarkable."
Estep said he viewed the journey as a personal challenge. But beyond his own goals, he said, his mission is to serve and protect those around him.
"Everyone has something different they think about to keep them going. But for all of us, it's about the guy next to you. He's gonna keep going because he doesn't want to disappoint you, and you're gonna keep going because you don't want to disappoint him," Estep said. "Then, when you think about all the men and women serving in places like Iraq and Afghanistan, this is nothing compared to what they're going through everyday."
Showing Support
The Shenandoah Valley has a long history of pride and support for the military. It's a tradition that continues today, Lindsey said.
"We've got two huge schools that produce a lot of military officers, and the Shenandoah Valley is awesome in their support," he said. "I wear the uniform to work everyday, and if I go out to lunch, there's always at least one person who comes up and says thank you. I want people to know how much it means to soldiers when someone says thank you."
In 2008, more than 120 VMI cadets were commissioned as officers in four branches of the military.
JMU's 225-member Duke Battalion has been consistently ranked in the top 5 percent out of more than 270 universities and won the MacArthur Award for outstanding battalions in 1992, 1998 and 2005. JMU also claimed the Order of the Founders and Patriots of America Award in 1997 and 2007.
The public's support has been apparent throughout the journey, from people providing accommodations to JMU football coaches and players joining the cadets at different locations to drivers slowing down to honk and cheer on the cadets as they march.
Hearing the support from those the cadets have signed up to protect is the ultimate reward, Hendley said.
"Whenever you're trying to overcome a daunting task, it gives you that extra boost," he said. "When we get to that stadium, on the outside, physically, I'm gong to feel pretty rough. But inside, I'm going to feel like a million bucks. It makes it all worth it."
Published: Friday, September 18, 2009
Last Updated: Monday, February 5, 2018