Being the Change
The best year of my life
---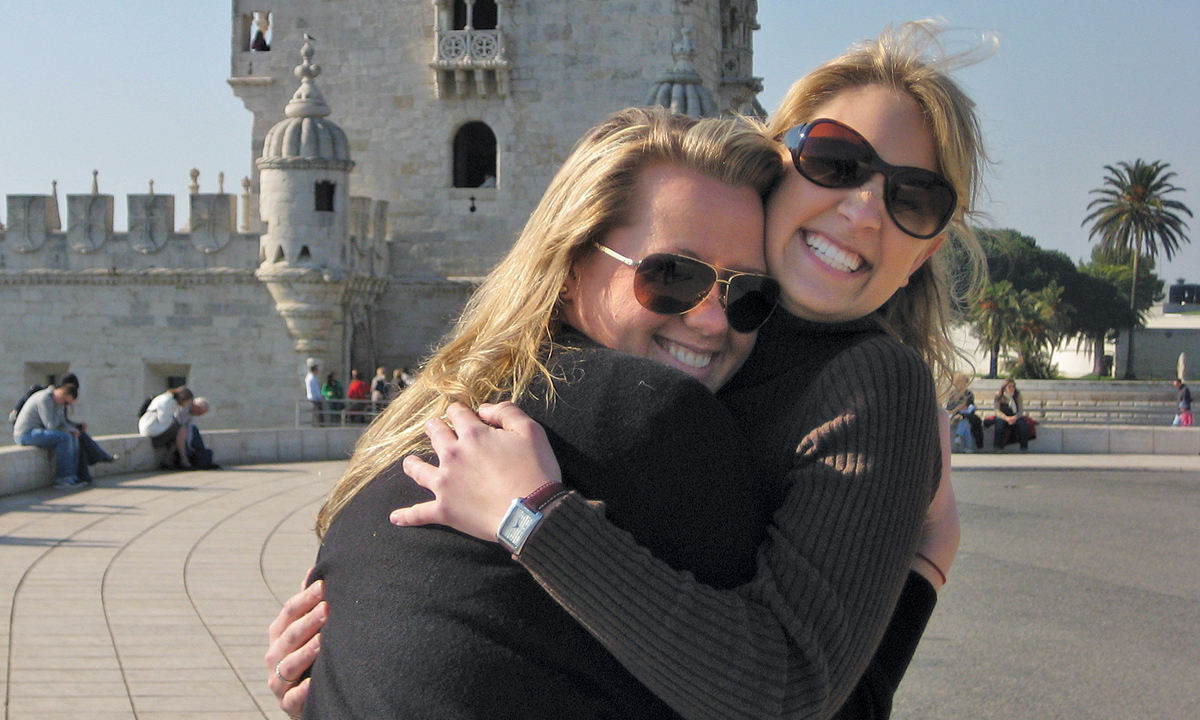 My two Study Abroad experiences in England and Spain
By Caroline F. Braun ('09)
My family and close friends thought I was crazy to want to spend my entire junior year studying abroad. They said it would be hard. I will never regret my decision. I spent the entirety of my junior year learning culture, history and language in England and Spain.It was the best year of my life.
Semester in London
I started in London, where over the next 13 weeks the group and I had more fun and saw more of the world than I ever thought possible. We toured the iconic Westminster Abbey and Parliament and saw the changing of the guards at Buckingham Palace. We listened to Beefeaters' ghost stories of Henry VIII at the Tower of London and worshipped at evensong at St. Paul's Cathedral. We caught in-person glimpses of all three royal princes (sigh...) and Queen Elizabeth II in her crown jewels. We fought the crowds on Portobello Road and found inimitable treasures in Camden. We strolled the neighborhoods of Notting Hill, and Hyde, St. James and Regent's Parks. We took the tube infinite times daily and watched street performers at Covent Garden. We got a tour of BBC Studios. We rode the London Eye and double-decker buses, watched England in the 2007 Rugby World Cup, ate fish and chips, shopped Oxford Street and Harrods at Christmas, and had traditional English tea at Kensington Palace.
I saw 19 plays including five on the West End and one at Shakespeare's Globe. We traveled through Scotland, where we climbed to Arthur's Seat and partied in underground caves with university students and a bartender named Gary. In Paris, we toured Notre Dame and the Louvre, and all of us coincidentally found ourselves under the Eiffel Tower on one of our last nights. We watched the stars and tower lights merge into one.
Semester in Salamanca
Just more than a month after I unwillingly left London, I arrived in Madrid. Two and a half hours northwest of the city, Salamanca became my new home. I spent the next 15 weeks studying Spanish at the second oldest university in Europe: La Universidad de Salamanca. Our 32-person group was divided into pairs and groups of three, and we lived with families who did not speak English. By March, however, the language barrier was almost nonexistent.
You definitely become immersed in Spanish culture and language in this JMU Study Abroad program. In less than 15 weeks, I toured seven of Spain's 17 autonomous communities, 12 of its major cities, and even took a weekend trip to Portugal. My study group had an art overload in Madrid at the Museo del Prado, the Thyssen-Bornemisza Museum of Art and the Reina Sofia, and we became quite acquainted with our dear friend Pablo Picasso. We toured the Catedral de Toledo, the Roman aqueduct and la Alcazar in Segovia. In Barcelona we marveled at Gaudi's Parc Gueell and Casa Mila and the perpetually unfinished Sagrada Familia. We mistook the decorative oranges in Valencia as delicacies and survived the burning of Las Fallas. On the beaches of Malaga we turned red like tomatoes and witnessed the procession of Semana Santa and an honored bullfight. We were entertained in the caves of Granada by flamenco dancers and saw for ourselves the transculturalization between the musulmanes and the espanoles at la Alhambra. My experience in Spain was (besides long bus rides and bocadillas) 15 weeks of pure cultural immersion.
A lifetime of benefits
An entire year abroad fostered my independence and growth. I left Europe knowing that my life had changed forever. I am a stronger, more independent, confident and happier person because of my Study Abroad. Being on my own, confronting language barriers, and engaging in cultural and ethnic diversity taught me to adapt, change and grow. It also prepared me for life after JMU. I am now pushing myself further than I ever imagined teaching Spanish in low-income communities with Teach For America.
I am ready for new domestic adventures and challenges. But no matter what confronts me in the future, the lessons I learned in Europe will follow me. I will always remember that the people, places and events I encountered and experienced abroad favorably altered my perception of both my world and myself. Neither will ever be the same again.
Condensed from Fall 2009 Madison.
Published: Saturday, August 1, 2009
Last Updated: Monday, December 17, 2018