Arts and Culture
Destination Imagination Teams Win Silver
---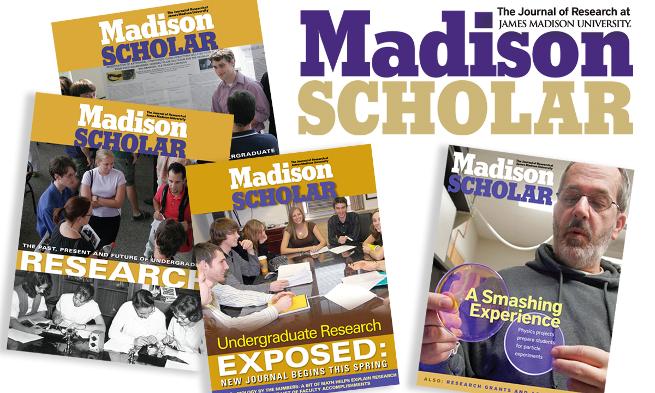 By Dr. Jonathan Spindel, Team Manager (CISAT)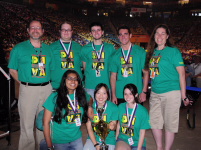 2nd Place— UL "Switch!": Ian Suttles, Derek Zuk, Paul Sexton, Saadia Khan, Shannon Parks, Katelyn Peters, Kelsey Seward.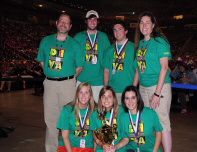 2nd Place— UL "Secret!": Kevin Bojarski, TJ Sparks, Katie Morris, Angela Painter, Laura Theobald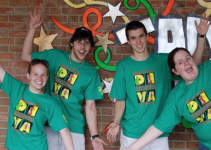 4th Place— UL "Obstacles!": Lauren Oliver, Kyle Oehmke, Dan Carrier, Leanne Hourihan.
A pair of Destination Imagination teams from James Madison University placed second at the annual DI Globals competition in Knoxville, Tenn., and a third JMU team finished fourth.
The JMU students were among more than 1,000 elementary-school, middle-school, high-school and university teams from the United States and 15 other countries who participated in the event at the University of Tennessee in May.
Destination Imagination is a competitive, team program that requires students to use creativity and innovation to solve a variety of "challenges." These challenges cross a wide range of disciplines, including technical, mechanical, structural and architectural design; theatrical, literary and fine arts; scientific exploration and improvisation. Teams work together over an extended period of time to develop their creative problem solving skills, research problem solutions and develop imaginative methods to present their independently developed problem solutions to an audience and panel of judges.
JMU DI team members ranged from freshmen to juniors who came together from a wide range of university programs, including integrated science and technology, international affairs, communication studies and biology/pre-med. Each student brought unique abilities to bear on the challenge solutions. Students worked throughout the year within the context of an experimental class, ISAT 280, to research their respective problems, develop creative and entertaining presentations for their challenge solutions and learn aspects of teamwork and creative problem solving. Throughout the year, these students also trained as appraisers and volunteers, serving in varying capacities at regional, state and Global DI K-12 competitions.
Published July 2008
Published: Thursday, January 1, 2009
Last Updated: Thursday, October 20, 2016