Nation and World
Chemistry Professor Recounts Six-month Teaching Trip In South Africa
---
Brian Augustine, associate professor of chemistry, was awarded a Fulbright scholarship to teach nanotechnology at the University of KwaZulu-Natal in Pietermaritzburg, South Africa. This is his account of his January to July adventure.

"There is a lovely road that runs from Ixopo into the hills. These are grass-covered and rolling, and they are lovely beyond any singing of it. The road climbs seven miles into them, to Carisbrooke; and from there, if there is no mist, you look down on one of the fairest valleys of Africa."—Alan Paton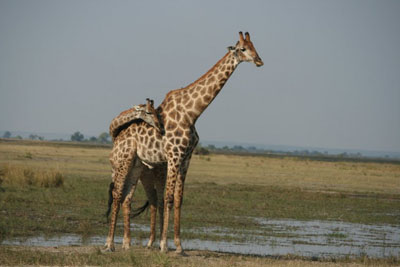 Augustine's daughter Rachel captureed this scene of a baby giraffe nestling its mother in the Chobe National Park in Botswana. Explore more photos from the Augustine's trip.
More news on Augustine's trip:
Science of the miniscule—Zululand Observer
Press Release—National Center for Learning and Teaching of Nanoscale Science and Engineering at Northwestern University
July 2008 Madison Scholar featured news of Augustine's Fulbright award.
These are the opening words of Alan Paton's celebrated novel, Cry the Beloved Country. Written in 1948 just before the formalization of the apartheid policy and set in the province of Natal, South Africa, Paton paints a haunting picture of a world torn between the aesthetic beauty of rural Natal and a society constructed around a profound injustice of race, poverty and crime.
While the novel is half a century old, many of Paton's words could have been written last week about today's KwaZulu-Natal (KwaZulu means "place of the Zulu" in the native language isiZulu).
South Africa is a land of jarring contrasts. Most visitors arriving from the United States are surprised at the modernity. There are paved roads filled with BMWs and Mercedes, modern shopping malls, high speed internet, well-stocked grocery stores and nearly all of the conveniences of the modern world. Our Garmin GPS loaded with a southern Africa chip had turn-by-turn navigation, ATMs and petrol stations all fully programmed.
Dig a little deeper and begin to see the other South Africa. There are besetting problems, many of which are direct descendents of the apartheid policy that ended in 1994. These problems include massive poverty and unemployment (over half of the population earns less than $15 per day and official unemployment runs at least 25 percent), a staggering HIV/AIDS infection rate (fourth highest in the world) with an accompanying decline in life expectancy, violent crime and a primary and secondary education system that is dysfunctional at best.
The University of KwaZulu-Natal was formed in 2004 through a merger of several universities on five separate campuses. The Pietermaritzburg campus was formerly known as the University of Natal, where Alan Paton was an English professor. UKZN is one of the elite universities in South Africa, and the school of chemistry offers bachelor's, master's and doctoral degrees. In the past 15 years, the student population has shifted from being almost all white to mostly black. IsiZulu is the first language of the students, but most students are proficient in several African languages, English and Afrikaans. All of the instruction at the university is in English.
I arrived with my wife and three girls in mid January—summer in South Africa. We had been forewarned that the summers in KZN are hot and humid, but this summer was different according to the locals. It had never been so cool and rainy. The landscape was green and lush—lovely beyond any singing of it.
We had to adjust to having a housekeeper and a gardener, and they had to adjust to five Americans who refused to let them eat bread and jam by themselves on the patio, as was expected of the "domestic workers." We were told by a white South African woman that in the first few weeks we had broken several unwritten rules of behavior between whites and blacks—that was an envelope that we gladly pushed our entire stay in South Africa.
I began teaching two classes in February. The first was a tutorial (recitation) section for general chemistry that had 40 first-year students. The students had majors ranging from chemistry, physics and biology to dietetics. My eyes were opened to the problems at the secondary school level when I graded their first exam. Nearly 30 percent of the class received less than a 20 percent on the test and several students received a 6 percent—only one multiple choice question correct on the entire test. I had never seen so many students receive such low grades.
My main teaching assignment to third-year chemical technology students was "The Science of the Small: An Introduction to the Nanoworld." This was a lecture and laboratory course developed at JMU by Barbara Reisner, Kevin Caran and myself in 2007. The junior and senior JMU students found the course content interesting, showcasing cutting edge research in nanoscience. Developing a laboratory course from scratch is challenging. Translating the laboratory experience to South Africa was even more daunting. Nanoscience is a highly interdisciplinary topic in science involving specialized synthesis and characterization equipment.
My first task upon arriving in South Africa was trying to determine which experiments could actually be performed with 30 students in the class given the supplies and equipment available. I had eight laboratory sessions assigned to me and decided to use a subset of four experiments used at JMU:
the synthesis of gold nanoparticles
a microscopy experiment using atomic force microscopy (which I brought from the United States) and scanning electron microscopy (which was at UKZN)
a synthesis and fluorescence experiment developed by Kevin Caran
a microfabrication experiment developed at Northwestern University
Fortunately, I was assigned an outstanding doctoral student as a teaching assistant who helped ensure that I had all of the needed supplies and instrumentation and who assisted in the lab.
In my initial course survey, most of the students had heard of the term nanotechnology, but did not know what it meant and were eager to learn more about it. I quickly discovered that my "active learning" style of teaching was foreign to these students. They were used to a passive model in which the lecturer has little interaction with the students. It took several weeks before I could consistently get students to answer or ask questions. Later, I had several students in both classes tell me that they really enjoyed the interactive style and wished that I could stay longer.
The lack of math and science preparation from secondary school proved to be a problem in the nanoscience course as well. I quickly became aware that the pace of material I was accustomed to covering at JMU was simply too rapid for the typical UKZN student. I had to go over basic math and physics concepts repeatedly in order to explain more subtle nanoscience concepts. In the end, I covered less than two-thirds of the material that I had hoped to cover during the term. Yet during this process, I was able to connect and challenge several students who were underperforming.
One was named Siyabonga, which means "we thank you" in isiZulu. He was a polite and conscientious student with excellent English skills. He had failed the course once before. He came into my office after failing his first test and we went over the exam. I could tell that he had studied and was asking good questions. Afterward, I asked him why he had failed the course once already. Generally students who come to class, participate, work hard and come to office hours do not fail courses, yet he had. His answer was revealing. He said, "if the students in my matric (high school) could see me now they would be shocked. I was the best math and science student in the school. I got to university and began failing tests and papers. After a while I got used to failing and began to think of myself as a failure and have basically given up."
I was stunned. Failure had become so commonplace that he had lost hope and had given up. It was at that point that I began to see the Zulu students in my class as having been dealt a very difficult hand. In the black community, they were the elite academic students—only 18 percent of all high-school students in South Africa pass the university entrance exam, yet nearly half of these students have not been given the proper science and math training to compete at an international university level. This also explained the shocking performance of the first-year students.
After that, I spent many days learning about schooling at all levels from preschool through university and was appalled to see the state of secondary schools in a typical black township. Broken down facilities, no electricity, scarce computer and technology resources, overcrowding and unsanitary conditions were all the norm. It is little wonder a chemistry student at UKZN does not know how to use a graduated cylinder—she has never even seen one. A computer laboratory for a school of 1,400 students consisted of four Pentium II machines. I was privileged to donate 100 pounds of books to start a library at the Bonginkosi Preschool and to add to the library at Edendale Technical College (high school) with funds provided through the Fulbright Program, but it was a drop in the bucket. Significant for those two schools and the students who go there, but almost nothing from a perspective of the needs felt across South Africa.
During our stay we met wonderful people from all walks of life. Our lives intersected with folks from Zimbabwe, Zambia, Malawi and Rwanda in addition to many South Africans. We visited orphanages, AIDS hospices and hospitals. We spent the day with a South African who installs water pumps in rural Zulu villages, and went to see the United States defeat Egypt in a FIFA Confederations Cup soccer game (we were even spotted on ESPN2 several times). We befriended our domestic workers and broke all of the rules of racial relations by taking them on a game drive at a local game reserve, and they took us to downtown Pietermaritzburg in a taxi to experience a typical Zulu Saturday afternoon.
In addition to teaching at UKZN, we had the opportunity to travel around southern Africa. A brief listing of the highlights in no particular order include:
Seeing a pack of African wild dogs (one of the rarest safari animals—less than 500 in all of South Africa) at dawn in Hluhluwe-Imfolozi Game Reserve
Snorkeling at St. Lucia Wildlife Sanctuary
Driving up Sani Pass into Lesotho
Touring Swaziland
Participating in a 4-by-4 tour of Botswana, Namibia, and Zimbabwe where we saw large herds of elephants, crocs, giraffe, zebra, etc. at Chobe National Park in Botswana.
Seeing Victoria Falls in Zimbabwe.
Flying over the Okavango Delta in a six-seat aircraft
Fly fishing in the Drakensburg mountains
"Running" in the Comrades Marathon (long story)
Playing golf on the edge of the Indian Ocean
Observing the fourth democratic election in South Africa's history
Visiting a battlefield site from the Anglo-Boer War
Demonstrating AFM and nanotechnology to high-school students at a science museum in KZN.
As we returned safely to the United States at the end of July, thoughts of our time and friendships that developed in South Africa are still swirling. We had been warned about reverse culture shock, and that shock is real. Everything here in the United States is so clean and there are no gates, guard dogs and alarms protecting every house. We have stopped keeping a constant look over our shoulders for potential trouble. But we have been struck by how much consumerism is part of our culture.
We have already sorted through closets full of clothes and begun to give them away, and I had to resist the urge to rescue a cheeseburger and fries that were being thrown out in the airport. How could we throw that much food away when there were untold millions of starving children in this world? Readjustment will not come instantly.
We treasure our memories of those fairest valleys in Africa. The call of Africa will forever be beckoning our return. Siyabonga iAfrica!
Published: Thursday, January 1, 2009
Last Updated: Tuesday, April 17, 2018