JMU Marketing Students Earn Top Spot in Google Challenge
---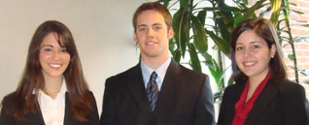 Harrisonburg, Va. - Three marketing students from James Madison University's College of Business won first place in the Americas in the 2009 Google Online Marketing Challenge, an international search-engine marketing competition.
Seniors Rachel Bruton, Meredith Rauh and Brandon Sockwellwere named winners of the Americas region, which includes North, Central and South America. The team placed in the top four globally, beating 2,187 teams from 57 countries.
Real Client, Real Money, Real Advertising Campaign
Under the direction of CoB Professor Theresa B. Flaherty, the team designed and executed a Google AdWords campaign for the Washington, D.C., business MobileTours.org. With a $200 voucher and a three-week campaign window, the students successfully increased Mobile Tours' sales by 20 percent.
The students� strategy included two AdWords campaigns with 15 ad groups. They used other Google marketing and reporting tools�including Google Analytics, Keyword Generator and Dynamic Keyword Insertion, AdWords Editor, geo-targeting and restricted scheduling of ads�to adjust the campaign each day.
Classroom Theories In Action
All three students volunteered for the competition, receiving no class credit or internship credit. Their motivation was �a competitive edge� in the workforce, said Bruton, the team captain. �You become much more emotionally invested when you work with a real company. You have the chance to see classroom theories put into action.�
The tangible skills are already paying off. Since graduating in May, all three students have earned positions leveraging their online marketing savvy.
Flaherty said the competition was one of the best experiences of her career. She congratulated the students for taking on an extra set of responsibilities and demonstrating a true love of learning.
JMU Dominates Competition
In addition to the first place win in the Americas, two other JMU teams were semi-finalists in the Americas region, ranking them in the top 50. In 2008, JMU placed five teams in the top 10 percent.
For more information, contact Toni Mehling, director of communications in the JMU College of Business, at (540) 568-5169 or mehlintd@jmu.edu, or Bill Wyatt in the JMU Office of Public Affairs at (540) 568-4908 or wyattwj@jmu.edu.
Published: Friday, July 24, 2009
Last Updated: Tuesday, April 17, 2018