Nation and World
Student Invention Helps African Village Rebuild
---
By Janet Smith, JMU Public Affairs
(
click on first photo below to see larger version
)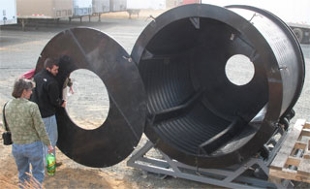 Daniel Morgan's invention awaits shipping to Uganda.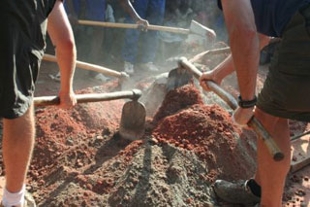 The mixing machine will cut down on the labor required to mix the dirt and cement that is used to make the bricks.
The bricks are formed in this machine.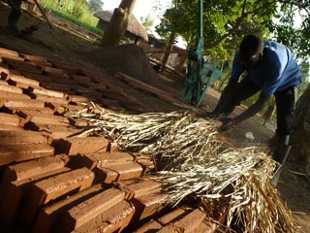 After being formed, the bricks are set out to dry.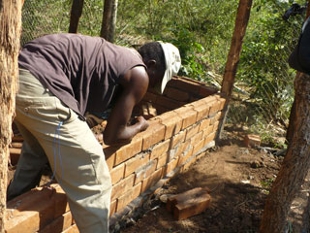 Finally, villagers are able to use the bricks to construct their buildings.
Photos courtesy of Daniel Morgan
Brick by brick, houses, community centers, sports facilities and churches are going up in the village of Gulu in northern Uganda. A rebuilding effort is under way in the African country as the people—former residents of a nearby Internally Displaced People camp—recover from two decades of civil war.
The work requires lots of manual labor and moves along slowly, but the pace will soon pick up. In the coming weeks, the workers will start using a mixer designed by JMU junior Daniel Morgan to streamline the process of mixing the soil and cement used for making the bricks.
While the villagers already have brick molding tools, Morgan, on a volunteering trip to Uganda in summer 2008, saw an opportunity to improve efficiency in the mixing process. The sculpture major from Lynchburg envisioned a simple, durable machine to replace the backbreaking job of mixing soil, cement and water with shovels and hoes.
Returning to JMU for the fall semester, Morgan asked Ronn Daniel, his Industrial Design Studio 390 professor, if the idea was a viable project for a course requirement. "Daniel was obviously deeply committed to the project, and we developed a way to use it to fulfill the class objectives," Daniel said.
During his three-week visit to Africa, Morgan learned that "working is a very social experience. It's part of living and they enjoy it. I wanted to make the machine operated by two people instead of just one."
That was just one design challenge Morgan had to keep in mind as his mixing machine emerged from an increasingly detailed series of drawings to multiple cardboard models. "The whole constraint of making it as simple as possible and as durable as possible makes it an interesting challenge," Morgan said. "I think the door was probably the toughest thing because that's something you interact with every time you use it. There's all this movement in the door."
As Morgan's plans developed, the door design was improved, paddles were placed in the drum to help mix the brick ingredients and cranks were placed at both ends of the six-foot mixing machine to make sure teamwork remained part of the process.
"At that point, halfway in the semester, I had thought about it as hard and all the different components—like what wheels to use and what the frame structure should look like, what the paddle layout, how many paddles, how big the paddles should be—everything about it I could think through and talk to people about, I had," Morgan said.
He was also at the point in the project that he needed to secure materials to build his mixing machine. Contacting his uncle, Joe Morgan, a high-density polyethylene pipe corporate business manager for Ferguson Enterprises Inc., Morgan was in for a huge, surprise boost.
Rather than answer Morgan's request for scrap pipe to bring his design to life, industrial designers and other employees at Ferguson's Lakeland, Fla., industrial pipe plant embraced the plan wholeheartedly to construct the mixing machine. Morgan worked long distance with a Ferguson industrial designer to refine the mixing machine design.
"From that point on," Morgan said, "I would tell him what I had decided and my reason and ask him, 'what do you think?' For the most part, the drawings look pretty close to what came out."
The finished product was a durable machine capable of mixing enough soil and cement to make 70 bricks per batch. "It was taking five guys spending about 25 minutes—a fair amount of labor—to mix a batch," Morgan said. "With the machine, two people can mix the same amount in about three minutes."
Now, Morgan's mixing machine is in transit to Gulu via Gleaning for the World, a charity that works with agencies to ship food and products to developing countries to alleviate human suffering. The container that includes the mixing machine began its long journey in mid-March, and should reach Gulu by May.
Daniel, Morgan's industrial design teacher, is pleased with his student and his project. While he has guided other students as they designed useful implements, Daniel said, "None of those projects has been as ambitious in scope or as successful in execution."
Morgan doubts that he will see his mixing machine in action in Gulu. But that's OK, he said. "I liken it to not just teaching a man to fish, but giving him a better fishing pole. It's meant to help them help themselves."
Published: Thursday, January 1, 2009
Last Updated: Monday, April 23, 2018