JMU Tops Among Universities in the South for Graduation Rates
---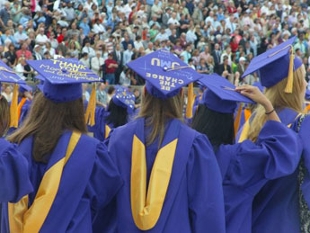 James Madison University, which has been recognized by outlets such as U.S. News and World Report and Kiplinger's for the quality of its education, ranks number one in its category for graduation rates in a new report by the American Enterprise Institute. 
JMU leads the list of "very competitive" schools in the South, graduating 81 percent of enrolled freshmen within six years. The university ranks fifth in the "very competitive" category nationally. 
Two other Virginia schools, University of Mary Washington and Eastern Mennonite University, also made the top five in the regional category. 
The study analyzed the graduation rates of full-time, first-time freshmen enrolled in 2001 at 1,385 four-year institutions. 
"At a time when college degrees are valuable�with employers paying a premium for college graduates�fewer than 60 percent of new students graduated from four-year colleges within six years," the report's authors write. "While student motivation, intent, and ability matter greatly when it comes to college completion, our analysis suggests that the practices of higher education institutions matter, too." 
The full report is available in PDF form here.
Published: Wednesday, June 3, 2009
Last Updated: Tuesday, April 17, 2018