Miracle Worker
JMU Alum Dave Sanderson Was in the Right Place for Passengers of Flight 1549
---
By Dan Armstrong, JMU Public Affairs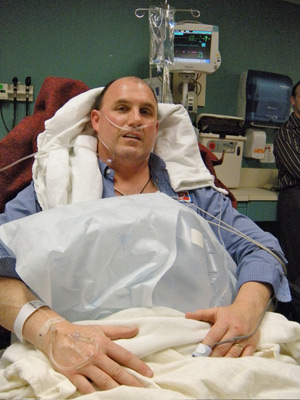 Most people would call it bad luck. Being in the wrong place at the wrong time. A bitter twist of fate.
Sitting aboard U.S. Airways Flight 1549 was probably the last place anyone wanted to be on Jan. 15. But Dave Sanderson ('83) says it was exactly where he was supposed to be. And a lot of the other 154 passengers on board are very glad he was.
Sanderson, who had booked a flight home to Charlotte for later that evening, got done with a business meeting ahead of schedule and grabbed the earlier flight.
After less than seven minutes in the air, Sanderson heard a loud pop and saw out the window flames shooting from under the wing. Then came the grave message from the cockpit: "Brace for impact."
Sanderson was one of the last passengers off the plane after its miracle landing on the Hudson River, leaving only after making sure everyone else had safely exited.
"I believe that it happened for a reason. God put me on that plane for a reason," Sanderson said. "God wanted me there to help people and to do the right thing. My mother always taught me to do the right thing, and the right thing is to take care of other people first. If you do the right thing, God will look after you."
Sanderson remained in the cabin, conducting sweeps to make sure everyone else was out, even as icy water reached up to his waist. He remained aboard the plane about seven minutes before a rescue boat bumped the plane, forcing it to take on water up to his back and him to jump off and swim to a nearby tugboat.
Suffering from severe hypothermia and loss of the use of his legs, he was pulled onboard the boat by two passengers. A fellow passenger who had remained mostly dry helped Sanderson call home.
He left a voicemail saying his plane had crashed. His oldest daughter, Chelsey, got the message shortly after and turned on the television. She was able to call his wife, Terri ('83) and Sanderson's other three children to give them the news.
Sanderson was rushed to a triage unit and then to a nearby hospital, where workers said he was in grave danger of suffering a heart attack or stroke.
"That was the second time I thought I may not make it," he said.
He credits the pilot, crew, citizen rescuers, first responders and medical teams with saving his life and those of the other passengers on the plane.
From his hospital bed, he gave one of the first live accounts of the landing to CBS News anchor Katie Couric.
He remained at a hospital for more than six hours before his core temperature was restored to a safe level. He hasn't slept a full night since the crash and still has some lingering cold scars, he said, but overall is "in pretty good shape."
Sanderson was back to work at his sales manager job at Oracle that Monday, and hasn't missed a day of work since. Incredibly, he's flown 14 times in the month since.
He has been featured along with other survivors on television news shows, scores of newspaper and magazine articles and even a video tribute by inspirational guide Tony Robbins, for whom Sanderson has headed security teams for more than a decade.
"He's one of those people who has such a good soul," Robbins said in the video. "Dave's a father, and he's got family, but he stayed on that plane. He was the last one off that airplane...making sure everybody got off, making sure these children got on a lifeboat, holding the lifeboat back against the plane.
"His whole focus was that he was supposed to be on that plane." Watch the full video.
Sanderson's friend and colleague Ariane de Bonvoisin, CEO of media company First 30 Days, wrote a tribute to him on the Huffington Post.
"Here's what you need to know about Dave. He always puts others first, is always looking for ways to help and serve and has a very calm disposition in the face of fear or crises of any kind," she wrote. "I've known him for over 10 years now and all I can say is, the passengers of that flight were fortunate to have an angel among them that day." Read the full article.
Sanderson called the event "life changing."
"I'm here for another reason, God gave me another chance to live, and he wants me to use it in a way that helps me grow and contribute to other people," he says. "I owe people to hear the story and the good things that have come out of it. There are good things that happen in the world."
Sanderson, an inaugural graduate of JMU's international business program, will return to campus March 18 for the JMU Scholarship Luncheon.
---
Listen to Sanderson describe his experience:
Sanderson describes the flight
Sanderson discusses his family
---
Watch Sanderson's story featured on television:
Published: Tuesday, February 24, 2009
Last Updated: Tuesday, April 17, 2018