JMU in the Community
Staying where she's meant to be
---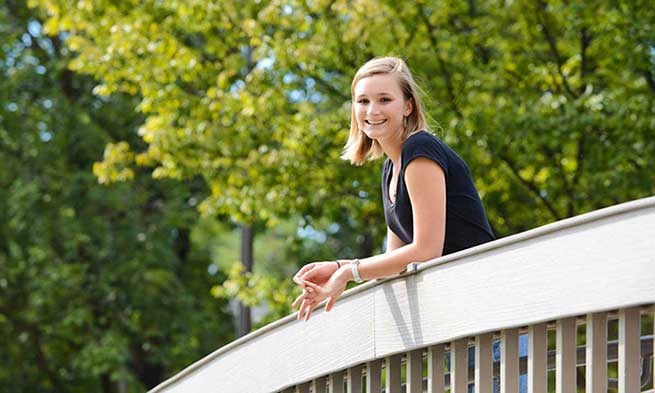 For this student, Madison Forever epitomizes JMU's welcoming spirit
By Kelley Freund ('07)

When Kinsey Browning was a sophomore in high school, her mom took her to visit JMU. Only in the 10th grade, Browning was skeptical about going, thinking it was way too soon to consider college.

But during her campus tour as different people yelled out the "J-M-U Duuuukes!" chant, she instantly fell in love with the campus atmosphere. "I thought they'd be ignoring measly little 10th-grade high-school students. But they were excited for us." JMU became Browning's No. 1 choice.
 
During Orientation, Browning knew she was in the right spot. "I just had a feeling this was where I was supposed to be," says Browning. "The school has amazing people. Everyone is welcoming. I haven't met a mean person yet."

Browning was quick to take advantage of all that JMU had to offer. She spent the spring semester of her sophomore year completing a study abroad program in Salamanca, Spain. "It was by far the best thing I'd done with my life," says Browning. "I wouldn't change anything about it. It was so great; I learned and saw so much."

But when Browning returned to Richmond, Va., she received what she calls a smack in the face. Within a week of returning, both her parents lost their jobs. Browning feared for her future as a Duke as she and her family scrambled to figure out what to do. Options were limited—going through a loan company and facing high interest rates or getting a job and restricting her academic career.

That welcoming Duke spirit that Browning experienced when she first set foot on campus came through. When she got the call that she would receive funds from Madison Forever, Browning said she and her family were shocked. "My mom cried, of course; she always cries," says Browning. "My dad and I thought it was a joke. We hadn't heard about the program and couldn't believe JMU had something like that. But it was a complete lifesaver."

Thanks to Madison Forever, Browning has been able to stay in the place she knows she's meant to be. Without it, "I wouldn't have been able to be involved in everything I am now," she says. The current junior has taken on an 18-credit course load, is a member of the Honors Program and the National Society of Collegiate Scholars, is rushing JMU's service and honors fraternities, and is applying to be an Alternative Spring Break trip leader, all without worrying about holding down a job. Browning is a geography and Spanish major, minoring in geology and Latin America/Caribbean studies.

Browning is also completing an internship at Portwood Farms for her geography class this semester.  At Portwood, lettuce is grown year-round using hydroculture, the growing of plants in an aquatic-based environment. Floating islands of lettuce grow on top of Styrofoam with holes so the roots can go down into the water. Browning is excited to get the hands-on experience and learn about growing crops sustainably. Its experience she hopes to use someday working abroad and focusing on environmental degradation and resource conservation.

"That JMU has a program like Madison Forever says to me that they're very willing to help. I feel a lot of places would say, 'No, can't come back.' But here they're like, 'We want you here. We are willing to do this for you.' ... It's really important to me that people are supporting me like that and supporting what I do so that hopefully I can make a difference."
Want to help more students stay at JMU?
Published: Thursday, January 1, 2009
Last Updated: Thursday, October 20, 2016