You are in the main content
Latest Faculty Accomplishments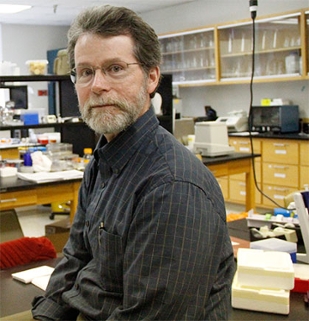 Reid Harris, professor of biology

Harris lab publishes paper on continued effort to battle amphibian disease
A paper reporting the latest developments in the research of Dr. Reid N. Harris, professor of biology, has been published in the ISME Journal, a multidisciplinary journal of microbial ecology.  This research is a National Science Foundation supported collaboration between JMU, Virginia Tech, Villanova and the Smithsonian Tropical Research Institute.
Harris, along with Eria Rebollar, a post-doctoral fellow in Harris's lab and the lead author on the paper, is investigating bacteria that could help amphibians to contend against a fungal pathogen that is killing amphibians in Panama and around the world.
"Using next generation DNA sequencing techniques, we show that the frogs' skin bacterial communities are quite different from the bacterial communities in their environment and also are affected by several factors, including whether the lethal pathogen Bd is in the environment or not," Harris said.
The pathogen Batrachochytrium dendrobatidis (Bd) is responsible for up to half of amphibian losses in some regions in Panama. By adding an antifungal bacteria species to the frogs' skin in California, Harris and his team were successful in getting the beneficial bacteria to colonize and protect the frogs. They hope that probiotics will also work to protect species in tropical regions like Panama. This is important considering that amphibians are a vital part of many ecosystems—some contain anti-HIV chemicals or can control insect species. When frogs die, the food web changes and tadpoles aren't present to control algae in streams and ponds.
In addition to Harris and Rebollar, other authors on the paper are Lisa Belden, Myra Hughey and Daniel Medina of Virginia Tech and Roberto Ibáñez of the Smithsonian Tropical Research Institute in Panama City, Panama.
See the list below for more of the latest faculty accomplishments.

GRANTS (awarded in January 2016)

Dr. Keri S. Bethune (Assistant Professor, Educational Foundations and Exceptionalities) received $30,000 from the Virginia Department of Education to maintain and implement a statewide program to meet the initial and continuing education needs for teachers of students with visual impairments.
Dr. Timothy A. Bloss (Associate Professor, Biology) received $10,000 from The Jeffress Memorial Trust to better understand how misregulation of the nascent polypeptide molecules can be assumed to lead to neurodegeneration.

Dr. Jo Anne Brewster (Professor, Psychological Sciences) received $3,300 from the Society for Police and Criminal Psychology to perform administrative tasks for the society.

Dr. Lori L. Britt (Director, Institute of Constructive Advocacy and Dialogue/4C Initiative; Assistant Professor, Communication Studies) received $9,000 from the Kettering Foundation to explore the underlying understanding of citizens and their purpose in deliberating, that National Issues Forums guides reflect.
Kimberlee Hartzler-Weakley (Director of Children and Youth, Institute for Innovation in Health and Human Services) received two grants of $17,981 and $146,479 from the Virginia Department of Education to support the Shenandoah Valley Migrant Education Program through instruction and advocacy for migrant youth. Hartzler-Weakley received $1,061 from the Virginia Department of Education to provide supplemental educational services to the children of migrant farm workers in collaboration with local school districts and to assess language and educational progress of individual students.
Dr. Ekaterina Koubek (Associate Professor, Educational Foundations and Exceptionalities) received $79,412 from FHI 360 for the 2016 English Access Microscholarship Teacher Trainer Workshop to develop the teacher trainers' technical skills and capacity to train current and future Access teachers.
Dr. Chris S. Lantz (Professor, Biology) received $445,500 from the National Institutes of Health to determine the role of the protein interleukin-3 in the immune response to the protozoan parasite Plasmodium.
Dr. Jonathan J. Miles (Professor, Integrated Science and Technology; Director, Virginia Center for Wind Energy) received $23,000 from the National Renewable Energy Laboratory to facilitate wind energy workforce development by providing education programming and hands-on wind technology learning opportunities at both the university and K-12 levels.
Nick D. Swayne (Coordinator, 4VA; Instructor, Learning, Technology and Leadership Education) received $2,676 from Virginia city and county donors for the sponsorship of Virginia/DC FIRST LEGO League teams. Swayne received $7,128 from the FIRST LEGO League to support the Virginia-DC FIRST LEGO League and Robotics program hosted at JMU.
Dr. Steven J. Whitmeyer (Associate Professor, Geology and Environmental Science) received $45,366 from the National Science Foundation to fund two graduate students at the University of Cincinnati to be part of a field-oriented research project.

PRESENTATIONS
Christina Laprad (Graduate Student, Education – Teaching English to Speakers of Other Languages) and Calah Mortensen (Graduate Student, Education – Teaching English to Speakers of Other Languages) received a travel grant from The Graduate School to present "Conducting Action Research with English Language Learners: Cultivating Reflective Practitioners" at the Virginia ESL Supervisors' Association in Williamsburg, Virginia.
Cheryl Alyssa Welch (Graduate Student, Psychological Sciences) received a grant from The Graduate School to present "What I Do Matters: Locus of Control and Health-Related Behaviors in College Students" at the Society of Personality and Social Psychology in San Diego.

PUBLICATIONS
Dr. Dennis B. Blanton (Assistant Professor, Anthropology) wrote a book, "Mississippian Smoking Ritual in the Southern Appalachian Region," which was published by the University of Tennessee Press. The book explores the Native American smoking practices in the wider region of the Glass Site, based on the large number of elaborately decorated smoking pipes found at that site in Georgia.
Dr. Dolores Flamiano (Professor and Interim Director, Media Arts and Design) wrote a book, "Women, Workers, and Race in LIFE Magazine: Hansel Mieth's Reform Photojournalism, 1934-1955," which was published by Ashgate Publishing. In this book, the differences between social reform photography and photojournalism are examined by looking at the life and work of Hansel Mieth. Flamiano will be presenting her book at the 22nd annual Virginia Festival of the Book in Charlottesville, Virginia, in March to discuss her research and writing about the roles of gender and race in the professional world.
Dr. Reid N. Harris (Professor, Biology) and Eria Rebollar (Post-Doctoral Student, Biology) published the article, "Skin bacterial diversity of Panamanian frogs is associated with host susceptibility and presence of Batrachochytrium dendrobatisdis" in the International Society of Microbial Ecology Journal. Their co-authors are from Virginia Tech and the Smithsonian Tropical Research Institute.