JMU Showcases Art of Celebrated Chinese Artist Xu Bing
From: Public Affairs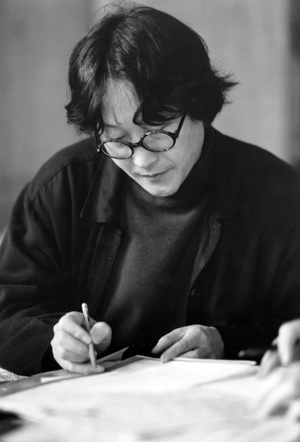 Xu Bing
January 17, 2008

HARRISONBURG – Xu Bing, the MacArthur Fellowship-winning Chinese artist whose work reflects his desire to communicate across cultures, will visit James Madison University, where an exhibition chronicling 30 years of his work opens Monday, Jan. 21.

Xu will lecture, visit classes and critique master of fine arts students' art during his Feb. 14 and 15 campus visit.

"From the mid-1990s to the present, Xu has become the exemplar of the highly successful transnational artist," said Dr. David Ehrenpreis, an associate professor of art history and director of the Institute for Visual Studies at JMU (http://www.jmu.edu/ivs/), who is the curator of the Sawhill Gallery show.

Born in Chongqing in 1955, Xu's early life was dictated by the changing political climates in China. From relocation to a commune at the start of the Cultural Revolution to winning a place at the prestigious Central Academy of Fine Arts in Beijing, Xu's art and life have been inextricably entwined with Chinese history. "Xu Bing has believed that the artist must contribute to society by offering people new ways of seeing," said Ehrenpreis. Xu has lived in the United States since 1990 and is based in New York City.

Exhibition: "Picturing Equality: Xu Bing's New Ways of Seeing"
Jan. 21-Feb. 26; Sawhill Gallery, Duke Hall
Noon-5 p.m. Monday-Friday, 2-5 p.m. Saturday and Sunday
Xu works in a wide range of media, creating work that investigates the relationship between image and text and questions the ideas of communication and meaning through language. The show, which includes some pieces never before exhibited, is accompanied by a catalog of essays by the artist and Ehrenpreis. Free admission.

"Afternoon with the Arts" Lecture: "Xu Bing's Book from the Ground: Creating a Universal Language" by Dr. David Ehrenpreis
Jan. 25, 5 p.m.; Room 240, Duke Hall
Ehrenpreis discusses Xu's current work. An opening reception for Xu's Sawhill Gallery exhibition follows Ehrenpreis' lecture (the gallery remains open until 7:30 p.m.). Free.

Lecture/Conversation: "Picturing Equality: A Conversation with Xu Bing"
Feb. 14, 7 p.m.; War Memorial Auditorium, Memorial Hall
Xu, in his role as the Dorothy Liskey Wampler Eminent Scholar Professor in the School of Art and Art History at JMU, joins Ehrenpreis in the conversation. Free admission, but seating is limited. Contact the Institute for Visual Studies at JMU (ivs@jmu.edu or 540-568-5656) to make arrangements for classes or groups.

Xu's visit and exhibition are supported by the College of Visual and Performing Arts, JMU School of Art and Art History, Institute for Visual Studies, Office of International Programs, the Madison Art Collection and a grant from the Arts Council of the Valley.

JMU Public Affairs contact: Janet Smith, 540-568-8008 or smithjl@jmu.edu.


# # #