JMU faculty and staff are invited to attend "Take a Ride, JMU" – a cycling fair featuring experts on buying a bike or helmet, where to ride, health benefits of riding, and bike safety.  This will be the first event we have had like this and we hope to make it an exciting afternoon!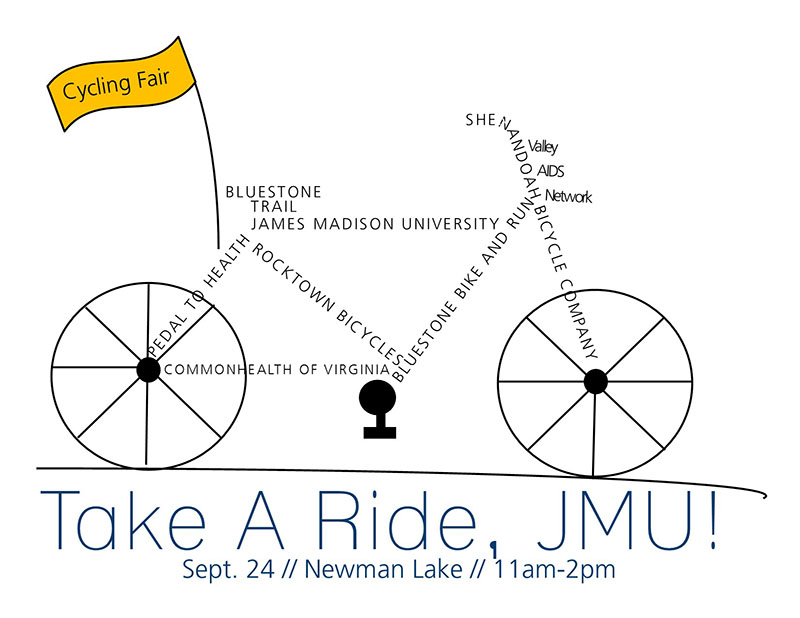 Take A Ride, JMU will be held on Thursday September 24th 11:00am – 2:00pm.  The event will be held outside at Newman Lake right off the Bluestone Bike Trail (near Port Republic Rd).
The event will be geared toward employees to create excitement and encouragement regarding cycling!   Vendors will be on site with bikes, accessories, helmets, etc… to showcase during the event.  Our hope is that faculty & staff will have the opportunity to stop by and learn about cycling, purchasing a bike and/or maintaining their current bike, as well as be able to look at different bikes, helmets, and accessories.  We will also have a drawing for some cool cycling gear for those who take part in the event.
800 South Main Street
Harrisonburg, VA 22807
Contact Us